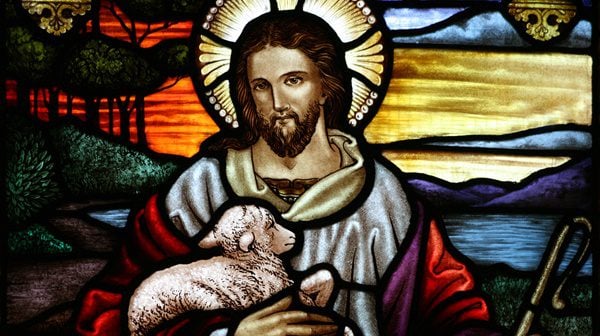 Welcome to the Girardian Virtual Bible Study! Each week we explore the lectionary passage with the help of René Girard's insights into human relationships. You can continue to join the GVBS at 10:30 am Central on the Raven Foundation Facebook page during the month of May. This episode explores John 10:22-30.
Intro: The Mixed Emotions of Mother's Day
This Sunday is Mother's Day! It's also Good Shepherd Sunday! Yay!
Hold on. Mother's Day is not something everyone celebrates. Some people have a tortured relationship with their mom. For others, their mom may have died and this day is a reminder. And some may desperately want to be mothers, but find it difficult to become pregnant. Mother's Day can be tough for many. Leave space for people to feel whatever emotions they have on this day.
Also, there is an ancient tradition within Christianity of seeing Jesus as our Mother. When Jesus was on the cross, the Roman soldier pierced him with a sword. Blood and water poured out from his body. Many have seen this as Jesus giving birth to something new. Julian of Norwich, along with other medieval theologians, referred to Jesus as our Mother. Have there been other men in your life who have been a mother figure to you?
Main Conversation: John 10:22-30 – Good Shepherd Sunday
John 10 describes Jesus as the Good Shepherd. In ancient Judaism, the King was referred to as a Shepherd. Ezekiel said the Shepherd was supposed to care for the flock, but failed to. For the most part, the ancient kings of Israel were bad shepherds. They amassed wealth at the expense of the poor. In John 10, Jesus calls himself the Good Shepherd. In our passage, Jesus is walking through Solomon's portico. Solomon was the Son of David. He was one of the greatest kings in Israel's history. But Solomon did some very bad things. Israel was freed from Egypt because the Egyptians forced them into slavery to build their temples. Solomon built the Temple in Jerusalem through forced labor. Solomon also made a lot of money through buying and selling weapons – namely horses and chariots from Egypt. Solomon became the new Pharaoh.
Jesus was often called the Son of David, but he was a radically different Solomon. Jesus' opponents ask him to be upfront and tell him if he is the Messiah. Jesus tells them that he has already shown him that he is the Messiah, but not in the style of Solomon. Jesus brought in the scattered sheep. He healed the sick, comforted those who mourn, and included those who have been excluded.
But Jesus doesn't leave it there. At the end of the passage, he says that he and the Father are one. Lots of ink has been spilled trying to figure out what that means. At the very least, it means that God is like Jesus.
Notice that Jesus does not say, "The Bible and God are one." Many people treat the Bible as if it were one with God. But it's not. Jesus is one with God. God is like Jesus. God is like the one who has nothing to do with sacrificing or killing people, but everything to do with healing, forgiving, and loving people with acts of nonviolence.
Jesus is the Good Shepherd in contrast to the bad shepherds who sacrifice their sheep. Instead, Jesus leads his sheep away from sacrifice and into eternal life. This is not an eternal life in the future after you die. This is eternal life right now. We receive eternal life by becoming Jesus' sheep – by listening to his voice and following him.
But Jesus seems to make a promise he can't keep. He says that no one can take his sheep away from him. But, umm, Jesus, 11 of your 12 original disciples were killed, and the 12 was exiled to a horrible island called Patmos. I think your sheep were take away from you and sacrificed…right?
Well, maybe Jesus meant no one can take his love away. No matter what anyone does to his sheep, his sheep are loved. Jesus' disciples knew that they were loved by God. They know that in a world committed to violence, this nonviolent love is risky. And because of the resurrection, the disciples knew that death doesn't have the last word. God's love is bigger even than death.
So take courage, for the Good Shepherd leads us into eternal life.