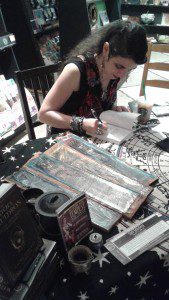 I did it.  I survived 6 weeks on the road, relatively intact – again. We did 36 events in 31 cities in 42 days.
For those of you not that familiar with my history, I've done quite a few tours since 2006 – for dance and for music, ranging from two to six weeks – with a wide array of folks.  This was the first tour that combined book events with art/music/dance, and primarily focused on Pword events and stores.
Tour Life
It's hard to compare the different tours, but this one felt special all the way through.  The tour team (myself, Nathaniel, and Davis Petterson) worked very well together under pressure – which is crucial for touring.  Touring may sound fun and glamorous, but in reality it's a brutal schedule of getting up early, loading up, driving 2-8 hours, loading out and setting up, doing the thing, packing it up (and possibly out again), hoping for 5-7 hours of sleep – and repeat daily.  It takes a lot of self-control, resilience, and being mindful of how to be a good partner to all involved.  Which is not easy for a lot of people.  Not to mention the months of extensive planning it takes to coordinate a tour.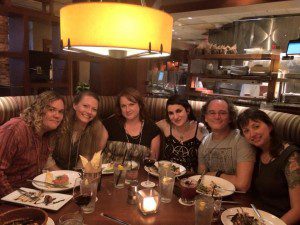 So why do it?  
– Touring means we get to meet many folks face to face who often can't travel to large events/festivals for a number of reasons.
– We get to introduce our work (art, music, dance, writing) to all new people and see friends  & family too.
– It helps make participating in larger events that don't have the budget to pay for airfare/expenses a lot more feasible – while also helping out small businesses that wouldn't be able to afford the cost for a single event either.
– This particular tour enabled us to create content on the road, see how people responded – and now that is going into an album for The Mechanist & The Star Goddess.
Diversity Wins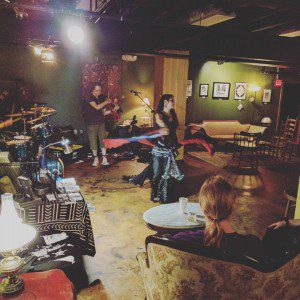 People have asked me what my favorite stop was – and I really don't see any easy or short answer for that.  They were all so very different and the majority of them were wonderful experiences.  We did a big outdoor camping festival (PSG) with a long history and a brand new indoor festival (Mystic South).  We did readings, workshops, and performances at OTO lodges, at night clubs, dance studios, healing spaces, Pagan-owned lands and temples, and all manner and sizes of occult/metaphysical/witch shops all over the country.  We had very intimate events with a small handful of people – and packed rooms and fields – and they were equally awesome.
But surely, you have a favorite? Maybe a surprise or two? 
Ok, ok – there were some stand-out moments, in a sea of stars, because I like it when I get surprised:
– Channeling Something: Teaching "Sigil Witchery" to a packed room at Ami Amore's studio on approximately 4 hours of sleep – and not disclosing that information until I was done.  I still don't know how I managed to pull that off sounding coherent for 2 hours, but apparently I did.
– Tough Crowd? Presenting a Llewellyn book at the Scarlet Woman OTO Lodge in Austin, TX – I have to admit I was a bit nervous, because I know many of my OTO-leaning friends are very much into rare/small press esoterica – but in the end, it's all about the content right?  The reception was wonderfully warm all around. And book talks are always better with wine. (Also, performing in their temple, and the New Orleans temple too was really special!)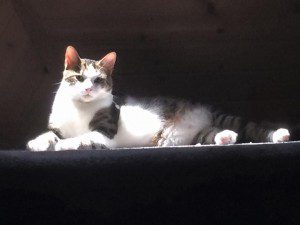 – No really, Delaware?  The weekend of July 15/16 was a tricky one when it came to booking it.  I was waiting for one festival to get their stuff together since the beginning of the year, plus looking at events in no less than 3 other separate areas, which after promising starts…but none of it came through.  Then Ivo reached out to me and made magick happen, even with his own incredibly busy schedule.  On Saturday, I did a book talk/signing at Finding Avalon – with all the books selling out, and the need to create an orderly line for signing – followed by a full room for our concert. Then we were off to Herne's Hollow/The New Alexandrian Library for a double-header of workshops – with wonderful hospitality, amazing company, and fabulous, excited folks packing the workshops. I really felt welcomed and at home with those folks.
– But really, there were so many highlights! Haunted mansions, baby skunks, backyard bashes, ocean breezes, old school witchy shops, elegant clubs, sacred spaces, water main breaks, community art, whiskey! So much excellent hospitality, so many new and old favorite faces, that I hate to leave any stop out, so be sure to check out all of the places we stopped.  Each stop meant sharing our art, meeting folks, seeing beautiful places and faces, spending precious moments with amazing people (and their cats).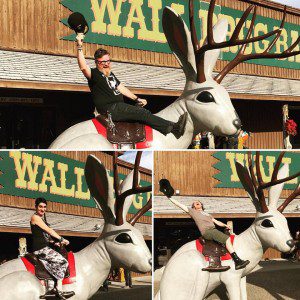 Regrets?
I wish I had taken more photos.  So many places did beautiful setups of signs, book displays, posters, and much more, and I thought I would have time to go back and take photos of it – but often we were loading in, setting up, and BAM, the event was happening – and then we'd be off for the night when I'd remember that I didn't get a chance to take photos of the places or did more photos with people.
It's also so very hard to get quality time in with folks, because we're in/out so quickly – but we appreciate every single person who helped to make a stop happen in every way!
If you missed us, keep an eye on my various websites and pages (and of course this blog) to make sure you don't miss the next event.  Or, if we missed your area entirely but think your town/city/event is a great place for a stop, hit me up in the comments!