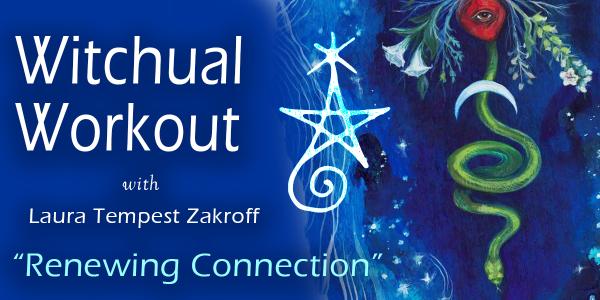 The Witchual Workout is back!
It may seem a bit cliché to kick something off in the new year. On the other hand, what better time to start fresh or start again?
I started filming the Witchual Workouts in the summer of 2020.  Throughout the following year I recorded 150 episodes, dedicated to the nexus of movement and magic. As 2021 marched on, I found myself focusing on other projects: books, a new oracle deck, vending at local outdoor events.
It takes a certain headspace to think about filming videos, and I didn't have it. You also need space to film movement videos and our ritual/media room was busy playing host to being an actual guest room in between stints as storage to items that needed a new home. Which meant more work and brain power needed to clear the space before anything could be done.
Luckily as the end of the year rolled around, I found myself wrapping up many projects, having the energy to tidy and organize, and well, not much traveling happening thanks to covid surges. Add another week of weird liminal end-of-year timing, and you have a recipe for making videos happen. I know *I* need to move my body more and I'm hoping y'all will find these helpful too!
The returning episode is a single movement meditation that's about 9 minutes long – and has a slow to medium pace. It's pretty simple and can be easily modified for doing from a seated position as well. I'll slow be building things back up, as I also need to reconnect with my own body and get back to moving on a more regular basis.
At the moment, I have no set schedule in how I will release episodes, but ideally about one a week. This will allow folks to be able to focus on doing the same episode for a week, incorporating something short into their daily practice. Of course, viewers can also go back and watch any of those prior 150 episodes, which are collected into the Witchual Workout playlist.
If you'd like to get notified every time a new episode is released, be sure to subscribe to my Youtube Channel.  I'll also be filming my other series as well, so stay tuned for those!