I love, love, LOVE this dress on Michelle Obama. It is beautifully designed, flattering, elegant and effortless-looking.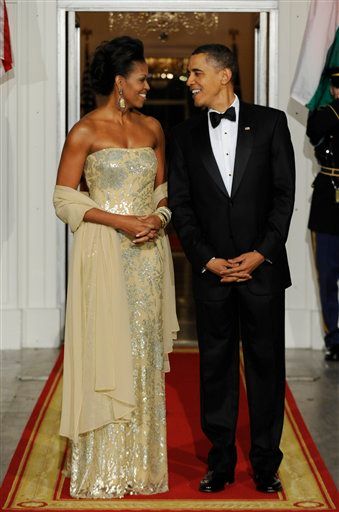 Michelle Obama wearing Naeem Khan, AP Photo Susan Walsh
And Mrs. Obama's posture, which sometimes seems a bit slouchy, is perfect. She makes an altogether superb picture as First Lady. Downright regal.
I know the gaga press considers everything she wears to be perfect, but Michelle Obama has been hit-and-miss, to me.
This is a hit; a very palpable hit!
And I know, I know…the economy is in dire straits, and yes when unemployment is high, a First Lady can certainly run the risk of seeming insensitive if she is perceived to be spending too much on clothes; even the most applauded fashion sense can suddenly seem out-of-touch when one wears $540 dollar sneakers to a food bank, or are rumored to be buying thigh-high-boots. No one wants to be tagged as an Eva Peron, wearing excessive baubles and haute couture, while the people are underwater.
But, you know, this was a State Dinner welcoming India's Prime Minister Manmohan Singh and his wife, Gursharan Kaur, and on such an occasion, we want our First Lady to look drop-dead gorgeous; it honors our guests, and it does right by America, too. Sometimes, you have to spend the money, and this is well-spent, indeed.
It's nice that Mrs. Obama chose a dress by India-born, U.S. based Naeem Khan. But it's even nicer that Naeem Khan looks so great on the First Lady.
More of that flattering silhouette, please, Mrs. O, and that wonderful color. The big rubber belts are really played out.
Oh, and the President looks good too; the tux fits well. I do wish he'd learn how to stand with his hands to his side, though. The body language is sort of, goofy adolescent-at-the-prom.
More Dinner Details here
Fausta has more details on the dress.
I always said MO would look best in gold.
RELATED:
The Condescending French Fashionista on African-American style.
Another great Michelle Obama moment.