Reading up in anticipation of Hillary Clinton's scheduled press conference (which has not happened, as I write this) I must say I really, really love the way she looks here, in this pant-suit, which I am cribbing from this headline: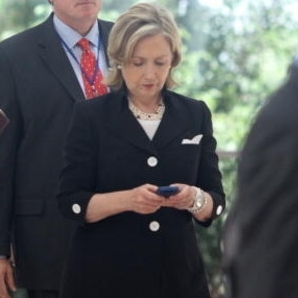 That looks terrific. Black is always a great color on her; she is not buttoned up to the chin; the necklace sits beautifully; the 3/4 sleeves give her a relaxed and softened look. The white contrasts in buttons, shell and pocketpiece are terrific. That's a winner of a suit. She looks very on-top of things, very confident and very pretty.
So, so, so much better than the Chairman-Mao-by-way-of-Galaxy-X10
get up
she wore earlier this week
, which is everything the black suit is not: it's shiny; it's stiff; it's bundled-looking; it's not relaxed, and she doesn't look relaxed or confident. It's kind of terrifyingly reminiscent of something a James Bond villain would wear.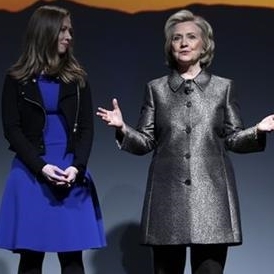 Whoever is handling Hillary's styles for her presidential campaign, listen up: good job getting her to cut her hair; she always looks good in short hair and the flip was too much "That Girl"; it was aging. Her hair looks great. Now, please, please, please, get her into some more comfortable-looking clothes!