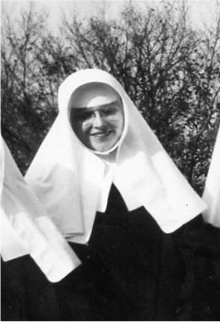 Deacon Greg has a video and a link to a post from Msgr. Charles Pope that I'd actually seen a while back — it's all about a sister looking back at the habit her order used to wear, design, purpose, etc.
Some of the comments are interesting, particularly from women who used to wear the old, heavy habits.
I personally like the modern habits that are being designed and taken up. The Sisters illustrating the piece by Pope are the Servants of the Lord and of the Virgin Matara, a fairly new order that is growing very quickly. Their habit is a simple tunic and scapular, without a collar, and the veil, made of something like denim, so it wears very well, and it is practical for driving or using a backpack. When in Rome last May, I had the pleasure of attending mass with one of them (not the puddle-jumping one you see here) every day at Chiesa Nuova, and her gloriously rich soprano resonating throughout St. Philip Neri's place is one of my favorite memories of that trip.
And you can read a truly wonderful piece by Robert Miola, whose two very gifted daughters
now wear that distinctive grey and blue habit
, for life.
But if we're going to talk habits, why not read some first-hand accounts of what wearing the habit means to the women who wear it today while engaging the world?
I do believe the outward sign of consecration is important for the life of the world, and that the habit is witness that matters, but I don't hold it against sisters who don't wear the habit; to everything there is a season.
More from the Habit of Witness series, here at Patheos.