I meant to write this earlier but the day got away from me. Now, it's sundown and past the feastday of Saint Maximilian Kolbe — we're actually in the Vigil of the Solemnity of the Assumption of the Blessed Virgin Mary, but I'll write about that tomorrow. Let's look at Kolbe one more time before calling it a day, or a night, and I'll tell you why.
Kolbe was a Catholic priest and very much a subversive:
He'd been arrested, in part, for hiding and assisting Jews — 2000 of them. Subversive. He consented to being thrown into a hole and starved to death; asks for nothing, remains cordial and relies wholly on hymns and prayers and psalms and canticles. Such subversive power, in all of that — subversive and victorious. The world calls faith stupid and mocks it. That's why the world will ultimately lose.

I have this last image set as my wallpaper. Every time I see his good, open face, I feel him asking me, "and what small thing — what small, subversive thing — have you done, today, Elizabeth, to counter the empty illusions of the world and advance the Kingdom of Heaven?"
Kolbe worked and eventually died in opposition to the same anti-Christ that was beaten down in the middle of the 20th century but has slithered back into our time, in the guise of the so-called "Islamic State." In honor of Kolbe, and in solidarity with the genuine heroes who were needed back then and who will appear, miraculously, it may seem, when we need them, here is a very small, very subversive act we can perform: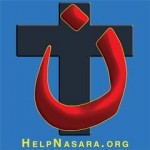 Many people — Christians and Muslims alike — have adopted the nun as their own in order to show support to Christians who are facing severe persecution for refusing to deny their faith. Help Nasara will be selling bumper stickers and magnets with the symbol you see here — (ن) — and proceeds go to benefit Catholic Near East Welfare Association, a group under the direction of the Holy See that is specially dedicated to helping Christians in the region. CNEWA was established in 1926 by Pope Pius XI, and helps with everything from formation of seminarians to building hospitals to helping farmers to building and supporting Catholic parishes and schools.
It's not a very big thing at all, I know: a small pledge of money,
and the display of a symbol. I've read that in Nazi-occupied countries, some Christians wore yellow Stars of David, even as it put them at risk and identified them as subversives. This would be, at present, anyway, an even less dangerous act of solidarity; add to it fasting, outreach to government leaders and
prayer
,
prayer
and
more prayer
— this Sunday is
a nationwide Day of Prayer, called for by the USCCB
— it can
strengthen
subversion.
And somehow, I believe subversion is something Christians in the West are going to have to begin to acquaint themselves with, now, for later.
I am ordering some magnets and stickers. I'm going to be subversive, and wear a fresh one every day, and hand them out to others, and put a magnet on all the cars.
A small thing, yes. But with the prayer, the fasting, the outreach, it's something. And I bet Kolbe, were he still on earth, would wear a ن sticker, too, because he would recognize that the enemy slithers, still.