On January 1st, Sister Mary Magdalene of the Immaculate Conception, OP will be pronouncing solemn vows, promising to live out the rest of her life within the enclosure of her monastery in Summit, New Jersey.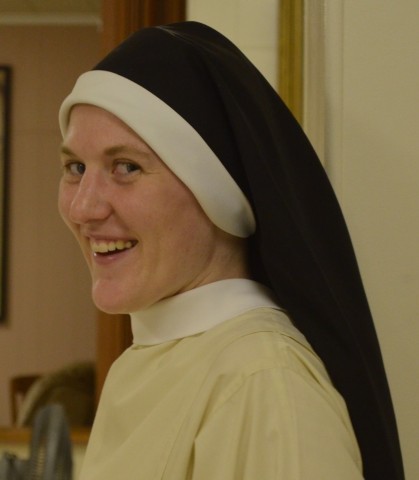 Sister writes of what that means to her, here.
We are called "sister" as spiritual mothers, we have a duty or right to maternally care for the spiritual well-being of our spiritual children and the salvation of souls, particularly as contemplatives recommending them in prayer; to bring them to God and to leave them in His Hands.
When people tell me they are praying for me, I am always profoundly grateful, and humbled to know it. The darkest times of my life, it seems to me — the times when I was most fully away from the light and seriously lost to my self and my sin — have been times when it seemed no one in the world was praying for me, and I did not know enough to pray for myself. The more monastic people I know — men and women whose entire day, from waking, to working, even through their meals, is directed toward the praise of God and the good of others — the more I come to understand how essential it is that we help keep these "power houses of prayer" going, and keep these willing intercessors fueled, and fit for their tasks:
So you see, this is a great day of joy, not just for me, but the graces flow out onto anyone willing to receive them. It's a beautiful manifestation of God's love.
Because I believe so profoundly that the whole world benefits from the prayers of people who spend their days interceding for those of us too busy, or to angry, or too wounded, or too unschooled to manage it — and because as 2014 comes to a close, some people may be looking for a few charitable deductions, in anticipation of April 15 — I am reposting an earlier plea for support, with an added video. Please keep Sister Mary Magdalene in your prayers as she prepares to make a holocaust of herself, and consider making a donation — hey, it's still Christmas, after all! — to this very joyful, very prayer and very much growing community of women who (as a friend of mine put it, upon meeting them), "just shimmer with holiness…"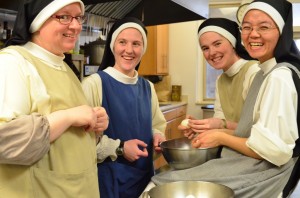 All photos used with permission.
In Rumer Godden's classic gem of a novel, In This House of Brede, a large cloistered community of English Benedictine nuns faces a pressing debt; one nun rather serenely says she will pray for the solution. "Like a child asking the bank manager for a bag of money to take home to Daddy?" a sharp-tongued sister asks in rebuke.
"Exactly. Exactly like that," says the first nun.
Later, when the idea of selling of 7 of the community's 14 acres seems like the only practical answer, the doubtful nun takes up the first sister's cause:
"We are all ready to be noble and abnegate ourselves, but what are we really doing? If the [abbey property] is curtailed we think we should be robbing ourselves. No! We should be robbing God. This is His house; that is why people come here, to find Him; we are only the custodians…it would be quite wrong to reduce our already not large enclosure; to do our work satisfactorily we must have elbow room, breathing space. We cannot get away, even for holidays. We are not so strong and steady that we can take risks, and we must not unfit ourselves…"
Imagine spending the entirety of one's adult life amid the same 14 acres — not going out to the movies or getting in the car of a weekend simply to enjoy a change of scenery — but ultimately finding freedom within the restriction because it paradoxically allows you to be, as Godden puts it, "not of the world but mysteriously still with it." Free to pursue a calling to praise God throughout the day and into the night, for the sake of the life of the world. Free to have this sort of affect on the lives of others: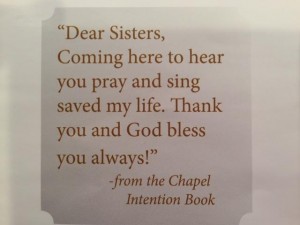 That's a note left for the Dominican Nuns of Summit, New Jersey, who have nothing like 14 acres to live upon. I think they have five acres, including their cemetery. Given their successful soap and candle-making business (and their woodworking!) and the increasing number of young women seeking to visit as they discern and pursue their vocations (and the fact that their enclosure was always quite small) the community has decided they really need more room, and so they have launched a Centennial Capital Campaign. They are praying, and asking, and explaining: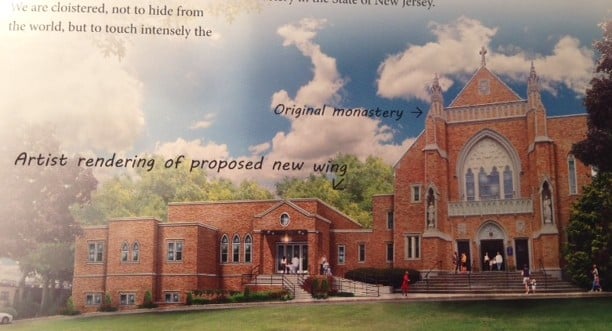 "When our present monastery was built in 1939, the nuns sacrificed necessary living space in the cloister for a bigger chapel for the pilgrims coming to the monastery. The sisters have used empty cells (monastic bedrooms) for work and sewing rooms. We need these rooms for the new vocations entering our community…our elderly sisters in need of physical therapy have had to use the public space of the refectory (dining room) because it is the only room big enough. Since the refectory is close to the nuns' chapel, the silence is disturbed by the voices of visiting physical therapists and nurses. We need an appropriate area for caring for our sisters' physical needs.

Over the years our "closet" gift shop has expanded to every available space in the chapel vestibule…a real gift shop is needed which will make it possible to offer the Sister's work and help toward our daily expenses.

When a Dominican nun makes her first vows she is given the black veil signifying that she has become "recognized as a house of prayer…and a temple of intercession for all people." As Sister Mary Catharine Perry, OP writes here, "That's a tall order. Humanly it is not possible. It is only because God wants it so that the newly professed nun can carry the world in her heart."
To carry out the will of God, the sisters, as Rumer Godden's Benedictine noted, "must have elbow room, breathing space." And they must not unfit themselves. All-in-all, they are hoping to expand to add the following:
Entrance Lobby
Gift Shop
Guest rooms for aspirants, retreats and family visiting
Parlors for visiting with guests
Guest dining room, sitting room and garden patio
Work Rooms and Exercise Room for the Nuns
Elevator
Handicap access to both the Chapel and the New Wing
You can read the full campaign brochure here and catch up with their kick-off here. I hope you can help, and that you'll pass this around to your friends, as well.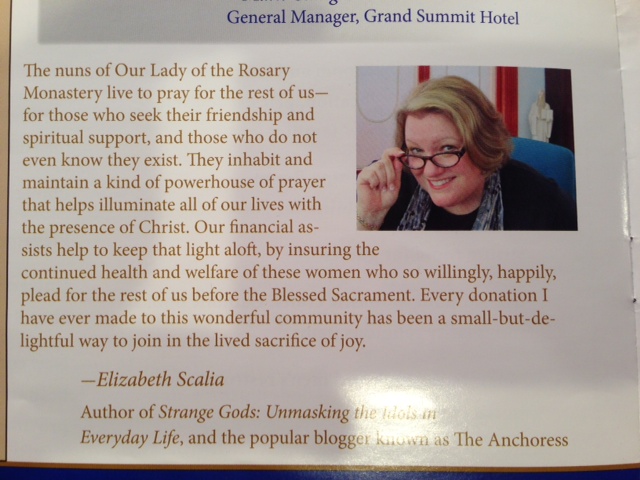 UPDATE:
Check out their video!
Related:
This community also celebrated a solemn profession in September of 2014!
Also: "Sure, we need nuns, but not my daughter!"