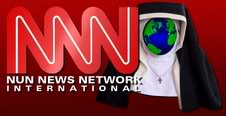 There has been "so much" Nun News this year that I have already posted not one, but two "mini-roundups" on the happenings concerning Catholic female religious.
But on this Feastday of Saint Therese this is the big one — I've been collecting information for months — so settle in, and let's get to it. If you are unfamiliar with some terms, see this quick, helpful glossary. Go here for some perspective on habits and why some communities wear them while others do not.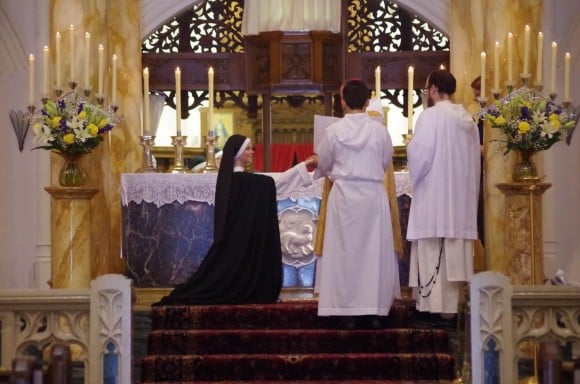 We must begin, as ever, with our dear friends the Summit Dominicans, who in September celebrated the solemn profession of Sister Maria Teresa, OP and used the occasion to try their hand at livestreaming and video. This community is grateful for a steady stream of young women who are persevering in their monastic vocations, but they really do need the extra space they are working toward with their capital campaign — they will be welcoming at least two (and as many as four) postulants by year's end, and will be starting the new year off right with yet another solemn profession of yet another young nun, on January 1, 2015. Three such momentous occasions in three years is a very good sign; the world needs their tireless intercessory prayer!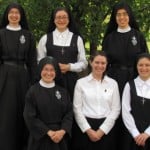 The Passionist Nuns of Diocese of Owensboro, Kentucky, who always cheerfully endure such challenging and dramatic events when it comes to winter weather (If the forecasters are correct, we should already be praying for them). Since we last visited their novitiate they have celebrated the perpetual profession of Sr. Mary Andrea, C.P. (video here) and welcomed two new postulants and an aspirant.
The Sister Servants of the Eternal Word, of whom Kathryn Lopez wrote glowingly some years back don't get a lot of attention but their growing apostolate — to catechize local Catholics and offer opportunities for retreat could not be more necessary. This past August two sisters pronounced their perpetual vows, while two more made first vows. They have four novices heading into their apostolic year and hopes for several new postulants in the near future. They have a page on Pinterest, where I think I found these great downloadable coloring book pages (pdf).
The Little Sisters of the Poor would rather not be in the news for some things but they are always happy to share the good news. You have to scroll down for the pictures, but in August 26 Little Sisters (!) made their perpetual vows at the motherhouse, La Tour Saint Joseph, in France (a few of them, we met here). A month earlier had seen three new first professions and another postulant brought into the novitiate.
Sisters of Life: 13 New Postulants, 8 new novices, and they recently celebrated four final and four first professions. Also, they've opened a new house in Toronto.
Moving right along…
The Sisters of Saint Francis of Perpetual Adoration had a rocking year — perhaps the blessings of their recently-beatified foundress — with three perpetual professions, a first profession, and a half-dozen new novices brought in to join the second-years, and oh yeah, a new postulant, too.
Benedictine Sisters of Perpetual Adoration celebrated a solemn profession and have another novice entering her canonical year. This year they welcomed a small community of older Carmelites to their property, giving them a chaplain's house for their use.
Sisters of the Lord and the Virgin of Matara: another booming order, not always easy to keep track of, celebrating 7 final apostolic vows and their monastic community is now sharing space with the Precious Blood sisters and hoping to preserve this beautiful old monastery.
Slaves of the Immaculate Heart of Mary: One sister received the habit while another made first vows in a rather spectacularly beautiful ceremony. I believe the brother of one the the sisters became a "brother slave" postulant as well.
Daughters of Saint Paul: A first-hand account of pronouncing first vows by Sr. Theresa Aletheia Noble, FSP. I love her new name, which came with the vows!
Dominican Sisters of Saint Joseph, UK celebrated a solemn profession. One of their members, Sister Hyacinthe Defos du Rau, OP, contributed a piece to our Symposium on the Synod of the Family
Benedictines of Mary: A postulant and several more coming. Newsletter (pdf) informs that guest wing must soon be given over for more cells!
Abbey of Regina Laudis: Three postulants, a clothing and a final profession!
The Norbertine Canonesses send a particularly beautiful newsletter (pdf) that shows their explosive growth. It's almost Christmas Wreath Time again.
More quick takes…
Maryknoll Sisters: 3 final vows
Sisters of Mary, Mother of the Eucharist, lots of pics.
Franciscan Sisters of the Renewal:, awful at updating their site, but 4 Final Vows
Alton Franciscans: a steady stream that has never abated, even in the "lean" times. 3 new postulants, and two clothings and first professions.
Franciscan Sisters of Peoria: bad at updating but they recently celebrated a first profession.
Sisters of Reparation, 3 postulants. Look for vestition update soon.
Christ the Bridegroom: Our Byzantine friends welcomed Postulant Jacqui to their warm and lively community in February. Time is flying. Check out their very enjoyable site and videos!
Carmelite Sisters of the Sacred Heart of Jesus: 3 new postulants and slideshows, galore
Daughters of Mary of Nazareth, Mother Olga's fledgling community.
Maronite Sisters of Christ the Light: added a postulant
Franciscan Sisters TOR: Newsletter.
Sisters of St. Francis of the Neumann Communities
Franciscan Sisters of the Eucharist
Apostles of the Sacred Heart of Jesus (pdf)
IHM Sisters
Marian Sisters of Santa Rosa
Children of Mary
PCPA's of Phoenix, AZ
Servants of God's Love
Sisters of Christian Charity
Sisters of Our Lady of Sorrows
Dominican Sisters of the Immaculate Conception
Hawthorne Dominincans (Lots of News!)
Apostles of the Interior Life
I know, I know this is a "nun news" thread, and very long, but let's hear it for the boys, too.
UPDATE:
Read one father's heartfelt reflection on his daughter's entrance to a Passionist cloister
Also, Tony Rossi has news about a new reality show following young women who are discerning the religious life.
Past links:
2013
2012
2011
Grandma Nun and More
2009