This morning Kyle Cupp asked people to name their favorite toys from childhood.
These sorts of questions, which Kyle calls "mindless" are becoming a regular Monday feature for him — last week he wanted to know what film adaptation of a book most disappointed us.
For the record, my answer last week was the 1970's tv-movie version of In This House of Brede which took a knife to Rumer Godden's brilliant novel and chopped it into something barely recognizable. Even the great Dame Diana Rigg could not save it.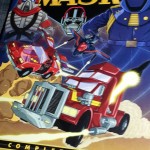 This week, Kyle writes:
I recently had the occasion at my parents' house to dig through some bins of my old stuff. I found toys I hadn't seen in maybe twenty years: Transformers, Voltron, M.A.S.K. vehicles, Battle Beast and M.U.S.C.L.E. figures. DC and Marvel superhero cards–even a few hologram ones.
He wonders what toy from your childhood you'd most like to have with you, today. I had to think about that a bit.
I knew it wasn't the bright red plastic fan I had stolen, and which brought be no joy.
Finally, I realized that the toy I would want today is the well-toned plastic trumpet with which I used to play "Taps", over and over, because it was easy and sounded good to my ears, until my mother would beg me to stop.
I was by no means a maudlin child, but I loved the mournful notes of the tune, and sitting there on the back porch, blowing away to my heart's content, I had no idea that I was probably playing hell with my mother's own psyche, which ran toward the morbid-and-rotting-away.
I mean, one of my earliest memories in life is of my mother telling me to make sure that when she died, she must be buried wearing her First Holy Communion pin and with her First Communion prayerbook.
When I cried and told her I didn't want her to die, she said, "don't think like that, it's bad for your veins."
That certainly gave me pause. I wasn't sure whether she meant I ought not to fret about her impending death — which came some 35 years later — or I should not think about the actual fretting, because I might injure my veins and watch my blood drain away.
So much easier to blow a dirge into the shade of a weeping willow tree, than to try to figure that one out.