Yesterday, Eve Tushnet, Lisa Mladinch, Tom Zampino, and I had the very great pleasure to participate in a panel on the church and new media at the Oratory Church of St. Boniface, in Brooklyn.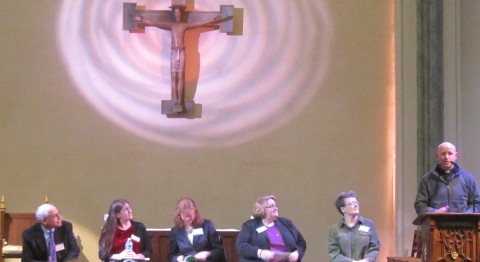 The panel was very enjoyable, as the attendees asked some great and sometimes very challenging questions about the impact of blogging and social media and how (or whether) it gives true service to the church, and even about matters of doctrine and what we might expect from Pope Francis and the upcoming synod.
I mean no disrespect at all, (and believe they will agree with me) when I say that the pleasures of the panel — and the overwhelming hospitality of the uber-organized, super-thoughtful Brenda Becker, her lovely family, and "helper" Barbara — as wonderful as they were, run only as a close second, compared to the transcendent liturgy we experienced at the church's 11:15 mass. It was, in five words everything the mass should be: holy, reverent, mindful, warm (so warm and truly welcoming), serious and in all ways beautiful. Beautiful in participation; beautiful in Father Joel's homiletics; beautiful in its spare simplicity; beautiful — heartstoppingly beautiful — in its music.
For all of those who despair of Catholic liturgy — particularly those who believe it is not possible to find the liturgical sweetspot where prayerful depth meets accessibility within the Novus Ordo — this Oratory church hits the bulls-eye. I think even my Byzantine and Orthodox-inclined friends would find in this liturgy, the "heaven on earth" we all seek.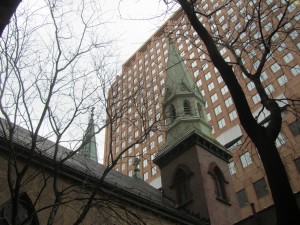 The Oratory church of Saint Boniface is a little side-street-situated oasis of simple beauty surrounded by parking garages and commercial buildings. It is an old church, with lovely stained glass windows. It is not particularly ornate, but its simplicity is neither stark nor modern.
There are lovely hand-carved statues of St. Philip Neri (founder of the Oratory) and Our Lady and Saint Joseph and Saint John.
There is a beautifully wrought chapel shrine to Blessed John Henry Newman, the first English-speaking Oratorian priest.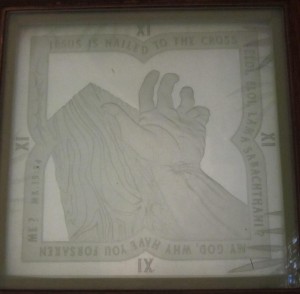 The Stations of the Cross trace a true walking path throughout the church, as they are inlaid within the flooring, where they provide an ethereal glow that continually brings to mind Christ's passion.
There is the warmth of old, beautiful and glowing Icons.
There is a magnificently voiced pipe-organ and a professional-quality choir whose chants and chorales did what great music is supposed to do in liturgy: induce prayerfulness while elevating the mass away from ourselves and toward Christ Jesus. When Lisa said, after the mass, "the sung responses almost had me levitating" I completely understood, and agreed.
There are Oratorian priests, prayerful, humble-seeming and reverent.
There is a community of all ages, all races, all interests, in all sorts of physical and spiritual condition — a fully packed mass, with the incense billowing, and the babies remarkably hushed at the Consecration, and the undercurrent of "holy, holy, holy" that feeds souls in a manner that is, sadly, too infrequently found in our standard parish liturgies.
When I raved to Brenda about the wonder of this little Mass in this little parish (which supplies a pretty comprehensive "hospitality hour" afterwards) she told me that people travel great distances to worship here, and to be part of this community. Some even come from New Jersey. I completely understand why that is.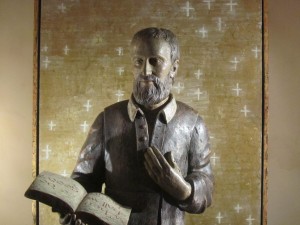 This was my first experience of worship in an Oratory church, but I hope it will not be my last. After loving my dear Saint Philip Neri all these years, I finally saw what it is he created — the fruit of his vision — in the Oratory. Saint Philip oratories were meant to be a sacred space, not only for Mass, but for talk, for engaging persons and minds, for the sharing of thoughts and of art; a place for wondering because, as Gregory of Nyssa said, "wonder leads to knowing".
A place to know Christ; to know each other; to know oneself.
I saw it, and finally "got" it. As people partook of the hospitality hour, the Presence was reverently (and discreetly) reposed elsewhere (the Tabernacle is just to the side of the sanctuary) and the Oratory became that place of talk and gathering and mind-meeting.
It struck me that what St. Philip Neri created 'way back in 1575 is precisely what Pope Francis is talking about when he references a church that is not about itself, but goes "outside" and "to the peripheries". Within the Oratory, everyone is welcome; discussion is open and free; as Rumer Godden would say, "mind on mind kindles warmth." When you step outside, you want to bring that sense of brotherhood and charity out into the streets with you.
What a gift yesterday was, for all of us, in so many ways. Thanks to Brenda Becker and the whole community of the Oratory Church of Saint Boniface. I hope we get to worship together again, and soon!
And now that I have "met" the Oratorians, I am going to pray that maybe, maybe, (please, God) their presence and their necessary charism spreads out and multiplies. I surely would love to see an Oratory church here, on Long Island.
Take a look at the Oratory Church of St. Boniface, in this video, starting about 2 minutes in. Explained why I saw some German words in the stained glass!