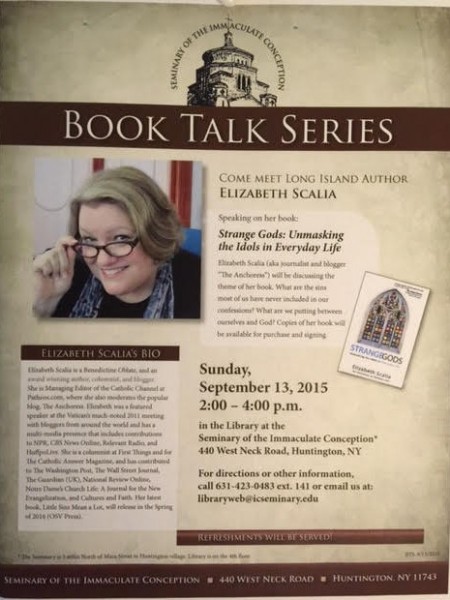 If you are on Long Island on September 13, consider swinging by the beautiful Seminary of the Immaculate Conception — which gave us Father Michael Duffy — and saying "hi!" I will be there discussing Strange Gods, Unmasking the Idols in Everyday Life (now with study guide!) and sharing some ideas, and chatting.
If time allows, I might also do a first-ever reading of an excerpt of my new book, Little Sins Mean a Lot, which comes out next spring.
Immaculate Conception Seminary was part of the Tri-Diocesan merger of seminaries undertaken between the Diocese of Brooklyn, Rockville Center and the Archdiocese of New York, and its rector, Msgr. Richard Henning, is doing a terrific job of re-imagining how this beautiful and historic property is best utilized, from ongoing priestly formation, to the hosting of group programs (I first met Lisa Mladinich and Pat Gohn at the Seminary, for a writer's group day-conference!). Recently Henning has made a brilliant move by offering private retreats opportunities, for laity and priests alike; he reached across the Atlantic and brought over a few Missionaries of the Most Holy Eucharist, who offer confession, spiritual direction, beautifully-prayed masses and — most importantly — almost non-stop opportunities for Eucharistic Adoration.
With these priests, Msgr. Henning has brought a badly-needed contemplative element to Rockville Center Diocese. I was fortunate enough to partake of a five-day retreat under the direction of Father David Nugent, and it was perhaps the most spiritually nourishing and healing event of my life. I've been unpacking and processing that retreat, and our meetings, and the stunning effect of my general confession ever since (I literally felt the weight of my sins leave my chest), but up to now have not been able to write about it because it was just that personal and powerful.
I'll say it now, though: if you are looking for a retreat that will give you real rest, bring real healing, offer you unlimited time before the Blessed Sacrament and quiet, solemn, beautifully-wrought daily Mass, you should avail yourself of the opportunity to retreat at the Seminary of the Immaculate Conception.
In addition to all of that, the grounds are walkable and the soup du jour is always fresh and insanely delicious. If you do not live on Long Island, a retreat with these missionary priests** is truly worth traveling for.
**Sadly, I can't link to their main website, which has been hacked and is virus-laden. You know why, don't you? Right. Take a retreat with these fellows. Astonishing.