… I appreciate all the concerned emails and words of encouragement but I assure you, kind readers, that I am not in the pits of despair and loneliness. Scrolling through the posts over the last two weeks may indicate otherwise, but I am actually a very jovial gal.
Yes, I was having a bad week. Don't we all. So moving on from there, here is a perfect illustration of why I actually enjoy being single … despite what the mood swings may indicate.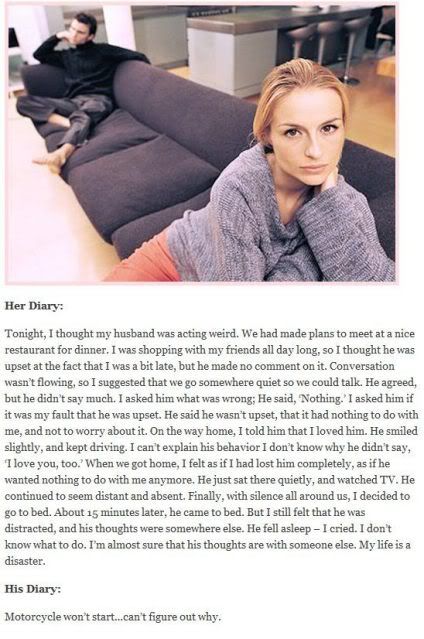 Without question, the one thing I do not miss is all the neurosis of dating. He said he liked me, why hasn't he called? He signed his email "I wish you all the best". That sounds so final, did he just blow me off? Why isn't this conversation going as smoothly as it used to? Did he just check out that other girl? I want to call him but not appear desperate or too eager? My God, he's handsome… how far is too far?
And so on and so on.
Even the most rational minded lady can get swept up into a tailspin of self conscious doubt and neurosis when the hormones kick in. When you have something precious, like the affection and love of man, you fear losing it. When you are single this fear is blessedly nonexistent. At least I don't have to worry about losing God's love if I put on a few pounds or go out without wearing any make-up.
And that's just one example of the joys of single life. For every positive thing I can write about being in a relationship I can write an equally positive point for being solo. Being lonely once in awhile is not a good enough reason to be in a relationship. Married people get lonely too. Loneliness is an internal emotion that rarely has an external cause. Changing our environment may not solve the problem, instead just give the same problems new scenery.
I love my life but that doesn't make me immune to miserable days, even weeks. When I have these miserable moments I contemplate all the positives of being single, I email and call friends, read the lives of the saints and consult the Oracle– by Oracle I refer to Dorothy Cummings.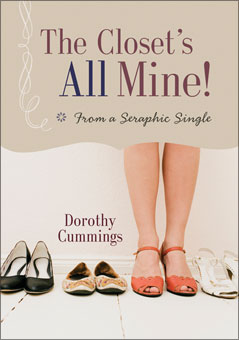 Dorothy Cummings blogs at Seraphic Singles and has written a book titled The Closet's All Mine. I purchased my first copy of her book last year and since that time have acquired many copies. One copy has been passed around among my inner circle of girlfriends and a few others have been gifted to single gals in my Young Adult group. Yes! I am still considered a young adult for at least another 4 years. Hush.
I have found her writings an immeasurable source of comfort and plain old-fashioned common sense. Common sense is something that flies out the window when we are gripped with moments of Oh-my-God-I-am-going-to-die-alone-and-my-cat-will-eat-my-corpse panic. Her writings "talk me down".
Therefore, it is my strong opinion for that reason alone her book must be owned by every woman who is single. That is why I am going to give away one of my copies to you, dear readers.
If you would like to receive a copy just comment below stating what you love most about being single. If you intend this to be a gift for a single friend or family member you know who deserves a little Seraphic-ness than tell me why. Don't forget to leave your email address in the comment as well.
I will announce the lucky recipient of Mrs. Cumming's book the end of next week.