… Do you dream of going to Rome for the canonization this spring? Now here's your shot. CatholicVote.org is hosting a giveaway vacation for two to Rome. Enter here for your chance to win.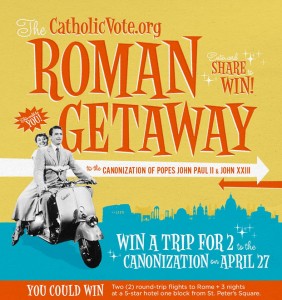 Want more free? How about a chance to win over 100 free books from Brandon Vogt. He's such a giver.
Don't worry if you don't win the trip. You can always visit the Sistine Chapel from the comfort of your living room with the Vatican's virtual tour. While you're in the "neighborhood" stop by the Necropolis and St. Mary Major.