… As a parent I am always tremendously grateful for teaching resources. Today I am offering a giveaway for a copy of The Bible Tells Me So – A Year of Catechizing Directly from Scripture, authored by Christian LeBlanc. While this is geared to homeschooling families and middle-school catechists it can still be used by any parent of a middle school aged child to help with their faith formation. As parents it's our duty to make sure our kids are receiving solid catechesis. I know firsthand even an education in expensive parochial schools is no guarantee. The only sure way to know what's going into your children's head is to put it there yourself.
30 Lessons. 2 Testaments. 1 Mass.

If you are a middle-school catechist or homeschooler looking for tried-and-tested ways to use the Bible to teach the Catholic faith to a roomful of tired kids, this is the book for you.

The Bible Tells Me So recounts one year of Bible-based Catholic teaching for 6th-graders, featuring both Bible-sourced Catechesis, and the give-and-take between teacher and students. It's intended to provide a firm Scriptural foundation for today's Catholic children, and give them an invaluable familiarity with the Bible and their faith at the same time.

The Bible Tells Me So is divided into three Units: 1 and 2 treat the Bible chronologically from Genesis to Revelations, emphasizing the Catholic understanding of Scripture. These classes are taught directly from the Bible. Unit 3 then examines the Mass in lessons which draw from the knowledge gained in the preceding units, using the Bible and a Missalette.
Click the raffle copter to enter.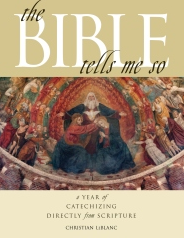 Related Links: Lisa Mladinich's review, and Jennifer Fitz's review.