… On reconsideration, perhaps this should be my 'Feel Good Friday' featured link. Leah Libresco just made me as happy as a little girl.
A museum in Italy has started burning its artworks in protest at budget cuts which it says have left cultural institutions out of pocket.
"Our 1,000 artworks are headed for destruction anyway because of the government's indifference," he said. "The survival of the museum is such an important cause that it justifies the despicable, and painful, act of destroying a work of art," he told the BBC.

Mr Manfredi plans to burn three paintings a week from now on, in a protest he has dubbed "Art War".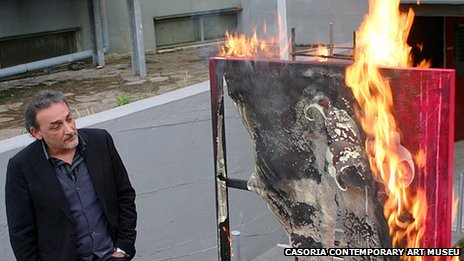 Before you cry "Oh no! Artwork in Italy is being burned!" realize I said this was a feel good story with a happy ending. The "artwork", it's from *he he he* The Casoria Contemporary Art Musuem.