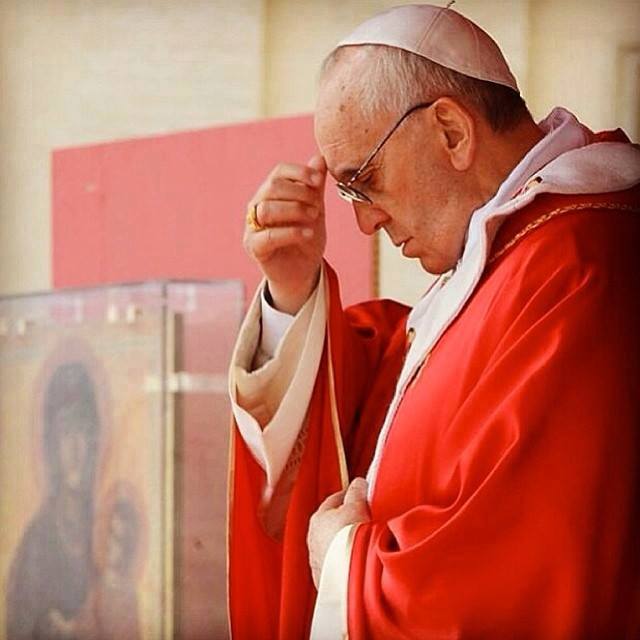 Image, News.Va
The Pope's message for Lent 2014; an invitation to evangelical poverty in our time.
"Dear Brothers and Sisters,

As Lent draws near, I would like to offer some helpful thoughts on our path of conversion as individuals and as a community. These insights are inspired by the words of Saint Paul: 'For you know the grace of our Lord Jesus Christ, that though he was rich, yet for your sake he became poor, so that by his poverty you might become rich'. The Apostle was writing to the Christians of Corinth to encourage them to be generous in helping the faithful in Jerusalem who were in need. What do these words of Saint Paul mean for us Christians today? What does this invitation to poverty, a life of evangelical poverty, mean to us today?

Christ's grace…"
***
Pope Denounces Usury as Inhuman
Greeting the National Council of Anti-Usury Foundations after today's weekly general audience, he said he hoped these institutions "may intensify their commitment alongside the victims of usury, a dramatic social ill."

"When a family has nothing to eat, because it has to make payments to usurers, this is not Christian, it is not human!," he said. "This dramatic scourge in our society harms the inviolable dignity of the human person".

Usury, the practice of illegally lending money with a very high amount of interest, has become more widespread in recent years as individuals and families have struggled to make ends meet during the economic crisis.

In Britain alone, borrowers are paying an estimated £700 million ($1.2 billion) a year to predatory extortionists, according to Illegal Money Lending Team, a UK charity. The organisation says 60 victims of loan sharks are currently in witness protection programmes to avoid intimidation and violence from illegal lenders, according to a Jan. 24 article in the Guardian newspaper…"
***
A Christian without the Church is an 'absurd dichotomy,' says Pope.
Vatican City, Jan 30, 2014 / 08:38 am (CNA/EWTN News).- In his daily Mass, Pope Francis reflected on the intrinsic relationship between the Church and the People of God, emphasizing that we need to be humble and obedient to her teachings in order to be faithful.

"It is an absurd dichotomy to love Christ without the Church; to listen to Christ but not the Church; to be with Christ at the margins of the Church. One cannot do this. It is an absurd dichotomy," the Pope explained in his Jan. 30 homily…
***
Pope to Notre Dame: Don't Cave On Catholic Principles
In my Exhortation on the Joy of the Gospel, I stressed the missionary dimension of Christian discipleship, which needs to be evident in the lives of individuals and in the workings of each of the Church's institutions. This commitment to "missionary discipleship" ought to be reflected in a special way in Catholic universities (cf. Evangelii Gaudium, 132-134), which by their very nature are committed to demonstrating the harmony of faith and reason and the relevance of the Christian message for a full and authentically human life.

Essential in this regard is the uncompromising witness of Catholic universities to the Church's moral teaching, and the defense of her freedom, precisely in and through her institutions, to uphold that teaching as authoritatively proclaimed by the magisterium of her pastors. It is my hope that the University of Notre Dame will continue to offer unambiguous testimony to this aspect of its foundational Catholic identity, especially in the face of efforts, from whatever quarter, to dilute that indispensable witness. And this is important: its identity, as it was intended from the beginning. To defend it, to preserve it and to advance it!
***
No word yet on Nancy Pelosi's excommunication. Any day now. Any day …
Nancy Pelosi to receive Margaret Sanger Award from Planned Parenthood
WASHINGTON, D.C., January 31, 2014 (LifeSiteNews.com) – The highest-ranking Catholic Democrat in the House of Representatives will receive an award from the nation's largest abortion provider.

On Friday morning, Planned Parenthood announced it would be awarding House Minority Leader Nancy Pelosi its Margaret Sanger Award, the group's "highest honor."

Planned Parenthood Federation of America President Cecile Richards said it gave her "great pleasure" to bestow "our highest recognition of leadership, excellence, and outstanding contributions to the reproductive health and rights movement" to the former House Speaker.

"No one is more deserving of this honor than Leader Pelosi, who has fought tirelessly throughout her career to protect and expand women's access to health care."