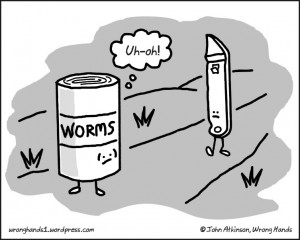 Here's the thing about religious education. Kids need it. Whether we can agree they need to receive this instruction from a nun, a priest, a lay person who's a certified Catechist, or from their parents, they most definitely need it. And they need it presented to them properly. These are the foundations of life long faith we're building here, so children's formation is a serious business.
That's why I truly appreciate all the thoughtful debate.
Joanne McPortland writes in What's Really Wrong With Catholic Religious Education…
This morning, sharing a friend's dismay about yet one more over-promoted but under-attended parish workshop for adults, it hit me. Our catechesis fails not because of our methods or our teachers or our educational philosophy, but because we have been—for as many decades as I can remember in my own life, and long prior to that in ancestral memory—catechizing the wrong damn people.

Our whole formational structure is and has ever been concentrated on children. What formation opportunities most adults—that is, Catholics not engaged in regular liturgical or catechetical or outreach ministries–encounter in the average parish consist of extensions of the parenting of children: sacramental preparation for Marriage, Baptism, First Confession and First Communion, Confirmation, and the occasional intergenerational catechetical activity. There may be adult workshops and classes on a variety of topics related to family life, but they're rarely attended by those not already in the ministerial loop.
Now while I don't agree with Joanne, I don't completely disagree with her either. Yes, as adults we need religious education as well because who can remember everything they were taught as children? I think adult formation goes without saying. Catholicism is a continual call to conversion. Meaning… don't ever stop learning. It's our responsibility as Catholics to keep learning our faith, because how else can you faithfully practice it?
So Joanne proposes a more adult centered approach to religious education. It's not a bad proposal per se but I'm not entirely sure how it ties into children's religious education. Is the idea here that pious adults automatically breed pious Catholic kids negating the need for formal classroom education? Because St. Monica is not impressed.
Speaking of formal classroom catechism, Elizabeth Duffy shares her own ideas about children's catechism.
Personally, I think that Sacraments "earned" through tests and homework are an equally perfunctory gesture as those to which one feels entitled by culture or inheritance. And while I agree with Joanne McPortland that it's wrong to expect children to catechize their parents, I have to admit that I myself really don't enjoy sitting in a parish basement listening to speakers or watching catechetical videos. That's not how I learn. I've taught kid catechesis and adult catechesis. I think catechesis fails when it resembles the American school system. The problem with treating Sacramental prep like an academic subject is that the church is universal.
To me it sounds as if her approach is more Montessori in nature, which I get because not everyone learns in the same way. I see her point but still contend that a classroom environment is strongly needed, mainly because without it the door opens wide for … puppets.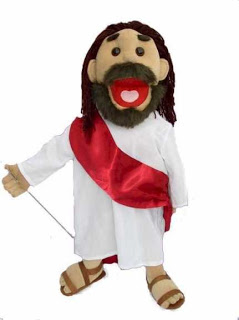 Not to imply Elizabeth is advocating irreverent puppetry. But you get the idea… things have a habit of getting wonky when you minimize the academic nature of formation. I speak from experience, having fought a parish teacher who thought having kids make their first confession to a teddy bear a smashing age appropriate idea.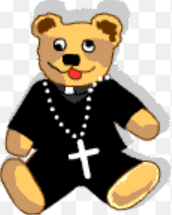 All the great thought provoking dialogue on the subject aside, I really think the solution here is a little more straight forward, and a lot less complicated. Have babies. Go to mass. Teach sin.
Have babies.
You know how having kids opens your narrow, cynical adult mind up to experience the joy of small everyday wonders we typically take for granted? Well it's the same thing as kids learn their faith. We get to re-experience it anew with them. I know Elizabeth and Joanne both object to the idea of children having to "teach" Catholicism to their parents and I want to ask, why? I've learned a great deal from my son and his inquisitive nature. I still firmly believe that this is the most effective form of adult catechism out there. Parent and child learning together.
Sure, we can offer an adult Bible study group and some people will go, others will not. But know, you cannot force people to continue their adult educations. You can however, require it of children who are making their first sacraments. And those kids will take it home to their parents. And I see nothing wrong with this at all, other than some parents will be move involved than others and there's absolutely nothing anyone can do about that… which is precisely why teaching solid non-watered down catechism is so dang important.
Go to mass.
If a child is seven years old and doesn't know the Lord's Prayer then that child's parents are not taking them to mass regularly and are certainly not praying it at home. And while it puts a catechist in an awkward position to mention that fact, it's still a fact that needs to be plainly mentioned to the parents and the parish priest.
Which brings me to, teach sin.
Do the parents know missing mass is a mortal sin? Does the child? Well, now you can let them know it is. And if they get offended they get offended.
It's not religious education that needs a complete overhaul… it's our attitude toward it that does. It doesn't need to be tailored or altered to fit the needs of a failing few, like a Catholic version of No Child Left Behind. All that does is lower the standards for everyone else and we've all seen what that has gotten us.