… Have you ever had to jump through logistical hula hoops to have your confession heard? Once I went almost six months between confessions. Turns out that one measly hour a week, Saturday 3 p.m. — 4 p.m., just isn't enough. For three weeks the line was too long and confession ended before I had the chance to make mine. I even tried two different parishes and arrived 45 minutes early each time.
With so many penitents seeking the sacrament, I suppose that's a good thing and I shouldn't complain. Deo gratias indeed!
Eventually I got my confession heard. All I had to do was phone up the office and make an appointment for Father's next available date… the following month.
This tells me two things.
One, priests are incredibly busy people.
Two, we need more priests. Lots more.
Catholic families have a responsibility to have lots of babies to potentially meet the growing demand of sorrowful sinners looking to be shriven.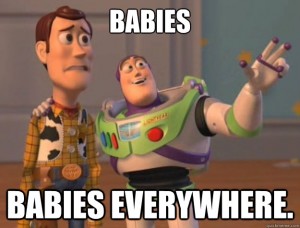 In the meantime, while people like that inexhaustible baby maker Simcha Fisher, pick up our slack in the creation of future priests department, what exactly are us pathetic sinners to do when confession falls into an hour time slot once a week? Make an appointment for the following month?
Well, we could try really damn hard to avoid all the big, grave, mortal stuff. Also, we can take advantage of a little Holy Water, the Confiteor, and the Eucharist for the remission of venial sin.
Or we could simply walk into a parish, at random, and request our confession be heard. Pascal-Emmanuel Gobry writes…
So here's a hack that I've used for many years. Not nearly often enough! But when I used it it served me well. It's very simple:

Go into a church at random.
Find a priest.
Tell the priest you need a confession now.

That's it.

By the way, priests are canonically obligated to say yes when they are asked for a confession. Canon law requires them to drop whatever they're doing and hear your confession–the only obstacle to that is if they're performing another sacrament, ie the Eucharist. But you wouldn't walk up to a priest during Mass to chat him up.

…

The priests are there. You're not imposing on them–they're waiting for you to do this. That's what they dedicated their lives to. And the Holy Spirit will certainly help you. Go. Grab one.
Yeah. I don't know.
Maybe it's the Southern in me and the fact that woman tend to be more appeasing, but I seriously doubt I could muster the gall to just walk up to a random priest and expect to have my confession heard because "he's canonically obligated to say yes."
It would feel like I was implying that a priest's time is less valuable than my own.
Also, I can't even remember the last time I was able to walk into a random church and not find it locked tighter than my mom's liquor cabinet. Unless mass is about to begin, parishes in the U.S. are typically closed. That's also the only time you'll usually find a priest inside them — and they are hardly just idly sitting around waiting for penitents to wander in.
Lastly, I would never ever in a million years ever think to stop a priest out in public to request he hear my confession. One time I was at the airport and saw a priest refuse to hear a man's confession because if he did he would have missed his connecting flight.
The priest profusely apologized but the gentleman was still visibly upset.
Did the penitent kill someone on his way to the airport or was he just taking "precautions" in the event of a crash?
Of course I don't want to discourage anyone from seeking out the sacrament of reconciliation. I'm just advocating a more mutually respectful approach. Hear me when I say that confession is absolutely vital. Vital, I tell ya'. If you haven't made use of it in a very long time please visit your diocese's website and find a church near you. Here, let me make it easy for you.
I'm just wondering if the approach Pascal-Emmanuel Gobry suggests is necessary. If confession is a sacrament that is important to us (and it should be) then wouldn't it stand to reason you'd make the time to go seek the sacrament when it's regularly offered? Yes, even if it means a few trips.
Discuss.