… I have tremendous respect for our religious. I mean, that lifestyle is not for wussies. Catholicism is punk rock, y'all. I stayed with a community for 2 weeks once and after the second day I was nothing more than a lazy presence floating about their halls, showing up for noon prayers and only reappearing hours later at Vespers. And bored. Lord, was I bored. But not those gals; up at 3:30 am praying and milking cows and doing chores and praying some more. I was exhausted just watching them hurry about.
Up at 3:30 am every day. Every. Day. Never sleeping in. Ever. I wonder if they have ever been known to fake an illness just to sneak in a few extra hours of sleep in the morning, like when I used to pretend to be constipated and hide in the bathroom so my ex-husband would have to change the baby's diaper.
So yeah, I'm obviously not cut from the same cloth as members of the religious community. It only means, though, I am even more in awe of the commitment and love it takes to chose to live the life of serving God. My goodness, I don't even think my parish priests ever rests! My son and were talking about this yesterday; how hard Father works. Again, exhausted at the mere thought.
I'm always thrilled to learn of areas that are seeing an increase in vocations. God bless them. The more people praying for the rest of us lazy schleps the better.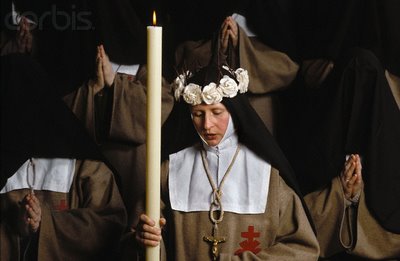 Hug all nuns. Pray for all priests.