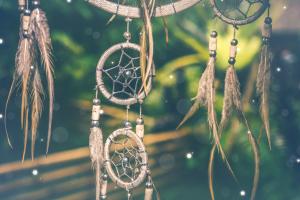 Last night I had a dream
That happened in the future
We were talking about the past
And some features of our culture
We found it hard to fathom
How we used to be so racist
For 400 years we nurtured
The system without a basis.
We also could not understand
Why we ever needed religion
It's okay to seek to understand
But somehow it became a mission
We wondered why we labored
In fear, control and certainty
When we could have spent our time
With nuance, paradox and mystery
Last night I had a dream
That we all were doing better
We didn't know all the words
But we knew some of the letters
It seemed so strange to focus
On money, container and pride
When authenticity and presence
Would have been a better ride.
We didn't know for certain
All the things that we should do
But we knew what didn't work
And tried some things anew.
We were happy just to step
And try our best to love
We didn't try to recreate
We endeavored to evolve.
Last night I had dream
Where we all were looking back
Not everything was perfect
But we were starting to get the knack.
Karl Forehand is a former pastor, podcaster, and award-winning author. His books include Apparent Faith: What Fatherhood Taught Me About the Father's Heart and the soon-to-be released Tea Shop. He is the creator of The Desert Sanctuary and Too Many Podcasters podcasts. He is married to his wife Laura of 32 years and has one dog named Winston. His three children are grown and are beginning to multiply!