Women of Spirit and Faith, and our sister organization, The Women's Task Force at the Parliament of the World's Religions, will be participating in the United Nations Commission on the Status of Women (held in NYC March 4th-15th), as women from around the world gather to focus on eliminating violence against women.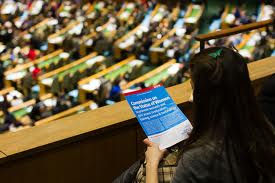 One of their offerings will feature a panel of women leaders from diverse religious perspectives exploring the complex topic " Religion, Culture and Violence Against Women".
You are invited to join in this important conversation when the Women's Task Force host their February tele-conference on this same topic. This teleconference will be a facilitated dialogue inviting your voice and participation. We value your insights, questions, concerns and perspectives on this complex and challenging topic.
There is no need to RSVP or 
register
 for this call. Simply use the call in number below and enter the access code. You will be warmly welcomed and guided into the conversation.
Religion, Culture and Violence Against Women
Tele-Conference and Dialogue
Sunday – February 10, 2013
2 pm Pacific Time / 3 pm Mountain Time/ 4 pm Central Time/ 5 pm Eastern Time
Call In Number (213) 342-3000
Access Code: 223322#