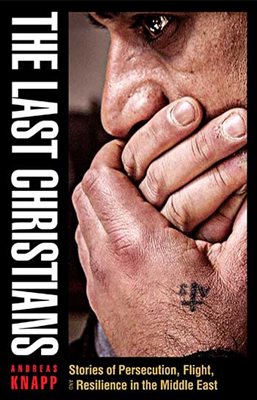 The Last Christians: Stories of Persecution, Flight, and Resilience in the Middle East
Author: Andreas Knapp
Publisher: Plough Publishing House
Date: September 1, 2017
Purchase here
Andreas Knapp is the kind of Christian we should all aspire to be. A Catholic priest, Knapp abandoned a comfortable sinecure as rector of the  Collegium Borromaeum, the seminary of the German Archdiocese of Freiburg, in order to join a small order inspired by Charles de Foucauld, live among the poor, and minister to prisoners and refugees. His work with Iraqi and Syrian Christians in Germany led him to undertake a personal journey of understanding that is recounted in The Last Christians: Stories of Persecution, Flight, and Resilience in the Middle East. That journey takes Knapp from the homes of newly arrived refugees to Erbil, capital of the autonomous Kurdish region of Iraq, where he meets still-grieving Christians freshly expelled from territories occupied by the so-called "Islamic State of Iraq and the Levant," or ISIL.
I should note that The Last Christians is written in the first person present tense, which gives it an immediacy not available in even the first person past tense. We have a sense of accompanying Knapp as he encounters important figures in the narrative and, more importantly, as we listen to their harrowing tales of persecution while figuratively sitting alongside him. At the same time, nearly every chapter includes extensive asides, mostly written in the third person past tense, in which Knapp provides important historical, cultural, theological, and even psychological context for the lives of the persons he encounters. Though this combination of person and tense might not work in every case, it does here. The result is a highly entertaining emotional and historical travelogue.
Knapp begins his story at the airport in Erbil. He has accompanied his friend Yousif, a Christian Iraqi émigré to Germany, on his return to attend his father's funeral. Yousif and his family had been members of the ancient Christian community in the northern Iraqi city of Mosul, a sprawling metropolis near the site of the biblical city of Nineveh. In 2014, when the ISIL took over Mosul and began murdering and persecuting Christians, Yousif's extended family fled east to Ankawa, a suburb of Erbil, one of the oldest cities in the world and home to a large community of Syriac Christians. Ankawa is only a short distance from Mosul but during the war against ISIL it remained safely behind the lines of the peshmerga, the Kurdish military. Although overwhelmingly Muslim, the stateless Kurds have a long tradition of tolerance, democracy, and women's rights. During the collapse of Iraq and the rise of ISIL, the entire Kurdish region became a safe haven for Christians, Yazidis, and even many Muslim Shiites.
Knapp weaves this sort of compelling background detail into a narrative that nevertheless remains firmly focused on Yousif's family and friends, including Basman, his brother; Taghrid, his mother, the widow of Abu Yousif, his father; and Wadid and Jonah, his uncles; Sisters Hannah and Salama, of the Little Sisters of Jesus in Ankawa; and Petros Mouche, the Bishop of Qaraqosh. Once Knapp returns to Germany we meet other Iraqi and Syrian families who have also suffered dispossession and exile. All of them tell harrowing tales of murders and rapes committed by ISIL, but they also describe the ways in which the American and British invasion of Iraq in 2003 set the entire tragedy in motion.
In 2003, there were 1.4 million Christians in Iraq. Today, fewer than 300,000 remain, and most of those are little more than refugees in their own country. As we now know, there was an insignificant Islamist movement in Iraq before the war. In fact, the government of Saddam Hussein – like that of Bashar Al-Assad in Syria – was considered friendly to Christians. The Islamist demon was created by the killing and chaos that followed the American invasion, and fueled by the inevitable insurgency that came next. First there was the group al-Qaeda in Iraq, and later the even more murderous – if such a thing is possible – ISIL, which was born in the network of American and British prison camps. In its hubris, the United States sowed the wind in Iraq and Syria, but it is Syriac Christianity that has reaped the whirlwind.
It's useful to point out here that the term "Syriac" doesn't refer to the nation of Syria. It is an ethnoliguistic category delimited by use of the language Jesus spoke: Aramaic. Andreas Knapp explains:
'Eli, Eli, lema sabachthani?' When a refugee from Qaraqosh speaks these words, they are not simply quoting from the Bible in a foreign language, but uttering a cri de coeur in their native Aramaic: 'My God, my God, why have you forsaken me?' And when a father nags his young daughter to get out of bed and go to school, he will say, 'Talitha cumi!' (literally, 'little girl, I say to you, get up!') – the same words spoken by Jesus when he brought a dead girl back to life. The authors of the New Testament preserved the original expression, handing it down for posterity like a precious linguistic relic, and Jesus' Aramaic mother tongue also because that of many Middle Eastern Christians for centuries.
As Knapp shows, the "last Christians" in the Middle East have a lot to teach us. Despite, or perhaps because of, centuries of persecution and social isolation, they have preserved a strong sense of Christian identity, a vibrant community and culture, and a linguistic and liturgical tradition that stretches back 2,000 years. They have also preserved the original Christian commitment to nonviolence, something we in the West largely abandoned as soon as Theodosius I made Christianity the state religion of Rome.
On another visit, I ask Fadi how they reacted to the violence they experienced in Aleppo. Fadi is trying hard to learn German but is still struggling, so Rahima translates my question: 'When you were threatened by the terrorists, or your brother-in-law was killed, how did you respond?'

There is a brief flash of fire in Fadi's eyes. 'If only we could fight back!' he answers, miming the action of shooting a gun. Then he shakes his head. 'But we are forbidden.' He points to heaven with a single word, 'Jesus …'

… Preoccupied as I am with the question of nonviolence, I ask Yousif too: 'What's the attitude of Christians in Iraq toward weapons and violence?'

We reject the use of arms. When my uncle was called up for military service, he suffered terribly. He was sent directly to the front in the war against Iran, but he always aimed into the distance, asking the Holy Virgin to send the bullet astray.'

'Even in the current situation,' Yousif adds, 'where Christians like us are being driven out of our towns and villages after eighteen or nineteen hundred years, armed resistance is still not an option for us. We have never fought a war here.'
This will sound strange, but what shines through in The Last Christians is the beautiful innocence of the Syriac Christians. No, it's not the innocence of naïfs who've never experienced the sorrows of the world, or of unsophisticated rubes who've never experienced the world's pleasures. It is the innocence of people for whom Jesus is alive and very present. Come to think of it, maybe that's not innocence at all. Maybe it just looks that way to hollowed out, compromised, self-satisfied Western Christians like me. Maybe what looks to us like innocence is really just faith.
Whether in Mosul or Tur Abdin, Damascus or Ma'loula, these places where the firstChristians once gather and prayed in Aramaic right now be inhabited by the last Christians to do so. I am reminded of an Aramaic expression, a cry for help uttered by the oppressed early Christians: 'Maranatha!' – 'Come, O Lord!'