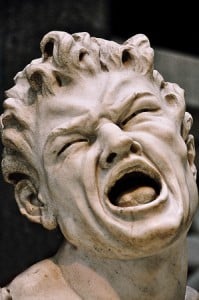 [An old friend in pain recently emailed me to share some anguish and doubt. (S)he wrote that despite years of intense but unanswered prayer, (s)he had finally failed the test of faithfulness. Most disturbing of all, (s)he commended me on having passed that test, no doubt truly believing that in fact I have. This was my reply. I offer it today for my new friend Cynthia.]
Thank you, my friend, for reaching out to share these thoughts with me, for trusting me with emotions so raw and doubts so profound. I struggle, too, and I have all my life. I ask why there have been so many losses. How someone could have sexually abused me when I was ten years old. Why my dad was killed so young. Why my mother had to live with thirty years of pain and disability. Why my brother Paul was taken so suddenly, leaving his family in a world of inconsolable grief. Why illness, accident and addiction have robbed me and those I love of so much.
I've never received an answer.
But I do know this: Christ is with us in all our suffering. He became one of us. He endured poverty, loneliness, and loss. He suffered rejection, was falsely accused and abandoned by those he loved most, tortured and killed. Whatever suffering we endure – physical, moral, spiritual, emotional – he is there with us because he suffered these things, too. Like all of us, he asked for the cup of suffering to be passed but received no answer. His last question, directed to his Father, was "why have you abandoned me?" But of course the Father hadn't abandoned him, and neither has he abandoned us.
Wherever there is suffering there is also life. And wherever there is life there is love. And where there is life and love there is God. And when suffering comes, as it always will, God is there with us in the middle of it. You're angry with God? You have doubts? I understand. In fact, I'm with you. But there is only one test, whether we will choose despair or hope, and you haven't failed that test at all. I presume you woke up this morning, got dressed, and went to work. You spent your day teaching kids who themselves constitute the future, a future much longer than yours or mine. You loved and were loved. You no doubt thought about
XXXX
 or the student you recently lost, and the knot of sadness tightened in your gut, but still you went on with your day because on some level you understand that you are God's gift to those who remain, just as they are God's gift to you. You chose hope, and so today you passed the test, as I know you will every day.
It's funny, but while you were writing your message to me last night, I was getting out of bed because I couldn't sleep. My mind was flooded with thoughts of my brother Paul. I saw myself in the CCU at St. Thomas West Hospital, watching him take his last breath, then turn gray and still. I saw myself at the crematorium, examining in detail the shape of his jaw, his hairline, his quirky nose, seeing my own face in his, knowing that within hours his body would be ash. These are hard things, my friend, and they come to us late at night when the busy-ness of the day has subsided. But morning breaks. The tasks of life and love lie ahead of us, and if we are faithful to them we are faithful to God. We pass the test.