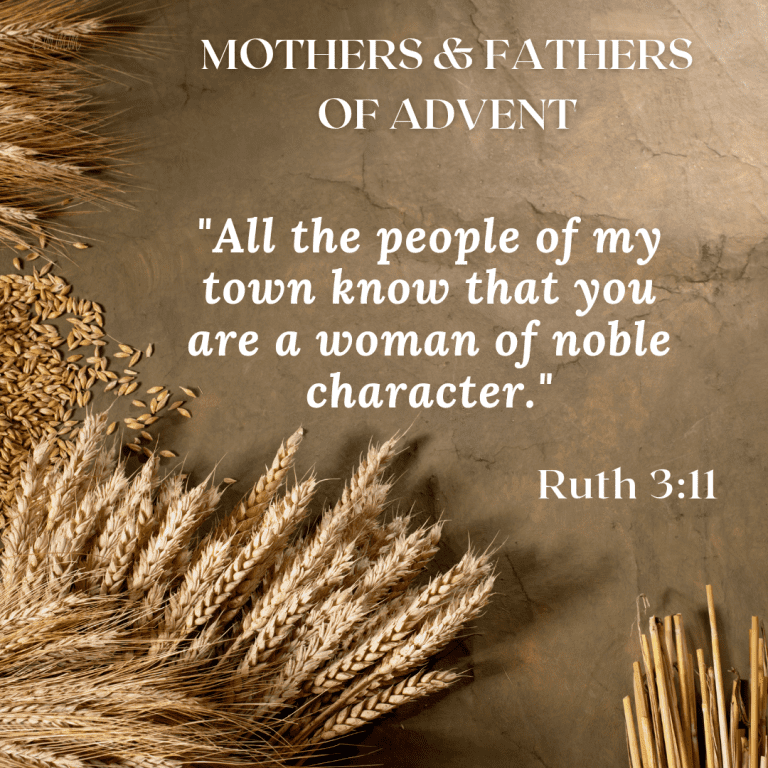 Ruth and Boaz standing in a field, making eyes over stalks of wheat . . . Ruth and Boaz on the threshing floor, making plans to marry as she scuttles out the door.
It's a popular practice to see the tale of Ruth, the foreign widow who pledged loyalty to her grieving mother-in-law, as a rags-to-riches romance. After all, she meets the man of her (and every girl's) dreams—he's rich, generous, and kind—who finds a way to rescue her from her poverty and childlessness. But labeling the book of Ruth as a mere love story robs it of its enormous significance. Ruth is the story of God's overwhelming, loyal "chesed" love for his people.
What does Ruth teach us about God? What can we learn about becoming a person with a heart like God's?
Context
You probably know the basics: An Israelite family moves away to find food in a neighboring land. The boys grow up and marry women from that land, but within a decade the young men and their father are all dead, leaving the women alone and at risk. Naomi, the widowed mother, returns to her hometown of Bethlehem, accompanied by Ruth, one daughter-in-law who is determined to stick with her.
While Naomi grieves, Ruth gleans in the fields so they could eat. She ends up in the field of a righteous man, Boaz, who "just so happens" to be Naomi's cousin-in-law. Because he's a good guy, he takes care of Ruth, which encourages Naomi, who concocts a plan for him to care for Ruth permanently through marriage. Boaz goes above and beyond to make sure Ruth's dreams come true. They marry, have a baby, and Naomi's emptiness is filled.
The book contains far too many nuggets of truth, inspiring concepts, literary gems, etc. to cover in a short post like this. I want to focus on two critical elements to understanding Ruth's significance in Christ's genealogy.
Character
Boaz
We meet Boaz in 2:1, where he's described as "a man of standing"—Gibbor Chayil. To be described by either one of those Hebrew words was a compliment, but both? Impressive.
Gibbor: powerful, warrior, with status/strength/wealth (1 Sam 9:1, 1 Chron. 1:10)

Chayil: strength, power, (much like gibbor) but also excellent character, with integrity, courage; Law-abiding in heart and deed, moral nobility. Used to describe David's "mighty" men (1 Chron. 11:26) as well as those of high character (Exodus 18:21)
Together these words reflect Boaz's status in the community: he was respected not only for his outward strength, whether economic or physical or relational (or any combination of those), but also for his upstanding, godly character. He's the real deal.
In short, Boaz is known in his community as a righteous man. We see his character in action as Ruth is treated well by his managers and then by him personally when he comes to the field.
2: 8–9: He puts her with his own female workers, told her how he admired her loyalty to Naomi, and offered her access to water.

2:14–15: He offers her roasted grain (not raw) and access to the sheaves that were laying on the ground for his workers to gather. Abundance! Preferential treatment. She went home loaded!
Boaz is kind and generous to Ruth, then protective of her. By using his position to care for someone vulnerable, different, socially lower than him, he is fulfilling his obligation to provide for Naomi, his deceased relative's widow. In Israel, family is supposed to take care of one another.
Ruth
Throughout her story, Ruth's character shines. Her reputation for loyalty to Naomi spreads throughout the town, as does her work ethic in the fields. Like Boaz, she puts feet to her words, living out her loyalty and love through her daily hard work providing food. Boaz praises her: "All the people of my town know that you are a woman of noble character" (3:11). The word for noble: chayil. We see it in the famous Proverbs 31 passage, "A wife of noble character who can find? She is worth far more than rubies" (v 10), and "Many women do noble things, but you surpass them all" (v 29).
If Boaz is the kind of guy all the girls want to marry, Ruth is the girl all the guys should be seeking. These are the types of children we should all seek to raise, people we should all aspire to become. Their godliness was not relegated to personal thought life and spiritual devotions. They lived their faith through obedience, service, sacrifice, and generosity—reflecting the character of God through their behavior.
Chesed
What does the character of God look like in action? It looks like loyalty, love, kindness, generosity. The Hebrew word is chesed.
Chesed describes God's covenant love for his people Israel. The Greek parallel is agape, the sacrificial, all-giving love of Christ. Both Ruth and Boaz demonstrated chesed.
Ruth
Ruth began far from God but drew near to him when she told Naomi (1:16–17) that she renounced her heritage in favor of Naomi's people, land, and God.
Where you go I will go, and where you stay I will stay

Your people will be my people and your God my God

Where you die I will die and there I will be buried…
Ruth decided to belong to Israel and her God, Yahweh. Her love for Naomi was unreasonable, over the top, sacrificial and generous. Boaz later describes her marriage proposal as "chesed," often translated kindness, loyalty, or loving-kindness (3:10). She offered her life—a future as Boaz's wife and mother of his children—as an act of chesed toward Naomi, who would find joy and blessing once again through Ruth's new family.
Her loyalty to Naomi is a living reflection/embodiment of God's loyal love for his people. It's a covenant love.
Boaz
As a man of standing, Boaz held great influence in his community. He easily shared his wealth, dealt graciously with those in a lower class, operated his business with integrity and honor, and generously provided for his relative's widow. He followed God's Law and his community valued him for it. So when Ruth challenged him to do more—not just allow her to work but to marry her and provide a legacy for Naomi—he willingly responded in love beyond what the Law required.
In Israel, land stayed within the tribe. When Elimelek died, Naomi returned and lived on their land. But she, as a woman, was unable to sell it, so Boaz took on that task for her. He was not the nearest relative, so he first had to check with the one who was closest. Marrying Ruth, as he slyly told "Mr. So-and-So" in 4:5, was part of the deal for the man who wanted to buy Naomi's land. If you want to redeem the land, provide for the widow, too. Such is the heart of God.
But Mr. So-and-So was unwilling to risk his finances by taking on Ruth as a wife. Doing so would cut into his children's inheritance. She was too much for him. Legally, he was within his rights to refuse her hand. But chesed isn't limited by the letter of the law. Boaz trusted God enough to accept Ruth—and Naomi—and all the potential burdens they might bring to him. Why? Because he was chayil, a man of noble character. He knew how to chesed.
The result? Boaz and Ruth became parents to Obed, who became father to Jesse, the father of King David—the ancestor to Jesus the Savior. Their legacy lives on thousands of years later as examples of loyal love.
So What?
The story of Ruth stands as a picture of God's loyal love to his people. Just as Boaz redeemed Ruth, so God through Jesus redeems us. God is love—chesed, agape—and he goes beyond the reasonable to show his loyalty, kindness, and generosity toward us. Jesus is the fulfillment of that love.
As those who have pledged their allegiance to Jesus, we are called to love others in the same way:
"A new command I give you: Love one another. As I have loved you, so you must love one another. By this everyone will know that you are my disciples, if you love one another."
John 13:34–35
Do you have influence? Do you have privilege? (The answer is yes.) How are you sharing it? In what ways are you offering back to God what he has given you by loving those around you in tangible, sacrificial ways?
We are blessed to be a blessing, not to hoard our blessings. This Advent, let's take time to consider how we can be like Boaz and Ruth, showing chesed love to those who cross (or live in) our paths.
The book of Ruth tells the love story between a faithful God and his people. For a more robust exploration of Ruth, I recommend Carolyn Custis James's The Gospel of Ruth: Loving God Enough to Break the Rules.
This post is third in an ongoing series exploring the women in Jesus's genealogy.
Part 1: The Moral Dilemmas of Judah and Tamar
Part 2: What We Can Learn from Rahab