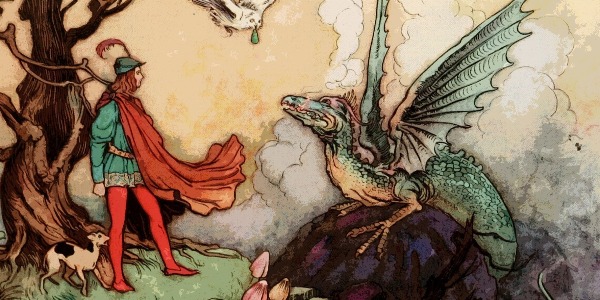 Witches love songs, spells and chants that rhyme or have a poetry flare. Sometimes the words come easily as if we are being told what to say or write. Other times, emotions fuel the fire. Over the years, I have collected a little book of some poems that have spilled out from my heart and soul. I shall share those with you now.
The Dragon
Once upon a time, there was a sleeping dragon,
left to wither without any inspiration or passion.
The sleeping dragon didn't know she was indeed a dragon.
She didn't even realize that she was asleep,
so still she laid there, lifeless and numb.
One fine day, a magickal boy found her, lying almost breathless.
He immediately realized what a beautiful dragon she really was.
He nurtured her, cared for her and gave her dreams to believe in,
but sadly only for a very, very short while.
For he knew to exist and thrive, dragons needed to soar.
Atlas, the time quickly came when the beautiful dragon awoke.
She knew exactly what she had to do.
She had to create, she had to fly, she had to sing,
but most importantly she needed to wake other dragons.
Without as much as a goodbye, she rose, spread her wings and flew away,
off, off into the night sky.
And if you look closely, at any given sunset, surely you will see her pass by.
Shadow

The beating of a drum in the near distance,
like the flickering flame from a candle in the dark night,
pulling your body close, inward toward your spirit.
Love embraces your every senses, awakening like never before,
as it races towards your heart, once broken but since healed.
Suddenly, the flame goes out and the beating stops.
All you are left with is yourself,
your own shadow,
your own darkness,
your own truths,
and your own pain, numb, nevermore.
Call to me
In the North, there is Earth
Grounding force and rebirth
Call to me, Call to me
In the East, that is Air
Wisdom lurks over there
Call to me, Call to me
In the South, the fire burns
Giving light as passion turns
Call to me, Call to me
In the West, Water flows
So much work in the shadows
Call to me, Call to me
Standing still
The circle is cast
Until we're finished
The circle shall last
Take a breath
And let it out
"An it harm none"
Is what we'll shout
Call to me, Call to me.
The Dance

Its coming….can you hear it?
Shhh….listen carefully, do you hear it?
The tap of a drum far away in the distance,
resonating, oh so near.
Your heart races to mimic the beat
forcing you to dance under the moonlit sky.
Can you hear it?

Wait. Wait…can you feel it?
the fresh drops of rain on a darken night
touching your exposed skin
slowly dripping down your body
the wet tingling makes you seem to come alive
as love fills you beyond capacity.
Wait…Can you feel it?

Hey. Hey…can you see it?
a flash of lightning strikes above in the midnight hour
as thunder trembles the ground right below your feet
you shake, you move, you listen and you hear
you feel, you see in your mind's eye
and now you know that you are all that you were meant to be.

Can you see it?