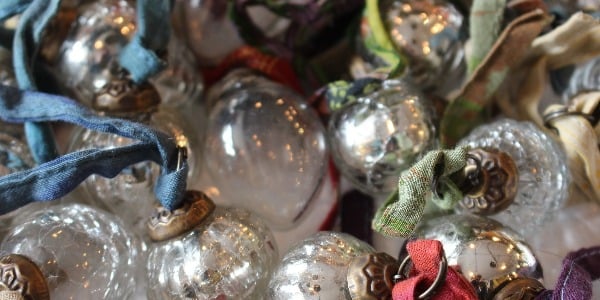 Yule is fast approaching! I would ask if you are ready but I know from experiences that sometimes we are never completely ready. Well, whether you are looking for a last minute gift idea, something fun to do with the family, or just want to put a little bit of magic out, this is a simple activity to do. Gather a few items from the list below and we are ready to start.
Supplies needed:
Clear Glass Ornaments (you can get these at Joann's or Michael's) I used the 3.25″ size but you can use smaller or bigger if you desire. Use plastic ones if working with small children. 
Herbs (see herb qualities below)
Small crystals, stones and trinkets (make sure you can get them in the opening in the top of glass ball)
Ribbon
Parchment or special Paper
Pen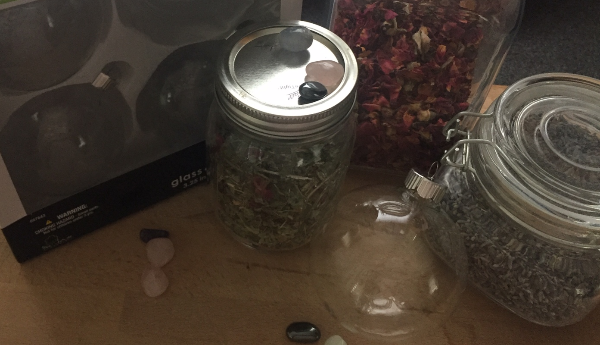 Recipes
Here are some ideas with intentions, to add to your blessing ball. Feel free to mix and match while using your intuition. Be creative and add other things that you feel called to.
Protection
Pick from the following list:
Angelica
Basil
Bay Leaf
Clove
Coconut
Holly
Rose
Sage
Nails, pins, and/or needles
Broken glass
Amethyst crystals
Wolf's hair
Black feather
Love
Pick from the following list:
Catnip
Chamomile
Daisy
Ginger
Mistletoe
Rose
Yarrow
Rose Quartz
Apple seeds
Pink (romantic love) or red (passionate love) feather
Paper hearts
Sea shells

Prosperity
Pick from the following list:
Cinnamon
Cloves
Patchouli
ginger
Dollar bill ($5 or more)
Pearl
Healing
Pick from the following list:
Allspice
Cedar
Cinnamon
Ginger
Mugwort
Nettle
Rosemary
Amethyst
After partially filling your ball, take out your piece of paper and pen and write your intention. Is this for healing? or protection? write it out, roll it up small enough to fit easily in the opening of the ball and continue to fill up with the rest of your recipe additives.
Add a ribbon and charm of your choice to the top and your blessing ball is complete.
When I am doing magickal creating, I like to cast a circle around my work table and I. For some people, they will cast around their craft room or kitchen. Witches who do this for products to sell, will sometimes leave a circle of protection up, for the creative room, charging it periodically. I will leave this up to your comfort level.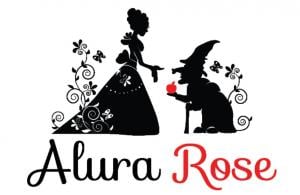 Facebook I Website I Shop I Book a Reading