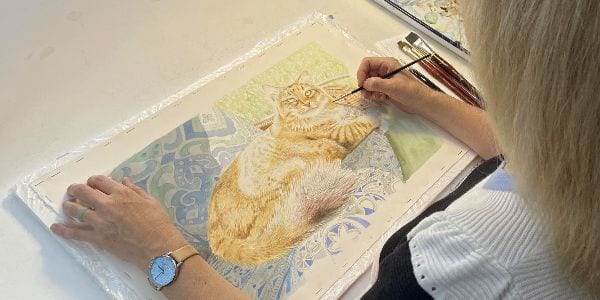 [Today, we sit down for an interview with Lisa Hunt. An Illustrator, and Artist, Lisa Hunt here discusses her journey with becoming a Tarot Artist, her hopeful resurrection of "The Fairy Tale Tarot", and her upcoming projects.]
TFTW:  How would you describe your personal journey with Art and Tarot?
Lisa Hunt: Thank you for reaching out to me Alura! I began my tarot journey in 1995. As a young artist I had no idea that I'd be working on tarot decks for the next 26 years! At the beginning of my career, tarot was much less mainstream and I didn't know anyone else who was creating tarot decks. I was learning as I went along. As time went on, I was less art directed and much more self-directed. I also went on to study psychology with an emphasis on Jungian psychology and tarot. The more I worked on decks, the deeper I delved. By the time I got to my third deck (Animals Divine Tarot 2005), I was writing the guidebook. Each deck that I've worked on has built upon what came before.
TFTW: Did you set out to combine the two (art and tarot) or did that come later in your career?
Lisa Hunt: At first, I was a fantasy artist and dabbled with children's book/magazine illustrations. After doing some work for Llewellyn Publishing, I was offered the chance to illustrate Shapeshifter Tarot (published in 1998). It was my first deck and a huge undertaking at the time. I loved doing it so much that I ended up shifting my career to focus on creating decks, but I've always contributed art and writing to other genres as well.
TFTW: How many Tarot Decks to date have you illustrated?
Lisa Hunt: To date, I've done 9 decks including an oracle deck and a Lenormand deck. I've written several of them as well.
TFTW: Which one (tarot) is your personal favorite and why?
Lisa Hunt: That's a tough question. I think my favorite card project is The Winged Enchantment Oracle (US Games 2015). I love shapeshifting people with birds in my art. Tarot-wise, I think The Fairy Tale Tarot (published in 2009) is one of my favorites. It took me several years from initial proposal to the finished product. I enjoyed everything about it from the research to the storytelling and art-making. I also loved working on Ghosts & Spirits Tarot. I was in a bit of an art trance while writing and painting that deck. The ghosts and spirits just flowed out.
TFTW: Do you read Tarot? If so, do you ever do it publicly?
Lisa Hunt: I do not read tarot professionally but I have done readings publicly and enjoyed the experience.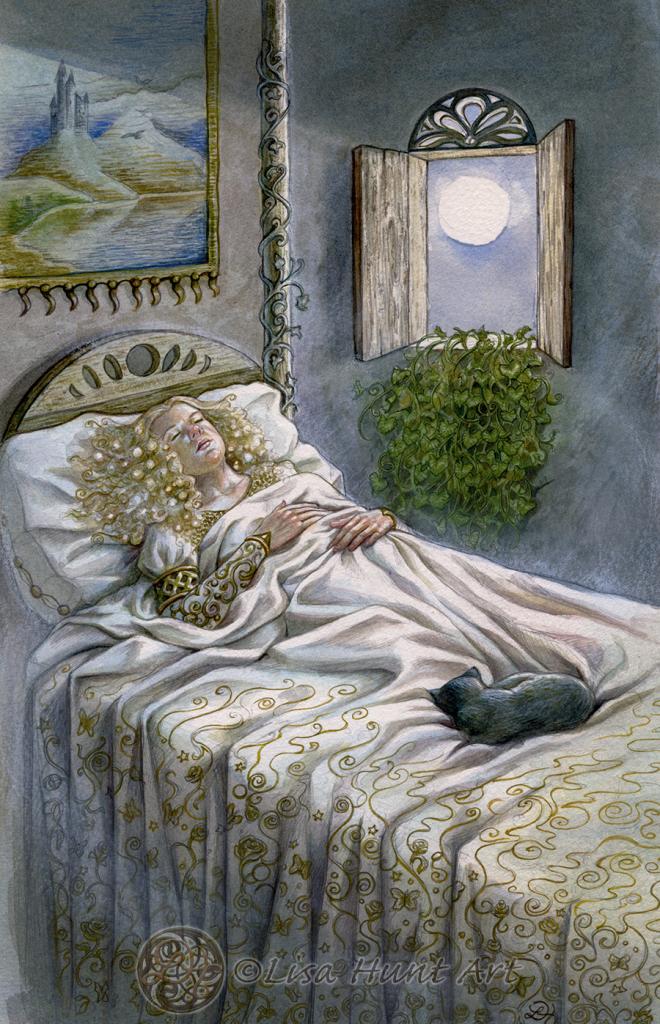 TFTW: Recently, we caught wind that you may be bringing the Fairy Tale Tarot back into print. Is there more news to share on this?
Lisa Hunt: I've had many people ask me about The Fairy Tale Tarot. It has been out of print for a long time and has become quite collectible. Right now, I'm researching Kickstarter and the logistics of reprinting the deck. I'm being thorough because if I'm going to make it happen, I want to do it right and assure a successful launch. I have been getting some wonderful feedback from people who are interested in its comeback, and I welcome any ideas and recommendations.
TFTW: Where can we look to get our copy?
Lisa Hunt: Original copies of The Fairy Tale Tarot are rare as only 5000 English copies were printed, though they do pop up on eBay occasionally. This is a big reason why I would like to reprint the deck and guidebook. When that happens, they will be available through my Kickstarter campaign.
TFTW: Will there be any revisions that you foresee at this time?
Lisa Hunt: The core of The Fairy Tale Tarot kit will remain unchanged but I plan on repackaging the box and book cover with slight alterations to the card design, though the illustrations will be the same. Depending on how well it is backed, there may be some extras as well.
TFTW: How did you pick which fairy tale for each certain card?
Lisa Hunt: That took a lot of research and time. Not only did I read myriad stories from around the world, but I studied scholastic texts about fairy tales themselves (meaning, symbolism, psychology, etc.). Matching up tales with card meanings was no easy task, though some cards came more easily than others.
TFTW: Which Fairy Tale is your favorite? Why?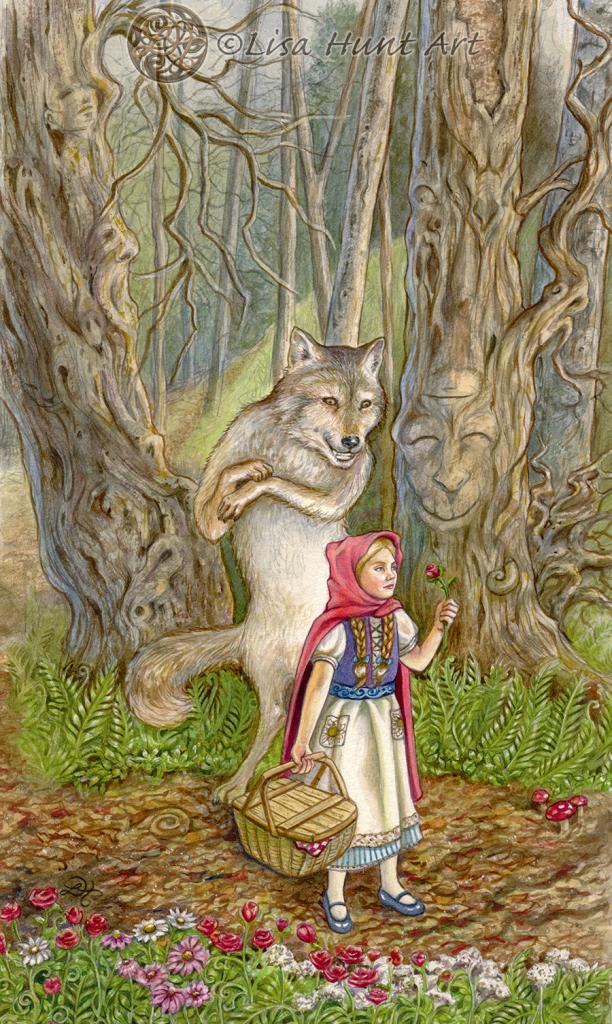 Lisa Hunt: My favorite images to paint were probably The Little Red Riding Hood, Puss in Boots, The Star Maiden, Tatterhood, Sleeping Beauty, and East of the Sun West of the Moon. I love so many tales for a variety of reasons. I have a copy of the "Golden Book of Fairy Tales" published in 1971 that I was given at four years old. It is my favorite and most memorable book from childhood. Today it holds a place of honor in my house.
TFTW: Which Tarot Deck is your latest? Can you tell us about it?
Lisa Hunt: I just completed art for The Pastoral Tarot written by Lynn Araujo (projected release date 2021). It's a deck inspired by the Great Depression era of the 1930s. It depicts life in the countryside, much of it is idyllic while other images reflect challenging situations. I felt less like an illustrator and more like a fine artist while working on this project. The deck is full of flowers, animals, and people, with traditional card names and meanings. The paintings are large watercolors that follow a horizontal orientation rather than the traditional vertical format. It took me 5 years to complete.
TFTW: What other projects are you currently working on?
Lisa Hunt: Aside from finishing up The Pastoral Tarot, I will be working on a deck titled the Oracle of Creative Expression which celebrates a spectrum of creative vocations and hobbies. Both decks will be published by US Games Systems Inc. Occasionally, I also do fine artwork. My most recent pieces are a portrait of my daughter as well as one of my cat Izzy. In between, I do commissions for fans. I've done hundreds of drawings for people over the years. Anything from fantasy art to "soul drawings".
TFTW: Do you have any advice for artists out there that would like to do a Tarot Deck?
Lisa Hunt: Be true to yourself and follow your muse. The tarot is a wonderful template for further creative exploration. Also, come up with something fresh to add to the table. Tarot has become so popular that there is plenty of room for new talent and original ideas.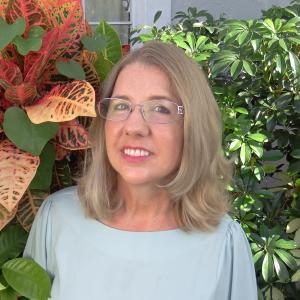 TFTW: Where is the best place to find you, your artwork, and news?
Lisa Hunt: You can visit my website lisahuntart.com. It has links to follow me on Instagram (lisahuntart) and my Lisa Hunt Art Facebook group page.