Rainy summer days or late cool nights are always perfect for magickal crafting opportunities. This post contains some projects that are quick and easy ideas to create some magickal intentions for your home. Grab your fellow witches and family members, a table and chair, your favorite cup of tea and let the fun begin.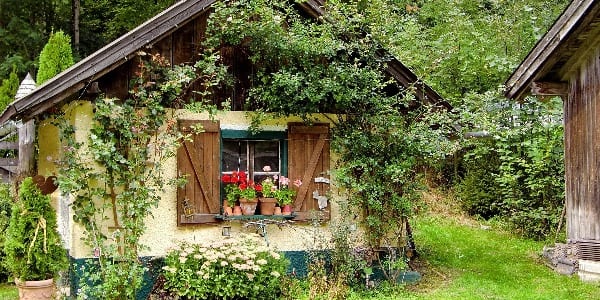 1. My Favorite Cup of Tea
Quiet times deserve a bit of magick themselves. Just what a good cup of tea can handle. Here is my recipe for "Happily Ever After Tea". It is perfect to lift a mood or to sip and sooth the soul. I created this blend for depression but it can be enjoyed fully any time your are looking for a wonderful cup of tea.
Teas and things herbal are usually done in parts. My recipe is the same. Basically what this means is whatever part of measurement it is, use that for all. For example, if you want to use 1/4 cup as your part, you would use one part borage or 1/4 cup borage. You would then add 3 parts or 3/4 cup rose. If your measurement was a cup, you would use 1 cup borage and 3 cups rose.
Happily Ever After Tea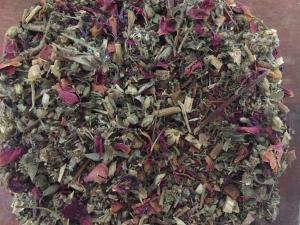 2 parts of chamomile                    1 part borage                   1 part lavender                   2 parts rose
2 parts lemon balm                   1 part rose hips
Combine all ingredients. Store in air-tight container. Steep and enjoy.
2. Bells at the Back Door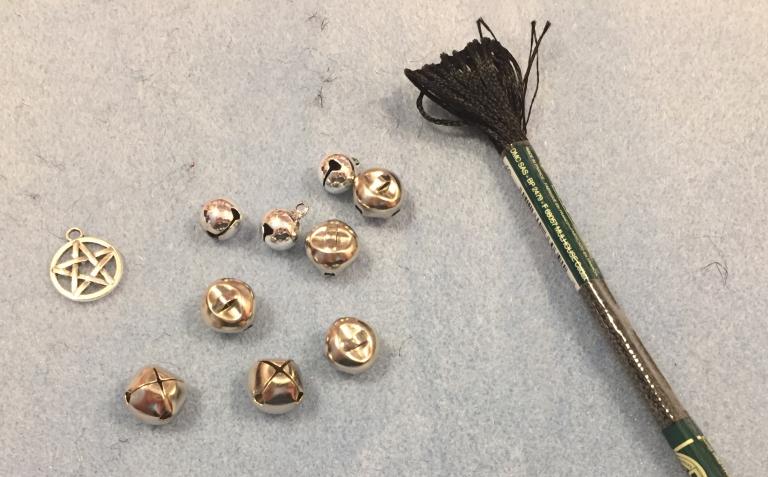 Bells have decorated door knobs for quite some time. Witches know that if we place them on the back door, they will not only help us know when someone is entering or leaving but they also will guard our home and keep it safe. Grab some bells and string, yarn, twine and some decorations if you like and create your own Bells to hang on your back door.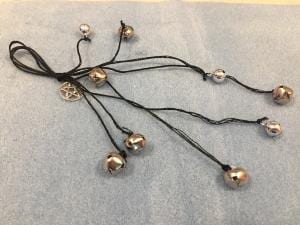 First pick out which bells you would like to use. How many you use is completely up to you but I like to do things in domination of threes. I have decided to use nine bells in total. Make a loop with the string to get started. Tie a bell to each end and embellish. Tie to back door handle and you have just added protection to your home. You can do this to the front if you wand but it is typical the back door that has bells.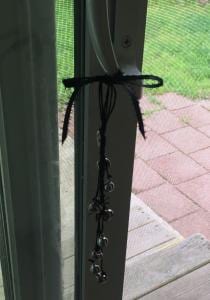 3. Blessing Ball
Blessing Balls can be created for any intent really. Refer to my past post "How to make a Yule Blessing Ball" for basic instruction. Use corresponding elements to bring in your intention.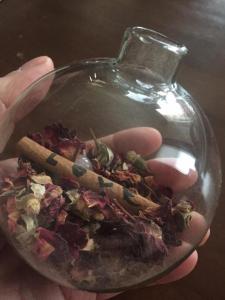 You will find the corresponding elements in that article as well/
3. Coins
Witches will sometimes hang or put old coins by the front door to invite prosperity and money to come in. Old Buffalo Nickles and Indian Head Pennies are some of the best ones to place out of sight/reach by your front door. In Feng Shui, they take Chinese coins and string them into a charm for prosperity to be hung on the door knob. You can add charms and adornments as you did with the bells for this too.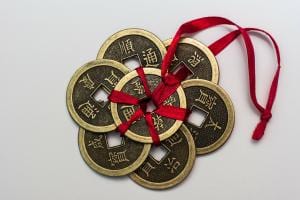 4. Dream Catcher
I, personally, love making and having these. There are so many variations now. You can take your imagination and creativity to new levels. Just take a metal ring, some twine, and suede cording. You can find basic instructions here and then add your own touch. Add feathers, crystals, dried plants and more to decorate. Hang over your bed and your nightmares will get tangled and you will sleep better immediately.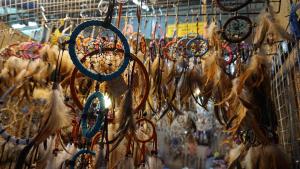 Whatever your intention, the above list can help you get started on creating your magickal home life. Placing charms and talismans for the home can and will enhance your life.