By Cassandra Poppe
My four year old little boy was slowly moving away from the burn barrel, completely engulfed in flames from his waist to his head.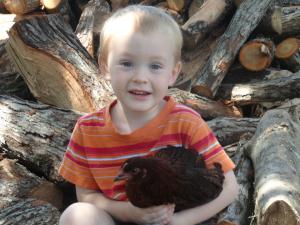 "On the Way of the Cross, you see, my children, only the first step is painful. Our greatest cross is the fear of crosses. . . . We have not the courage to carry our cross, and we are very much mistaken; for,whatever we do, the cross holds us tight — we cannot escape from it.

What, then, have we to lose? Why not love our crosses and make use of them to take us to Heaven? But, on the contrary, most men turn their backs upon crosses, and fly before them. The more they run, the more the cross pursues them, the more it strikes and crushes them with burdens..If you were wise, you would go to meet it like Saint Andrew, who said, when he saw the cross prepared for him and raised up into the air, "Hail O good cross! O admirable cross! O desirable cross! receive me into thine arms, withdraw me from among men, and restore me to my Master, who redeemed me through thee. " — Saint John Vianney
Crosses. Suffering. The human race has been plagued with hardship ever since that fateful day in the Garden of Eden, when Adam and Eve desired more than the goodness God had already given them. And from that point on, most viewed suffering as a punishment from God – until that first Good Friday when Our Lord transformed punishment into a blessing.
It seems natural for us to try to alleviate hardships when they come. A painkiller, a massage, an adjustment to the thermostat. How many little things do we do each day, each hour, to tweak the comfort level around ourselves? As these first 2 paragraphs were written, I have already adjusted my posture, scratched an itch and taken a sip of my drink. All actions taken almost without thinking and all done to increase my comfort.
But what happens when our discomfort becomes full blown suffering? Suddenly our pleasure and comfort seeking instincts are challenged and no matter what remedies we try, our suffering is not eased. Cancer. The loss of a loved one. Crippling persecution. An accident. These crosses do not refine and perfect our souls in little ways, as the everyday annoyances in life can. No. These crosses are life changing, redirecting our souls directly towards Calvary, to bring about in us a profoundly holy transformation. But only if we are able to see the love that is hidden within the cross.
While we may not cheerfully embrace our crosses, our Catholic faith teaches us of the immense value in suffering. We have Crucifixes to remind us of Our Lord's suffering and sacrifice, inspiring us to mortify ourselves for love of Him. We understand that suffering is a part of life and a tool we must use well for the sanctification of our soul. Others avoid suffering, seeing it as either a punishment or from Satan.
And while this view may be correct in certain circumstances, we must always remember that all suffering is allowed by Our Lord. If He allows it to happen, we must treat it as an invaluable opportunity to grow in holiness, and give glory to God. No matter what.
I do not say this lightly, as it is indeed both a joy and a burden to be trusted by Our Lord. He requires much of those He loves – sometimes more than we think we can handle. But we may rest in the fact that as long as we remain firmly at His side and under the loving watch of Our Lady, all things are possible.
When Our Lord redirected our lives that fateful January morning, I felt it more than I heard it. That deep percussion-like boom one hears when a firework is sent skyward, before it explodes. This was immediately followed by my husband's unintelligible cry. Flying to the kitchen window, I saw what will haunt me forever. My four year old little boy was slowly moving away from the burn barrel, completely engulfed in flames from his waist to his head. His hands were clenched at his sides, moving them up towards his face in slow motion, pieces of his fleece jacket peeling away and falling behind him.
What followed could rival the goriest scenes in a horror movie. Grey, cadaverous forehead. Deformed ears. Skin still bubbling from the heat trapped within. Long strands of flesh hanging from little hands and arms like a partially unwrapped mummy rising from its tomb. Shrieks of pain. Tears of terror. As my son was laid at my feet on the kitchen floor, I collapsed before him, unable to do anything for him before the ambulance arrived.
And so I prayed. The two prayers that came to me were, "Mother of God, be with us," and "Thy will be done." And looking back, I understand why.
From that moment on, Our Sorrowful Mother took me as her child, showing me that sometime God's love looks very ugly on the surface. I had gotten a taste of this truth before, when my husband and I struggled to make our marriage work, and again when I cared for my father in his home as he died of cancer. But this by far was the most crippling form of suffering I could have endured. I wanted to take on Fulton's burns as my own. "Lord, let me suffer these pains for You!" I prayed. "He is too little!" But I see now how that would have been the easy route for me. I already understood redemptive suffering, binding physical pains to the wounds of Our Lord on the Cross as an offering of love.
But I could not do that for my son. This emotional anguish was new – and so instead of suffering with Our Lord, I suffered at the foot of Fulton's cross with Our Lady. If she saw the love hidden within the Our Lord's Cross, surely I could find the love in Fulton's suffering.
And that is what I needed to find. Otherwise, his suffering made no sense. I did not want to be a bystander on Calvary, disgusted by the scene before me, or to be one to rage against God amid the pain.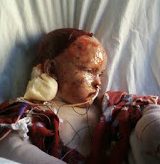 I have known far too many bitter souls in my life who, do not take the time to examine their crosses and embrace them for the gift they are. Help me find the gifts, Sweet Mary. Help me find the love!
And what love there was! Just as word spread of Christ's suffering and brought about conversions, so too did Fulton's suffering inspire others to the faith. I received letters from people who have returning to a life of prayer because of Fulton's powerful story. Some grasped for the first time what it means to 'offer it up' and embraced their own crosses with a new found love for God. They saw through Fulton's and my experience, that love cannot be complete without some form of willing suffering or sacrifice, choosing to participate in God's plan through the cross laid upon their shoulders, even when they could not yet see the love.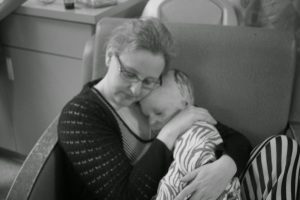 Truly, His call to take up our crosses and follow Him was a call to suffer for Him that others may be saved. And for the first time I understood the words of St. Paul when he said, "In my flesh I complete what is lacking in Christ's afflictions." (Col. 1:24) when hearts previously unmoved by Christ's Passion were moved by the sufferings of a little boy. Praise God!
Two years after the accident, the love continues to reveal itself. Patients in the hospital are learning Fulton's 'brave breath' techniques to help them get through the pain. His burn cards, a social reintegration solution we invented together, have given confidence to other burn patients who are struggling with re-entering society. And his mere presence in restaurants or the mall have brought people to tears, once they talk to him and see how strong he is.
He has brought hope and healing to adults who suffered various crosses in silence, inspired for the first time to face their own past hurts. His scars show them their own woundedness, and come to realize their scars are proof of their strength, not their weakness.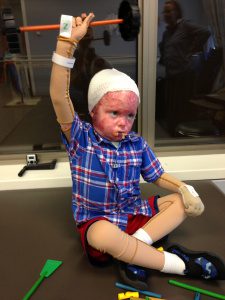 Fulton, through the cross he carries and the scars he bears, has touched far more souls than he ever could have before the accident. And only in Eternity will we know how many hearts he helped return to the Church and into the loving arms of Our Father. Please Lord, may I be numbered among them, for I have learned so much.
My trials have taught me that every crisis forces one to redirect his life. We are handed a cross, designed especially for us, and asked to choose. We cannot choose whether we will take the cross. No. The cross is ours to bear no matter what. But we can freely choose how we respond to it.
Do we accept that cross and prayerfully carry it to its completion? Do we give hope to others along the way? Or do we curse our cross as it grows in weight and model for others how to stumble and rage against the One who gifted us?
I have tried both responses to the carefully chosen crosses Our Lord has sent me in my life. I can assure you that while cursing those things in our lives that cause us to suffer may feel more natural, embracing our suffering is by far the easier response, for it is the only response that coincides with God's will.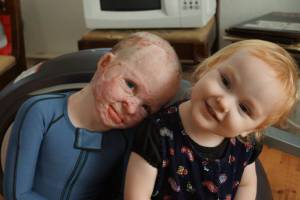 My prayer for you this Holy Week is that you open your heart to the cross God has given you and cherish it as a priceless gift. Just as Christ's Passion draws hearts to love Him more, may you draw others closer to Our Lord through your suffering. Praise His name through your pain. May God be glorified through you!
"Lord, behold, he whom thou lovest is sick. And Jesus hearing it, said to them: This sickness is not unto death, but for the glory of God: that the Son of God may be glorified by it." John 11:3-4
Fulton's next big surgery is coming up on April 14th 2015. Please pray for Fulton! Come and see his progress on his Facebook page 'Pray For Fulton'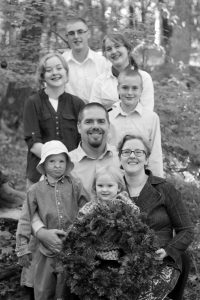 Cassandra Poppe blogs at Let us Kneel. This piece was first published at Faith in our Families and is used with permission of the author. All images belong to Cassandra Poppe.