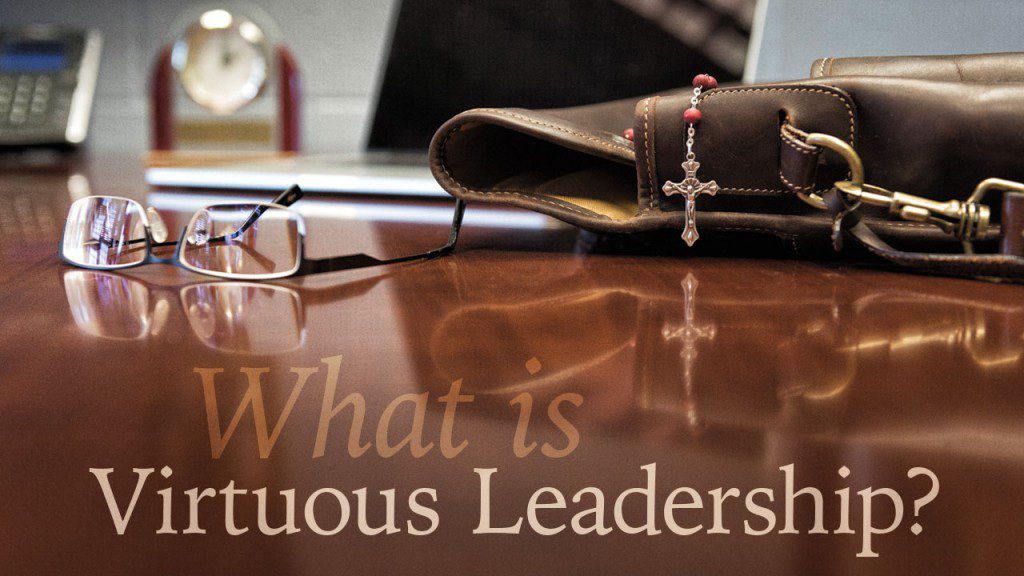 What is virtuous leadership? At the University of Mary in Bismarck, ND, leadership is about more than theories, charts and balance sheets. It's about the strength of character and the virtues that define an individual as a person and business leader. Such luminaries as Aristotle, St. Paul, and St. Thomas Aquinas all taught that the human person is made for greatness — a greatness of soul or what we call the virtue of magnanimity.
To respond to what the University of Mary believes is "a world begging for faithful business leaders," the college, together with the Havard Virtuous Leadership Institute, is offering a new MBA in Virtuous Leadership through graduate-level study in the University of Mary's Gary Tharaldson School of Business. Catholic writer Caleb Bernacchio recently interviewed the University's president, Monsignor James Shea, about the program for Patheos Catholic.
Tell us about the University of Mary, yourself, and specifically, your business school.
The University of Mary was founded by a group of courageous Benedictine Sisters who took a train from Minnesota as far west as the rail would run. When they got off, they founded a school which opened the next day. From there, they opened a hospital, the only one between Minneapolis and Seattle, where they would handle everything from gunshot wounds to delivering babies.
Sensing the need for both nurses and teachers on the frontier, they founded Mary College whose legacy has since grown into the University of Mary which now not only prepares nurses and teachers, but offers over 54 majors, 14 masters and 3 doctorates for the people of this region and beyond. It's the legacy that I've been honored to be a part of since I came on in 2009. I myself grew up on a dairy farm practically in the shadow of this university, only a short distance to the south. I studied in DC at the Catholic University of America as a Basselin scholar and then at the North American College in Rome thereafter. I was called back to the States following my ordination to teach in one of our local high schools, St. Mary's Central, where I really cut my teeth as a young priest and fell in love with education. After many years there, I was assigned to a parish in a rural community and taught at another Catholic high school not far away. I was soon called to the University of Mary to serve as its next president, taking up the mantle of one of the most beloved people in North Dakota, Sr. Thomas Welder, and becoming the youngest university/college president in the nation.
Our strengths are still the Health Sciences and Education, offering degrees as advanced as a DNP (Doctor of Nursing Practice) and DPT (Doctor of Physical Therapy) for nurses and physical therapists respectively, and an Ed.D for our educators. We have a new program in the Health Sciences, an MS in Bioethics which we operate in partnership with the National Catholic Bioethics Center out of Philadelphia, an organization which has done tremendous good for the Church and which helps us in the formation of ethical and educated health professionals.
Our business school has flourished with the leadership of the former mayor of Bismarck, Dr. John Warford, and offers MBAs, MPMs, MPAs, and MS degrees at the advance level, all with various concentrations, but particularly in Virtuous Leadership.
What is the Virtuous Leadership Concentration?
The MBA in Virtuous Leadership is our robust and quality MBA program (as well as our MPA, MPM, and MS in Business degrees) with a particular focus on the formation of future business leaders in the tradition of Christian virtue ethics and Catholic social thought, wedding both faith and reason to competence and real-world experience. Graduates in this program will have the skill, drive, and ability to lead fiscal-minded businesses, but in a way that upholds the dignity of the human condition and with an understanding and awareness of their public responsibility. Our graduates will not only be able to balance budgets, manage a diversity of client relationships, or organize and implement strategic plans, but also be able to articulate the precepts of Rerum Novarum, the philosophical history of virtue from Aristotle through Aquinas, and how human culture plays into leadership, all while fitting those things together with best business practices.
What is the Alexandre Harvard Leadership Institute and why was it chosen to partner with Mary in the development of this new program?
The Havard Virtuous Leadership Institute takes its name from their leader and founder, Alexandre Havard, who practiced law in France and in other countries across Europe. Through his many experiences with leadership, he noticed an overwhelming prevalence of leaders of "smallness", and not simply smallness of mind, but of the soul which had distilled itself from the over-arching philosophies of relativism, secularism, materialism and individualism. The institute was founded as a response to that smallness, seeking instead to form leaders of magnanimity—of greatness—so that they can build greatness around them, not only in their institutions but in the "living stones" of those institutions—the people which labor for greatness. Their mission is directly in line with our mission at the University of Mary, "to serve the religious, academic, and cultural needs of the people in this region and beyond." Service of that magnitude demands magnanimity on the part of our faculty and students, and so the partnership with HVLI was a natural fit.
The program website states that the Leadership Concentration is "designed to deepen your understanding and application of the importance and place of character, virtue, and happiness in managing for long-term business success." To speak frankly, isn't business about making money? Is it really possible to practice the virtues in the business environment? How can the Leadership Concentration impact the practice of business and promote the practice of the virtues?
To say that business is about making money only describes one face of the die. Our dean here at the University of Mary for the Gary Tharaldson School of Business, Dr. John Warford, is fond of saying that "business is a force for good," and indeed he should know as a successful businessman himself and the former mayor of our hometown, Bismarck, the only city during the great financial crisis of the 2000's that did not sink into recession but actually saw growth. That success was achieved not on cash-grab principles but in unifying the people and businesses of Bismarck to take care of their community. This sort of thing can only be achieved through competence, skill, and strong, virtuous leadership, all of which this concentrated MBA provides.
Businesses persist by making money, but they don't simply exist to make money; they're institutions which have the potential to shape culture and communities. Fundamental to this idea of business as a cultural force for the good is a proper understanding of the human person which our concentration provides. Of course, when the culture and community thrive, the businesses also thrive, and so the cycle continues ushering in long-term success for both the community and their businesses.
In his recent encyclical, Pope Francis states, "Caring for ecosystems demands far-sightedness, since no one looking for quick and easy profit is truly interested in their preservation" (# 36). Does the Leadership Concentration speak to such concerns?
When businesses, their employers and leaders, understand that they play a significant role in the community and seek to be a force for the good, their concern is not only their own self-preservation, but of the preservation and care of their local communities. A focus like that has to be far-sighted, it has to be within the context of continuing or beginning a legacy, of being a part of something greater than yourself. This type of focus and understanding which the concentration in Virtuous Leadership articulates would rule out this sort of pusillanimous, cash-grab mentality.
A cynic might claim that programs such as your that purport to promote virtuous business are impossible because the market ruthlessly punishes inefficient business practices that are not directed toward profit maximization. Could you briefly explain what is wrong with this picture and, more positively, what business leaders can do to positively impact their stakeholder, including employees, fellow community members and others?
It's a shame, but there will always be cynics who, unfortunately, tend to shout the loudest and shrillest from the highest pulpit. What the cynic presents in your question is that business practices directed toward profit maximization are at the expense of or in direct competition with virtue and magnanimity—that you can't have both. However, it's simply not true. I can think of many instances, just in our own backyard, of businesses on national and local scales which are thriving fiscally, competing to make the most out of their respective markets, but who treat their employees, customers, and communities with dignity and respect while witnessing virtue from the upper-administration down. I think that this is essential for business leaders to have a positive impact on their stakeholders, to witness from the top down. If you step into one of these places, it's remarkable: the place is flush with a rich and vibrant culture where the employees are happy, able to articulate their company's mission, and understand how that mission plays toward the good not only in their company, but also in the context of a larger community.
How does the program combine a focus on ethical leadership grounded in the Catholic tradition with the rigor that is expected from an MBA program?
As I said, we have great examples of fiscally-minded yet virtuous businesses in our community. Because of our reputation for preparing sound graduates in our MBA program already, we've also established great relationships with these businesses. We'll be tapping a few of the individuals from these places to offer real-world experience both on the nit-and-grit of business operations but also their experiences of leadership. Couple this with our already stellar curriculum and faculty and an immersion in the Catholic intellectual and social thought traditions, and you have a combination which is rigorous, intellectual, practical, and formative.
The Benedictine motto is ora et labora. How have Benedictine values shaped the University of Mary and, more particularly, the Leadership Concentration in the MBA program?
Our communal life is inspired by the Rule of St. Benedict which stores a vast treasury of Benedictine values. However, six of these are of particular importance for our life at the University of Mary: Community, Hospitality, Moderation, Prayer, Respect for Persons, and Service. They are lived out in a way that is faithfully Christian, joyfully Catholic, and gratefully Benedictine, and saturate all that we have, including our programs. This will only intensify in a program which takes as its mission the formation of virtuous leaders.
Caleb Bernacchio earned a BPhil from the Angelicum, an MBA from LSU (finance concentration), and is currently in the PhD program at IESE (U. of Navarra) in Management and Business Ethics. He has published articles on business ethics in several respected journals.