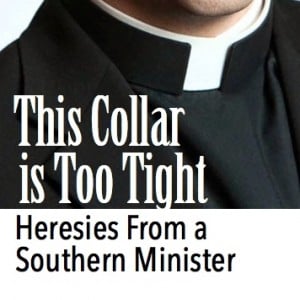 This is the first post in a series called: "This Collar Is Too Tight: Heresies From a Southern Minister." Most institutionalized Churches define who is and who isn't a Christian far too narrowly. There is an increasingly long list of tenets to which a person must dogmatically adhere in order to be in the club. The thing is… I don't believe a whole lot of them. I even find many of them to be biblically inaccurate. I've decided to address them one by one because I've discovered that there are a lot of people who feel the same way — even other ministers. I hope that this will give us all a little support and encouragement as we try to cling to our Christian-ness while others try to take it from us.
 
I am a believer. Mostly.
I believe that there is probably a god — something bigger than us. I have a very hard time believing that there's not something larger than humanity.
I mean, seriously? We are the best the universe has to offer? At least, as far as we know? That seems a bit egotistical to me, not to mention a bit unfortunate for the Universe. Ultimately, I don't buy it.
I also believe there might not be a god — or, at the very least, I frequently feel the absence of God.
Even King David, felt the absence of God. It's all over the Psalms. I really don't feel that bad about doubting. I feel like it's normal.
That's why I think of myself as an agnostic Christian. I believe there is a God. I also accept that there might not be.
"I believe; help me in my disbelief."
When I worship, I worship that God who is all-at-once bigger than me and might not be at all.
It's the same god I believe Jesus was trying to teach us about.
In calling God "Father," Jesus tried to teach us about the nurturing nature of this god. In saying that he and the "Father" were one he was trying to teach us about how we are all one in this god-thing that is larger than us. In telling us that in loving other people (everyone) we were loving God, he was trying to teach us about the connectedness of us all being created in the image of God.
I am a Christian because Jesus, for me, is the teacher who best helps me understand this god-thing.
When he worshiped, he worshiped that same god.
He did not worship himself.
Jesus never called himself God.
Read through Matthew, Mark and Luke. You won't find him saying it. Sure, there are a few places where you can interpret what Jesus says to possibly suggest he is God, but it isn't stated outright.
You have to ask yourself: Something that important, don't you think he might have mentioned it? And, if he did mention it, don't you think somebody would have decided it was important enough to jot it down?
I think so.
The Gospel of John does have Jesus mentioning the whole being God thing – a lot. The difference is a bit striking, isn't it? The first three Gospels, all written before the Gospel of John, without Jesus saying he is God… and then John, after many years have passed, with Jesus saying he is God.
Does anyone else think it sounds like dogma slipped in there during those in-between years?
Actually, yes, they do. Most modern scholars agree that John has some new theological perspective into its accounting of the life of Jesus. It may or may not be right, but because of the other three Gospels, I'm going with the idea that it is probably an addition.
For me, Jesus not being God is a good thing – a very good thing.
If what I hope to get from Jesus is an understanding of how to be the people God created us to be and to develop a closer relationship and understanding of God through that, it is much more helpful to see a person who is actually a person and not a god doing it. It's hopeful even.
Do I believe that Jesus had a unique relationship with God? It's hard for me to read the Gospels and think anything other than that – but I don't need him to be God in order to believe that.
For that matter, I'm also not saying anything about Jesus becoming Christ. That's for another post in this series.
Of course, a blog post isn't exactly the best place to fully establish a position on such a weighty and complex consideration, but that's not really what I'm trying to do here (or in this series for that matter).
I'm not trying to say I am right and others are wrong. I am saying Christianity should big enough for a variety of thought. I am saying God can handle our questions.
I am saying that if you, too, believe Jesus is not your God, no matter what people tell you, you can still call yourself a Christian.
Part 2 in this series: "No Trinity For Me, Please"
Help create a market for Progressive Christianity. Not through big publishers or big denominations, but through the grassroots. Consider supporting Mark's blogging. We need to encourage the growth of progressive Christian voices in the marketplace. Even a dollar will help.
 
Facebook continues to make it increasingly difficult for me to let you know about new blog posts like this. Please consider signing up for my mailing list where we can insure you are notified.  Just click here!
Mark is a co-founder of The Christian Left. Come and join the conversation!