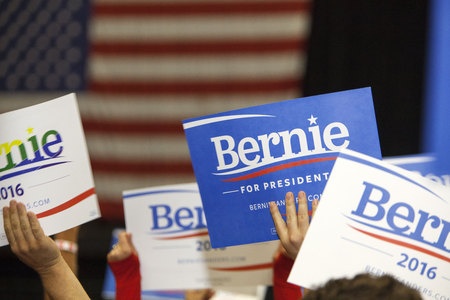 There's a cartoon by Andy Marlette making its way around social media that depicts Jesus standing next to Bernie Sanders while Bernie points at him and says, "What he said."
That, my friends, is why I endorse and am voting for Bernie Sanders.
No, not just because of the cartoon.
I'm voting for Bernie because I agree with what Marlette's cartoon implies.
It doesn't imply that Bernie is like Jesus. It doesn't even imply that Bernie is following the teachings of Jesus. Marlette simply reminds us that the humanistic morals which were very present in Jesus' teachings are also very present in Bernie's platform – so much so, that I believe Christians should seriously consider voting for him.
Just for fun, let's play a few rounds of a new game I'm calling, "Bernie & the Bible."
Bernie's Platform:
"There is something profoundly wrong when the top one-tenth of one percent of the American population owns almost as much wealth as the bottom 90 percent."
What say ye, B-I-B-L-E?
"As for those who in the present age are rich, command them not to be haughty, or to set their hopes on the uncertainty of riches, but rather on God who richly provides us with everything for our enjoyment. They are to do good, to be rich in good works, generous, and ready to share…"
– 1 Timothy 6:17-18 (NRSV)
Bernie's Platform:
"We must ensure that no full-time worker lives in poverty." 
What say ye, B-I-B-L-E?
"Woe to him who builds his house by unrighteousness, and his upper rooms by injustice, who makes his neighbor serve him for nothing and does not give him his wages…"
– Jeremiah 22:13 (NRSV)
Bernie's Platform:
"The U.S. needs to lead the international community in the fight against climate change to maintain American economic strength and global security."
What say ye B-I-B-L-E?
"And I brought you into a plentiful land to enjoy its fruits and its good things. But when you came in, you defiled my land and made my heritage an abomination."
– Jeremiah 2:7 (ESV)
Bernie's Platform:
"Reject 'The Great Sanctuary City Slander' and support humane laws that integrate immigrants into our society."
What say ye B-I-B-L-E?
"When a stranger sojourns with you in your land, you shall not do him wrong. You shall treat the stranger who sojourns with you as the native among you, and you shall love him as yourself, for you were strangers in the land of Egypt: I am the Lord your God."
– Leviticus 19:33-34 (ESV)
Bernie's Platform:
"We must pursue policies to transform this country into a nation that affirms the value of its people of color." 
What say ye B-I-B-L-E?
"There is not Greek and Jew, circumcised and uncircumcised, barbarian, Scythian, slave, free; but Christ is all, and in all."
– Colossians 3:11 (ESV)
While some may argue that these are not direct quotes by Jesus, the truth is every one of these passages is either from the Holy Scriptures underlying his teachings, or they are writings that were informed by his ministry.
Jesus' most important lesson to his followers was, "A new commandment I give to you, that you love one another: just as I have loved you, you also are to love one another." (John 13:34).
At the core of that teaching is a recognition of the fundamental dignity and value of all people.
Time and time again, Bernie Sanders' platform demonstrates his genuine concern for the value of all lives. Unlike most D.C. politicians, Bernie doesn't put the agendas of special interest groups, Big Business, the War Machine and Wall Street ahead of the needs of "We The People."
So, I am throwing my hat in the ring for Bernie.
Not because he is like Jesus. He isn't.
Not because he is Christian. He isn't.
Not because the teachings of Jesus guide and direct him. I suspect they don't.
I am backing Bernie Sanders because he is the one candidate who, throughout his career, has made choices that value human life, back issues of social justice, and work to establish a foundation from which all people have their needs provided for.
That doesn't make Bernie "the same as" Jesus.
But, it sure looks enough like him that this Southern Minister is totally #FeelinTheBern!
Consider supporting Mark's blogging. Help create a market for Progressive Christianity. Not through big publishers or big denominations, but through the grassroots. We need to encourage the growth of progressive Christian voices in the marketplace. Even a dollar will help.
 
Mark is a co-founder of The Christian Left. Come and join the conversation!