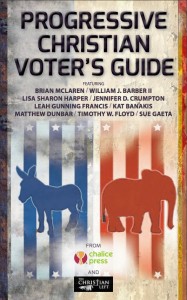 Politics, much like mega-churches, have become a cult of personality.
We've seen it for years with the GOP in candidates like Sarah Palin and, more recently, Donald Trump. But, the troubling thing to me is how Democrats seem to have fallen into the same trap this year. Both Bernie and Hillary supporters are willingly turning a blind eye to the very real and sometimes troubling shortcomings of their candidates.
That's why I believe the "Progressive Christian Voter's Guide" that The Christian Left (of which I am a co-founder) and Chalice Press have collaborated on is so important.
Unlike most guides, we do not assume to tell you that we have the answers about which candidate you should vote for. At the very least, that would be presumptuous.
Instead, the "Progressive Christian Voter's Guide," through the lenses of several progressive Christian leaders and writers, looks at nine of the most pressing political issues in the United States and provide a concise perspective from biblical point of view.
Who you vote for is your decision.
The "Progressive Christian Voter's Guide" is exactly what it claims to be – a guide. Voter "guides" that tell you who to vote for are actually instruction manuals in that they instruct you who to vote for.
Honestly? There's nothing progressive about that.
Here's the best thing, this valuable guide including perspectives from the likes of Brian McLaren and Rev. William Barber II is absolutely FREE! Yep, consider it both a gift from The Christian Left and Chalice Press to you, and our investment into the future of the nation.
Here's just a few insights you'll find in it:
On Current Political Trends

"If we are truly centered on the living Jesus and his dynamic "new-wine" gospel, we are not bound by the grim determinism of current trends projected into the future." – Brian McLaren
On Criminal Justice

"God's mercy and grace are available to all. Indeed, we are commanded to love our enemies precisely because God loves them." – Timothy W. Floyd
On Education

"When they reduce eligibility to preschool for poor children, denying more than thirty thousand of them access to preschool, adding that number to the twenty thousand preschoolers already on a waiting list, that's cruel, that's unusual, that's mean, that's extreme, that's immoral, and it is time for somebody to wake up!" – William J. Barer II
On Women's Rights

"The dualism created when we excuse misogynistic beliefs and practices in the Christian realm implicitly excuses and exacerbates the oppression of the vulnerable within our own borders and around the world." – Jennifer D. Crumpton
On LGBT Rights

"Rights under the Constitution should never be denied or abridged. We believe in the equality of rights for all persons. We believe the members of the LGBT community and same-sex couples are afforded those rights just as all other citizens." – William J. Barber II
I not only encourage you to download the "Progressive Christian Voter's Guide" now, but I also encourage you to share the link with your friends and ask them to read it. It a short, easy read that will help some folks have a more biblical and compassionate perspective as they consider who they will be voting for.
Consider supporting Mark's blogging. Help create a market for Progressive Christianity. Not through big publishers or big denominations, but through the grassroots. We need to encourage the growth of progressive Christian voices in the marketplace. Even a dollar will help.
 
Mark is a co-founder of The Christian Left. Come and join the conversation!