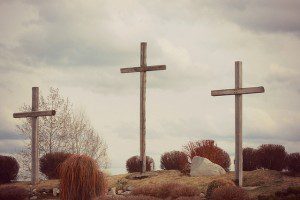 by Gordon Atkinson
Do you observe Good Friday? If you are part of a sacramental or liturgical Christian tradition, your church will probably have a service Friday night. Less formal traditions may not have official Good Friday services but may find other ways to present the story of the passion of Jesus.
I want to invite you to join me in a more contemplative approach to receiving the passion story this year.
Whether you attend a service tomorrow night or read the story for yourself, I urge you to enter into a state of focused contemplation. Breathe deeply and relax. Take half an hour, if you can, to settle into the silence and prepare yourself for the story.
If you have been a Christian for many years and are familiar with the story, you are at a great disadvantage. Try to forget that you already know every detail of what you are hearing. Let yourself become a child again. Grownups might fully understand and explain the meaning of this story, but you don't have to. Your goal is only to hear the story. You are hoping to lose yourself and enter into the passion of Christ.
Listening with your eyes closed might be helpful if you are easily distracted.
While the story washes over you, imagine that you are seeing it all, as if it was a movie. Some parts of the story will almost certainly hit you very hard. Make note of these, so that later you can consider them.
If it is any help to you, I humbly offer some thoughts I've had about specific moments in the passion story. May the Lord bless and keep you tomorrow night. May you be fully present for HIS suffering on Good Friday and just as present in the joy of Easter morning.
Matthew 26:30
"When they had sung a hymn, they went out to the Mount of Olives."
What a powerful moment this must have been. Barbara Brown Taylor notes that this is the only example we have of Jesus singing. Imagine all of them softly singing a Passover chorus together after their meal. Only Jesus knew the confrontation that was coming. I wonder if his eyes showed his sorrow while he sang?
Mark 14:41-42
He came a third time and said to them, "Are you still sleeping and taking your rest? Enough! The hour has come; the Son of Man is betrayed into the hands of sinners."
The moment when Jesus said, "Enough!" has haunted me for years. This is the very moment when the age of Jesus ended. He will no longer be with them physically. All the preparation and training of the disciples was over. Whether they were ready or not, sleepy or awake, frightened or bold, it was enough. It had to be enough, for the hour had come.
Luke 22:60-62
Peter said, "Man, I do not know what you are talking about!" At that moment, while he was still speaking, the cock crowed. The Lord turned and looked at Peter. Then Peter remembered the word of the Lord, how he had said to him, "Before the cock crows today, you will deny me three times." And he went out and wept bitterly.
The highest moment of betrayal. Only Luke gives us this terrible detail. What would happen to me if I had to look Jesus in the eyes each time I betrayed him?
John 18:37-38
Pilate asked him, "So you are a king?" Jesus answered, "You say that I am a king. For this I was born, and for this I came into the world, to testify to the truth. Everyone who belongs to the truth listens to my voice." Pilate asked him, "What is truth?"
The perfect modern question. When I come to this part of the story, I feel that 21st century humanity has been pulled into the narrative.
John 19:15
Pilate asked them, "Shall I crucify your King?" The chief priests answered, "We have no king but the emperor."
The ugly communion of faith and politics, when the children of God have no king higher than the Emperor.
Luke 23:42-43
"Jesus, remember me when you come into your kingdom." He replied, "Truly I tell you, today you will be with me in Paradise."
The thieves prayer is much like the classic Jesus prayer. Try praying it over and over. "Jesus, remember me when you come into your kingdom."
Matthew 27:59-60
So Joseph took the body and wrapped it in a clean linen cloth and laid it in his own new tomb, which he had hewn in the rock. He then rolled a great stone to the door of the tomb and went away.
At the end of the story, see if you can feel and hear and understand the finality of a stone rolling with a deep thud over his grave. Resist the temptation to comfort yourself. Feel the sorrow of the story. Live in the darkness until Easter Sunday.
This article was originally published at TheHighCalling.org. Image by Connie Lloyd. Used with permission. Sourced via Flickr.