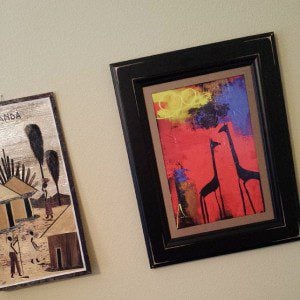 I was surprised when a husband and wife in my small group study showed up at my house on a non-group night. He runs a cabinet company, and we just finished discussing the chapter on Creation Care in Activist Faith: From Him and For Him (NavPress), a book I co-authored with Dillon Burroughs and Daniel Darling. We had talked about recycling and reusing our waste, and our conversation made him think about waste they have at their cabinet shop. So they came by to drop off a bunch of cabinet doors which would have ended up in their dumpster.
He told us about how they regularly have excess material from jobs that don't match any other projects they're working on. And because they'll never be useful for anything else, they end up in the trash. These excess cabinet doors also create other issues for them because the county's trash collectors don't like to take a dumpster full of cabinet doors to the landfills.
With stacks of problematic trash laying around, they thought about our conversation, and my wife's love for making artistic wall signs for the house (and other friends and family). We all quickly agreed that repurposing them for artwork was far better than sending them off to a landfill.
I even used one to frame a print given to me by a friend I've done some missions work with (pictured here with recycled cardboard for matting). That's when it really hit me…
Creation care is as simple as making small, everyday changes. [Click to tweet!]
And caring for the enviroment is important. I love what my co-author, Dillon Burroughs, says about our duty to take care of God's Creation:
"For those of who call ourselves Christians, how are we to treat things God calls good? The simple answer is that we better care a lot about what God calls good. God called people "good," animals "good," and a whole list of virtues, the church, and especially His Son Jesus "good." We are called to treat these areas of life with the utmost respect. Why would we treat the environment any differently?"
There are 5 ways we discussed as it relates to making an impact this this area:
1. Reduce
The truth is that we create LOTS of trash. Just think about how much stuff you bring home from the grocery store that ends up in the trash can, and I'm not even talking about the food itself, just the packaging. The average American produces approximately 4.4 pounds of trash per day. Consider how you can reduce the amount of garbage you create.
2. Reuse
My wife recently got involved with a consignment group where she took in old baby clothes, toys, etc., and uses the money she makes from selling those items to buy stuff from the same group for the next stages for our kids. If we can get over always "needing" brand new on everything, then we can decrease the need to produce more, which only creates more potential waste.
3. Recycle
This is one of the simplest ways to reduce the amount of trash we create. Not only does this reduce the need to use up limited natural resources, it can also save energy. I heard recently that it takes approximately 96% less energy to create an aluminum can from recycled material than it does to create a brand new one. Use those bins.
4. Rethink
Like my cabinet maker friend, think through every aspect of your home, work, and church life. There may not always be an obvious solution for trash (like those excess cabinet doors), unless you get creative and get creative with how someone else may be able to use them. And if you don't know someone personally, try dropping it on Craigslist or in a local freecycle group.
5. Replant
This step is about replentishing the resources which have been depleted over the years. It may not be as extreme in some areas, but there are many underdeveloped nations with severe deforestation issues (which creates other problems too). So don't simply stop they cycle, let's reverse it too.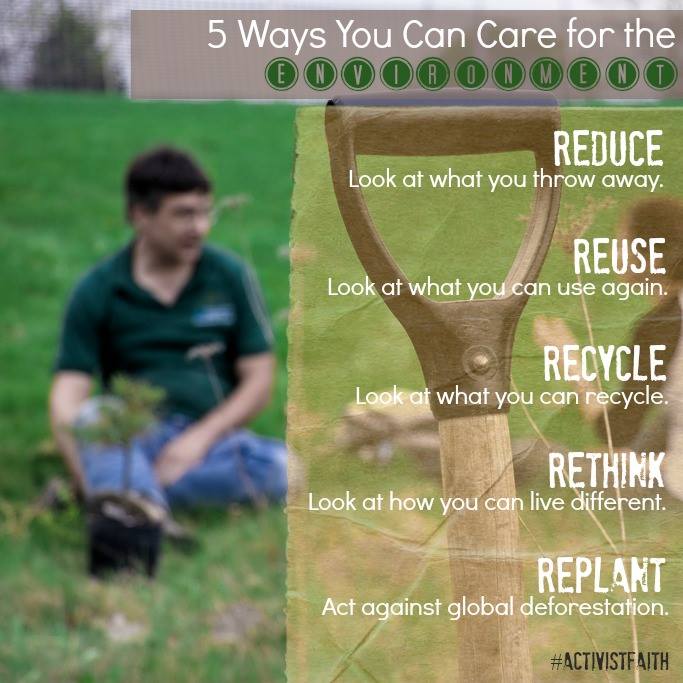 This is what #ActivistFaith is about to me. It's about changing the world with what's right in front of you. The power to make the world a better place is in our hands, not the hands of politicians, or Wall Street, or anyone else. We could debate things like global warming, but I'm not interested issues and agendas. We're called to care for the planet. Period. Regardless of whether global warming exists or not, we're still responsible to be good stewards of God's Creation. And it's our daily decisions to make a difference that can change everything.
Imagine what might happen if the Church decided to get serious about this one.