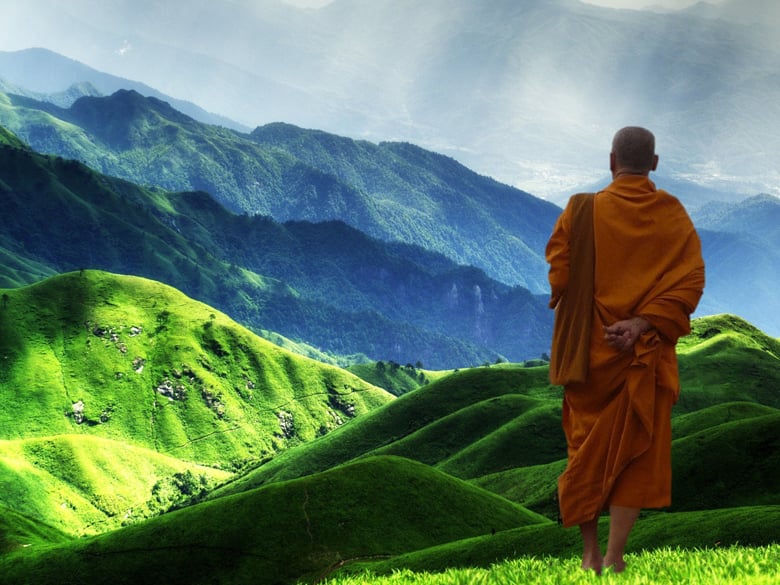 In honour of World Mental Health Day, I have reluctantly decided to share my recent journey where my mind and soul twisted into a messy manifestation of torture. If you relate to this story and are currently struggling, I would implore you to read the following case study by Skylight that investigates the connection between mental wellness and spiritual practice.
---
Sitting cross-legged with my eyes squeezed shut, I heard the overhead ceiling fan creak and then grind to a halt. The sweltering Indian heat immediately swarmed the room. 
My one eye slit open to survey the space, where close to a hundred men sat around me, facing the same direction. The room was quiet except for the guttural drone of a male voice singing Hindi words over crackling speakers. Two Buddhist masters were watching us from the front, the postcard picture of zen. 
Except I was the antithesis of this feeling. 
I did not belong here. 
I wanted to scream until my skin fell off.
Living the Dream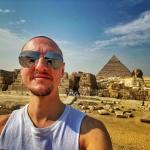 Rewind to 2018. It was the year that the opportunity to become a full-time traveller blessed my path. My career as a freelance writer provided me with some wobbly financial stability, which liberated me from location-based limitations. If there was wifi, I was in business! So, by swapping my rent money for flights and dirty hostels, I fed myself on cheap scraps by the power of my typed word. And I only had one mission on my mind: to explore the most spiritual sites the globe had to offer.
My footprints covered holy locations across six continents. I swayed beneath the Egyptian Sun as the mighty Pyramids of Giza towered above me. I trekked through the misty ruins of Peru's Machu Picchu. I lost my breath within the spacious walls of St. Peter's Basilica in the Vatican. I swam in terror upon the edge of Zambia's Victoria Falls. Rio's Christ the Redeemer, Paris' Notre Dame, Tokyo's Sensō-ji, Athens' Parthenon, New Delhi's Lotus Temple, and New York's St. Patrick's Cathedral, to name a few. They each zipped past me as I swirled in blissful fulfilment. I was living the dream on a highspeed journey of spiritual self-discovery. And I'd never been happier.
That is, until the end of 2022, when my soul smashed into a metaphysical wall of agony.
Trouble in Paradise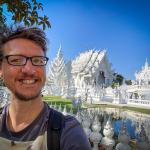 When you collide with an obstacle at the speed I was going, the proceeding stumble may prove fatal. In my case, it was employment-related. For numerous boring reasons, my primary client and I agreed to an amicable split. This decision severed my source of income at the teet, and yet I had no thought of slowing down. On the contrary, my appetite amplified under the pressure of ticking boxes at a more desperate rate. I justified the decision because I'd vigilantly grown a respectable savings account and wanted to focus on my book author career anyway.
Hence, armed with nothing but a strict budget and my blinding optimism, I ended 2022 travelling across Thailand. I joyfully raced through Pattaya's Sanctuary of Truth, Chiang Rai's White Temple, and Chiang Mai's Wat Phra That Doi Suthep, where they reportedly house the Buddha's shoulder bone. I slid into Oceania with minutes to spare as 2023 crossed over. Here, I was struck with a spiritual awakening standing before Uluru, the most sacred rock to the Ingenious Australians. Soon after, I was skipping through New Zealand's Castle Hill, the field of stones that the Dalai Llama famously called the "Spiritual Center of the Universe."
No doubt about it, my life looked like paradise on Instagram. I smiled broadly in my selfies, and the comments of friendly jealousy flowed below. But little did anyone know, I was fraying apart. Perhaps that's the deeper message of this story.
"The Next Stop Will Fix Me"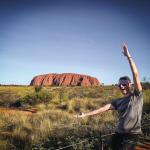 During these adventures, I wrote books and searched for jobs, but nothing stuck. I was slurping at my bank account like a soft drink, and as these numbers plummeted, the burden of unemployment weighed heavy upon my skull. Stir this turmoil with the unavoidable pangs of loneliness we permanent travellers know well, and something dark was brewing.
By the time I passed through Taiwan in February, I was burning out. When I reached the Philippines in March, I was fully burnt. "The Next Stop Will Fix Me" became my motto. In some cases, that appeared truthful. I spent a month licking my wounds in Bali, finding an extra boost of inspiration as I witnessed the chaotic Ogoh Ogoh parade. A short trip to Indonesia's Magelang Regency was also magical, exploring Borobudur, the biggest Buddhist temple in the world. But in April, I hastily set off again, these moments of relief nothing more than a bandaid over an axe wound. 
Complete and Utter Meltdown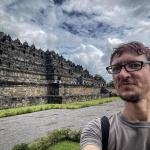 My next stop was Cambodia, and I shattered. Certainly, Angkor Wat (the largest religious structure on the planet) was up there with the most impressive landmarks I'd ever seen. But that didn't matter. I was losing myself fast. 
The first thing to go was my ability to write. I couldn't find words anymore and didn't care if I did. Following that, my enthusiasm for travel evaporated. And then, finally, life itself lost its meaning. By the end, I spent days in bed, only getting up to use the toilet or occasionally buy some fast food from my hostel's kitchen. I was in a bleak place, but I kept lying to myself. The Next Stop Will Fix Me.
One can appreciate the humour in hindsight. I was travelling the globe just to lie in bed. In May, I finally got up to catch a flight to Kolkata, India, then returned to bed on that side. The stinky, squashed hostel room did not assist my state of mind. The man's giant foot I shared my pillow with mustered a unique misery. Over my four-day visit, I left the hostel once to pay my respects to Mother Theresa's tomb. Otherwise, I was crippled by disinterest, pinned to my bed, with no energy to shower or write or think about anything but my death.
It's difficult to admit this, but at the time, I had convinced myself that my life had run its course. In that warped state of mind, I believed I was thinking clearly and made the decision to keep travelling until my money ran out, and then I would pull the plug. I had lived such a privileged existence, and I was endlessly grateful for it, but I did not feel that life had any more to show me.
Game Over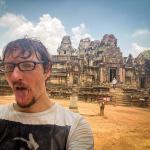 My next move out of bed was to make my way to Gaya. I had dreamed of this location for many years because of one exclusive landmark: the Mahabodhi Temple. It is perhaps the most important pilgrimage site for any Buddhist, as a place of worship built around the Bodhi Tree. This tree was reportedly grown from the same one that Buddha gained enlightenment beneath. Hence, hundreds of people gather here to meditate daily, hoping to capture some of that sweet Siddhartha Gautama insight. 
No amount of sorrow would stop me from visiting this temple. However, when I arrived, I felt nothing but a void of despair swallowing my belly. Despite my decades of love and dedication to spiritual theology, my perception had rotted, and I became a cynic. I judged those who sat here dedicated to an outdated practice. I wanted to shout that there was no proof this was even the authentic tree. In those moments, religion seemed so stupid to me, and I nearly burst into tears. Looking back, it's unbelievable how far removed from myself I was.
Losing My Mindfulness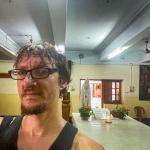 I crawled back into bed and would have stayed there forever if I hadn't prebooked myself into different plans. Several months previous, when I was still a bright and sparkly young boy, I had signed up for a (free!) Vipassana Meditation course. At the time, it appeared like the most fitting spiritual idea possible: dedicating ten days of silence in the same area where Buddha became Buddha. Yet even in my darkened state, I entered the grounds with a sliver of hope. I figured a relaxing break from reality would be exactly what I needed. 
Of course, anyone who knows anything about Vipassana will have spotted the humour in the previous sentence. There is nothing relaxing about Vipassana. None whatsoever.
When I arrived at the registration, a friendly face asked me how often I meditated. I told him hardly ever. The look of shock on his face should have been a clear warning, but I shrugged it off. They then took away my phone, laptop, books, pens, and paper, removing any chance of escaping my mind. After this, they informed me that I was not allowed to speak or even glance at anyone for ten days. I accepted. I was looking forward to practising my zen. 
Facing My Demons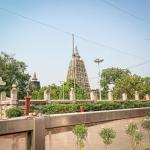 I was in for a rude awakening at exactly 4 a.m. the next morning. The day that followed featured ten hours of meditation, with short breaks which included mass-produced vegetarian meals. If that wasn't enough, the 40°C (104°F) heat and the indecipherable Hindi instructions wrung me out like a sweaty towel. I was aware that Day One was supposed to be brutal, but no warnings could have prepared me for this.
The second day was worse. Without my usual escape mechanisms, my depression took on a demonic form, shredding my guts with claws of anxiety. I contemplated ripping off my jaw just to focus on anything else. But there was nothing else to focus on. That's the point.
Then, something curious took place. Within my squirming mind, a pond appeared where a line of smooth stones rose to the surface. For the first time in months, I realised with complete clarity that my life was in big trouble. But there was a way out. If I simply followed the stepping stones, I would reach liberation on the other side. 
The stones were clearly labelled as follows:
Get out of the mediation centre. 

Get out of India. 

Go somewhere familiar with people you love. 

Find a job. 

Settle in a room of my own. 

Get a girlfriend. 

Get married. 

Never travel again.
I wasn't sure about all of that, but the revelation was unignorable. The next travel stop was not going to fix me. Meditation was not going to fix me. I had to fix myself. And that started with getting out of here.
Crossing the Pond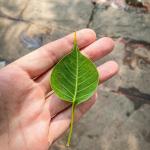 The following morning, I requested my leave. They tried to get me to stay, informing me that I'd only done breathwork and I should not quit before the true Vipassana magic. I responded by exploding into tears, and they got the message. Within a few hours, they'd snuck me out of there like a ninja as to not disrupt any other students. And may I please add: bless these people. Despite my internal upheaval, I cannot say a bad word about this organisation. They were the best.
I already had a long line of future flights and accommodation booked. First up was the holy cremation grounds in Varanasi. Then, off to the Sikh Golden Temple in Amritsar. And finally, to spend some time with the potent sacred landmarks of Israel/Palestine. But there was no possible way I had the mental strength to ensure any of that. I cancelled everything and lost a lot of money. And instead, five days after fleeing the Vipassana, I flew to the UK to crash at the house of two of my best friends. Three stepping stones complete.
Balancing Reflections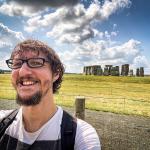 Quitting the Vipassana after three days is a source of immense embarrassment for me. But I look back in full understanding that I had no other option. I plan to try again eventually, but I know now that one should never attempt such a thing when in the sick of a collapsing mind. Some people have argued that I should've stuck to the Vipassana, that perhaps a valuable breakthrough was around the corner. That is a valid theory. However, the most spiritual of my friends made a different observation. The experience gave me exactly what I needed at that time.
When it comes to mental health, I am a fervent believer that it is a balancing act. My loss of income, coupled with the lack of human contact, had tumbled my story. But there are many other factors that everyone needs to maintain, for example, a nutritious diet or dedicating time to your passions. 
But what so many people overlook is the spiritual side of self-care. You can throw all the excesses of material gains into your reality, but without a core connection to an energetic source, the project remains under threat. Perhaps a relationship with "God" will help you to locate an existential comfort. Maybe a daily practice of worship will bring stability to your day. There are studies that connect prayer with lowering stress hormones. Or, like me, you may even meditate to unleash your devils so that you can better recognise them. Whatever your approach, just remember that no single leg can hold up the entire table alone. 
Happily Ever After?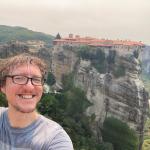 As for me, I found some peace. Dribbles of work kept me afloat. And then… I started travelling again! Oops! Stonehenge, St Paul's Cathedral, and most recently, the invigorating monasteries of Meteora. What can I say? I have a calling. But from now on, I'm taking it much slower, focusing on the well-being needed to live the dream and avoid the nightmare.