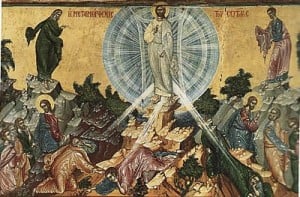 Today is the church's celebration of the Feast of the Transfiguration. To commemorate this blessed feast day, I will be posting not one but two sermons about the Transfiguration. Enjoy!
Several years ago Tim McGraw released a song in which he exhorted people to begin living with more purpose. The song traces the narrative of a man who went to the doctor and found out that he was dying. This announcement jumpstarted the man into action; he wanted to accomplish everything that was on his bucket list. He went skydiving, Rocky Mountain climbing, rode 2.7 seconds on a bull named Fu Man Chu…I hope you have the tune in your head now. He loved deeper, spoke sweeter, and gave forgiveness he never had. He said, "some day I hope you get the chance, to live like you were dying."
This idea is not just limited to country music. Messages like this swirl around us constantly: "Live today like it was your last." "What would you do if you knew you only have x amount of time left?" I have an issue with trying to motivate and manipulate others and us into action with death. It seems to me that we can only be bothered to find meaning in life if we are scared that we might be gone soon and that we will regret not having checked off everything on our bucket lists. I just don't think that this is life giving.
Why should we wait for a bad report at the doctor or a tragic event to spark us into active, purpose-filled living?
I think that Jesus shows us another way.
Tonight I want to suggest that our gospel passage is shaped by the increasing closeness of the cross. It might sound as if I am saying that Jesus lived like he was dying. I only ask you to hold the tension between life and death tightly until we arrive at our end tonight. Jesus is shaped by something greater than the cross.
Our Mark passage comes a chapter after the passage Ellis taught last week. Last week Peter confessed Jesus as Messiah but then rebuked Jesus when he started talking about suffering and death. After Peter's rebuke comes the Transfiguration and it is the turning point in the synoptic gospels – Matthew, Mark, and Luke.
Why is this the turning point? 8 days after Peter's confession and subsequent rebuke, Jesus travels up a mountain with Peter, James and John. Being good Jews we know that very significant things happen on mountain tops. Abraham attempted to sacrifice Isaac but God intervened and provided a ram, Moses received the law and saw God's glory, and Elijah defeated the prophets of Baal. Immediately we should see this as an important event.
Atop the mountain Jesus is transfigured and appears standing next to Moses and Elijah, representing the Law and the Prophets. God repeats the Baptismal blessing over Jesus, but this time the disciples hear the voice with the addition to listen to God's son. The transfiguration is a momentary revelation of God's glory in Christ.
Upon returning to the others, Jesus, Peter, James and John are met by a crowd and a boy who has been possessed by an evil spirit since birth. The evil spirit has tried to drown him or throw him into fire and he often convulses on the ground. Jesus heals the boy but the disciples have a question: why couldn't they call out the spirit? Jesus answers that prayer can only drive out this kind of spirit.
Why is this significant? The journey down the mountain is actually the beginning of Jesus' trek to Jerusalem for betrayal, suffering and death. His attention is turned to the holy city. This is important for us as we read the rest of Mark's gospel together because every story and encounter after the transfiguration, then, must be read in the shadow of the cross. Jesus casts out the Spirit as further proof of his battle against the Evil One, a battle that culminates on the cross.
How does tonight's passage fit in to the story and how does the cross shape it? Jesus and the disciples just left the once-possessed-boy. Jesus teaches the disciples privately while moving through the country. What was he teaching? Jesus teaches that the Son of Man must suffer and die and then rise three days later. The disciples didn't understand what he was saying…and were afraid to ask him about it.
Do we understand why the disciples were so confused?
Jesus has been trying to teach his disciples about his impending fate: betrayal, suffering, death and resurrection. This is not the first that they have heard of this, nor will it be the last. In fact, this is the third time in the space of one chapter that Jesus says this to them – he will say it twice again in the next chapter, too. He said it right after Peter confessed him as Messiah and after he was transfigured between Moses and Elijah and being blessed by the Father, and he has now said it after casting out a spirit that the disciples could not. This claim is important. The disciples' non-understanding shows us why…
Jesus uses the term "Son of Man" throughout these stories. "Son of Man" comes from the book of Daniel and this title is not something to be taken lightly. Daniel 7 says: "In my vision at night I looked, and there before me was one like a son of man, coming with the clouds of heaven. He approached the Ancient of Days and was led into his presence. He was given authority, glory and sovereign power; all nations and peoples of every language worshiped him. His dominion is an everlasting dominion that will not pass away, and his kingdom is one that will never be destroyed." This is what Messiah looks like, but there is one problem: this passage does it talk about the son of man suffering and dying. Israel was pregnant with the hope and expectation of Messiah in the sense of Daniel's Son of Man, and their confusion stemmed from the fact that Jesus was combining two images. Going a little further in Mark will introduce us to the second image.
Jesus asks his friends what they were arguing about while they were walking with him. Apparently they were arguing about who would be the greatest among them. Jesus' answer is what helps us understand their confusion: The first must be last and the servant of all. This is a much different picture than the image of triumph we have from Daniel. This is talk of a servant. No one connected Daniel's Son of Man with Isaiah's Suffering Servant, but this is exactly who Jesus was. Here is an abridged version of what Isaiah says about the Suffering Servant in chapters 52 and 53: See, my servant will act wisely, he will be raised and lifted up and highly exalted. He had no beauty or majesty to attract us to him, nothing in his appearance that we should desire him. He was despised and rejected by mankind, a man of suffering, and familiar with pain. Like one from whom people hide their faces he was despised, and we held him in low esteem. Surely he took up our pain and bore our suffering…he was pierced for our transgressions, he was crushed for our iniquities; the punishment that brought us peace was on him, and by his wounds we are healed. He was oppressed and afflicted, yet he did not open his mouth; he was led like a lamb to the slaughter, and as a sheep before its shearers is silent, so he did not open his mouth. After he has suffered, he will see the light of life and be satisfied; by his knowledge my righteous servant will justify many, and he will bear their iniquities.
In Jesus' two claims to the disciples we see the combination of Daniel's Son of Man and Isaiah's Suffering Servant. Jesus always combines messiah with suffering.
Jesus is indeed the one from Daniel 7 to whom all power, authority and sovereignty are given. He will, and does, have everlasting dominion and is currently reigning and ruling over all of creation, but the way he inaugurates his kingdom is through suffering and death. Because the Son of Man and the Suffering Servant had not been joined together in the life and mind of Israel as the vocation of Messiah, it did not make sense for Jesus to call himself the Son of Man and then speak of his impending death. Israel had a much different vision of what her true King should look like – and it was a vision that Jesus was disrupting and redefining. Jesus affirms that things look different in his kingdom. In fact, his entire life and ministry, literally everything from Incarnation to Ascension, is a radical proclamation that God's kingdom is utterly and vastly different than what we have interpreted and expected. Everything after the Transfiguration has to be seen in the shadow of the cross, in the expectation of suffering and death because that is what Messiah must do.
What does God's kingdom look like? It looks like the embrace of children who have no rights in society; it looks like women being the first evangelists sharing the Good News of the Risen Lord; it looks like the meek, the poor, the peacemakers, the humble, the hungry and thirsty, etc. as workers in the kingdom and bearers of the good news.
So, if everything that Jesus does after the Transfiguration is shaped by the cross, does that mean that he was living like he was dying? No! Jesus shows us how he was living we he talks of being raised 3 days later: I am suggesting that Jesus was living like he was living.
If the cross shapes Jesus' every action and movement, every word and thought, then so too does the empty tomb. Resurrection before the Day of Judgment was something that the disciples did not anticipate. They had no categories for a crucified Messiah so they certainly had no concept of a risen Messiah. We know that the Incarnate holy one of God was betrayed, beaten, nailed to a cross as a criminal (and as King of the Jews) and then rose again three days later, conquering both sin and death. Death no longer has the final word – God does, and that means we anticipate God's life after death, and our actions should be shaped by new life and new creation.
Friends, this is where Proverbs 31, Psalm 1 and James 3 are pointing us. How we live now, in the present, matters. Not because we only have so many moments on this earth before death but because through Jesus we are invited to put into practice the virtues and lifestyles of kingdom citizens. Echoing the words of the collect, we must hold fast to the things that will endure, the life to which we are called by the grace of God through the faithfulness of Christ and the power of the Holy Spirit.
Let's begin with Psalm 1. This Psalm opens up the entire book because it points to two ways of life. One way of life is in league with the wicked; it has no need of God. The other way of life is the way of righteousness, or of God, and it is like being planted by a river and bearing much fruit. The entire book of Psalms, then, is an exposition of how we live life with God and tangible proof that two paths exist. What does it look like to bear fruit?
James and Proverbs are pretty clear on this point: fruit looks like being people of mercy, of peace, of gentleness. It means offering the entirety of our lives as a sacrifice and obedient worship to God.
Proverbs 31 is an acrostic – each verse is a letter of the Hebrew alphabet. This is a literary style used to demonstrate an all-encompassing idea. The individual examples are important because they point to different seasons of life and the faithful example of the Proverbs 31 woman, but it is not simply women who are exhorted in this passage. Remember, this passage is set in the context of wisdom literature, a genre that exhorts wise and godly living for all. We are not looking for the Proverbs 31 woman – we are looking at what Proverbs 31 has to say about godly living.
Proverbs 31 is all about obedience and fruit. What would it look like if we tackled life with such vigor, faithfulness and intentionality? The woman in Proverbs 31 is offering up every routine task of her day unto the Lord, and doing it with excellence. We too should turn in our expense reports as an offering. I am not being hyper-spiritual here, I am reading the text for what it says: all of life belongs to God. Before we can work toward being people of peace or mercy we have to embrace the reality that there is no private side of our faith; there is no "off-limits" section in our lives that faith cannot touch. When Christ is Lord, nothing is secular. It is all for God. And I think that if we truly believe and desire that reality, our actions and daily doings will be transformed.. Please do not assume that this passage is just for women, because it is not. Nor is it a checklist for men as they search for women. It is a beautiful picture of godly living to which we are all called.
James suggests that there are specific virtues and habits that we are called to practice and learn right now. I want to highlight one in more detail to demonstrate how they can all be fleshed out. James talks about us being people of peace. What does that mean? Jesus says, "blessed as the peacemakers" and he is constantly saying "peace be with you" and we know that he is our "peace." We also know that through him we are at peace with God. Before we come to the table we confess our sins and are absolved in order to be at peace with God and then we exchange God's peace with one another. That's a lot of peace! So how do we live as a peaceful people? I think we are invited to extend God's peace throughout the world, offering Jesus as God's shalom and working for tangible, concrete peace. It means putting love first over being right, giving forgiveness and grace even when we don't want to since we have been forgiven gracefully, it means working for equality for all people, it means caring for God's creation, it means taking time every day to slow down and focus on God – allowing the Spirit to mold and minister to our hearts. In God's kingdom he is the one from whom peace originates and to whom it returns. When we make peace it is God's peace, not our own. There are a million other tangible ways of expressing the peace we share with one another and with God during this service. It may simply be opening up your home and table to friends, family and strangers.
You can do this about mercy, forgiveness or anything else to which James and Proverbs exhort us. Pray that the Spirit would capture your imagination, read through the passages and think of Jesus' embodiment of the specific virtue, and then begin to live it out. Kingdom life is now. It is not once we die. Jesus did not take a break from kingdom living as he walked to the cross and tomb, toward suffering and resurrection. No. He inaugurated God's kingdom, extended God's peace and shared God's love for all of creation. What we do in this life matters. May our lives be a reflection of the Suffering Servant and Son of Man; may our hearts and gazes be fixed on the wooden cross and the empty tomb; may we put into practice the virtues of kingdom citizens under the reign of the King.
In short, may we live like we were living.
Photo Credit: Ecumenical Patriarchate – Orthodox Metropolitanate of Hong Kong and South East Asia