Tonight's episode of WIFE SWAP features a pagan family living in Salem, Massachusetts, and the Los Angeles-based parents of a tap dancing prodigy. I happen to be acquainted with Arana Fireheart, husband of tonight's pagan mom Karina Fireheart, and asked if he'd answer a few qustions via email about what it's like to "represent" the pagan community on one of TV's most popular reality TV shows.
Of course WIFE SWAP Has featured pagans before (at least once paired with Evangelical Christians), and it's certainly made for some fascinating and controversial programming. The Wild Hunt takes a look at an episode broadcast in 2006. And who among us hasn't thought about becoming involved in reality TV, if only for the money (Pagan Soccer Mom shares her ruminations)? But going ahead and doing it has always seemed to me a pretty bold move, given the invasion of privacy and, in a world where snarky social media dominates our lives, the potential public humiliation?
Knowing Arana from many years ago, and knowing him to be a good-hearted and honest person, I had a feeling he'd approach the situation with grace and good sense. I don't know his wife, but I look forward to making her acquaintance tonight on ANC!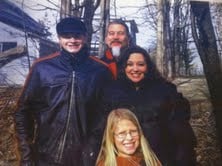 The Media Witch: How were you approached to do the show and what made you decide to accept?
Arana Fireheart: I got a phone call from a close friend that has a very public profile in the Salem community. She was approached by ABC. They were looking for a Pagan/Wiccan family for a show they were producing and hadn't had any luck finding someone that was willing to be 'out' in public. They only asked us to by open to the idea and allow them to put together a casting reel for the network. There wasn't' any commitment involved in the beginning.
We had an opportunity to show the world that we are just as 'normal' as a family following any other spiritual path. So we decided to take the risk and 'come out of the broom closet' and try to change some minds in this country about who Witches are and what we do in out spiritual practices. We wanted to show the country that we aren't threatening at all. We were treated with such respect and understanding regarding the prejudices that Pagans and Witches deal with every day that we decided it was worth the risk.
TMW: Had you seen episodes of "Wife Swap" featuring pagan participants previously, and did that inform your decision to participate?
AF: I don't watch much TV. I had seen a piece of an episode that the TiVo had accidentally recorded last year. It didn't feature any Pagan participants, but I did not like what I saw.
The casting director assured me that this new season was not the same as what was done previously. It had been taken off the air for a year and they were trying to 'do it differently'. I was quite wary of participating in the show, because of what I had seen. Had the network sent anyone other than Tim to speak to us and create the casting reel, we wouldn't have gone through with the project. He really understood that we were risking our jobs and were very concerned about how we would be treated once the world knew that we were Witches/Pagans. His reassured me that we would be given the chance to present ourselves as a normal happy family that just happen to be Witches and I trusted that he would keep his word.
Q: What was the most surprising or unexpected part of the process for you and/or your family?
AF: Wow, that's a tough question! Since it was the most challenging thing I have ever done, it's hard to tease out just one or two pieces, but I'll try…
I think it was dealing with the misconceptions about Witches. I have never had anyone be frightened of me before. Most people see me as a kind and gentle man, being perceived as a threatening man was very difficult to handle. Also some of the things I was asked to do during "new rules" week were shocking. Although you'll have to tune in to find out what those were! 😉
Also, living with a 9 person TV crew was challenging at first. They became part of the family. By the end of the production we were very sad to see them leave. My 8 year old still misses the producer. He and Tiffany really connected while she was here. They were supportive and caring people that 'had our backs' whenever we needed comfort, support or guidance in handling difficult thinks that had happened. I had never expected that this would be part of their role there. When before they left they asked us if we would bless and charge some objects that they had purchased from our local Witch shop. We were really quite honored to have been asked.
Q: What advice would you give to other pagans who are considering becoming involved in reality TV?
AF: I went into this with a lot of preconceived notions about how we would be treated by reality TV producers and so far, I am glad to say that I was wrong. Trust your gut. If it feels like you are dealing with honorable, respectful people and you are clear about their intentions (and yours!). Then go for it. I really feel that it about time we stopped hiding, if we take the risk to be 'out' more, it will help all of us to live in peace.
***
And there you have it, folks. I hope you'll all tune in…