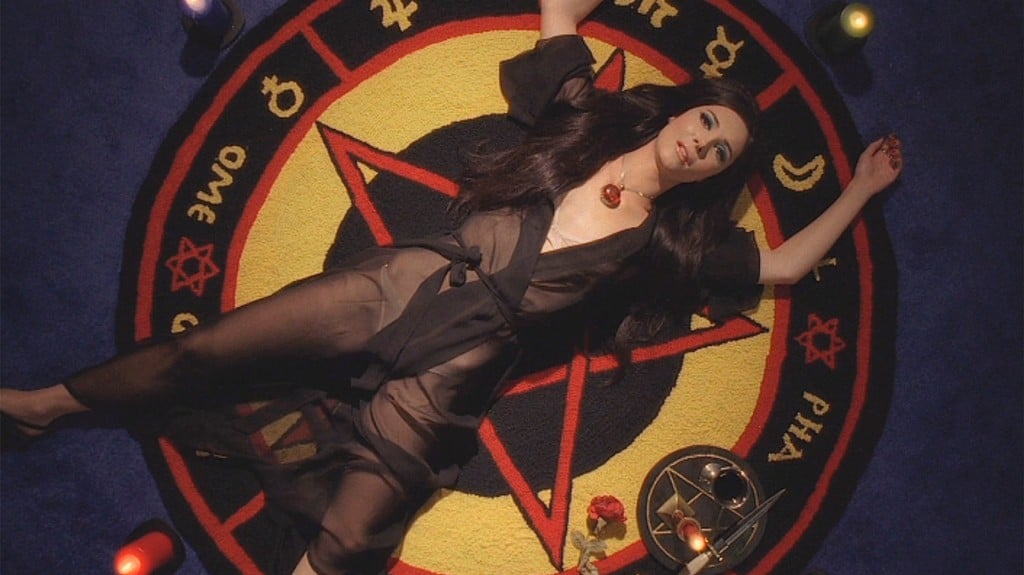 Witches are a hot topic lately, as savvy political essayists have shown. But the witch's popularity in media has exploded since 1999's The Blair Witch Project; though it's a shame the latest reboot in the franchise is so ham-fisted and awful. Both Hollywood and indie efforts have been exploring pagan and occult narratives in provocative new ways (see The Sisterhood of Night, or Kill List, or even American Horror Story: Coven.)
But what about real witches? Should we embrace cinema's repulsive hags and murdering seductresses as facets of a complex female archetype? Or should we demand more sensitive renderings? Robert Eggers' The Witch had its detractors, but savvy viewers (many witches among them) praised its cunning tropes and artful cinema craft. Social media relished its wrong-headed haters and gave Black Phillip his own hashtags.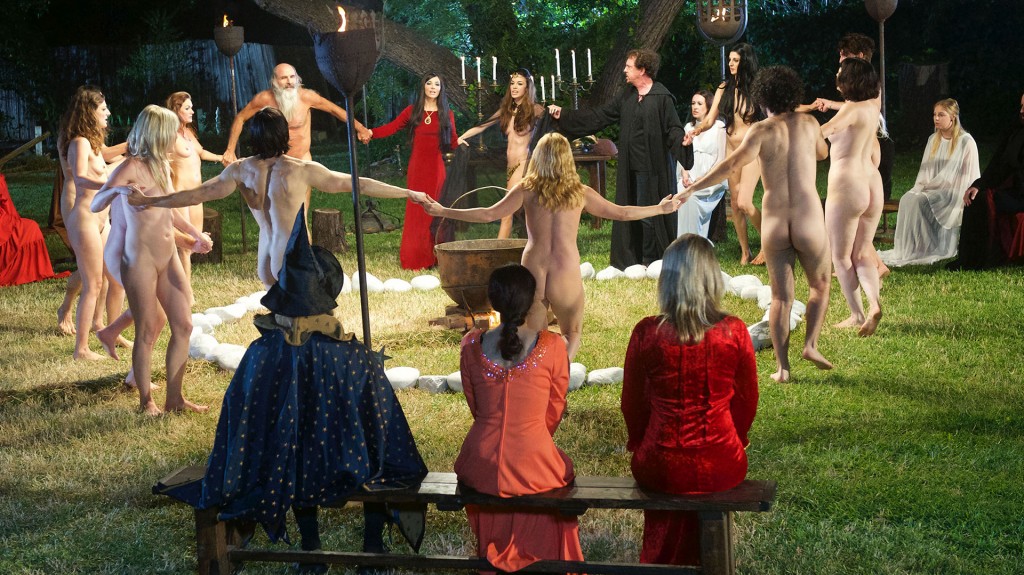 Ah, witches and our satanic orgies and bestiality and penchant for ritual sacrifice! Some of the best loved movies about witches tend to portray them/us as insatiable at best, psychotic at worst. The Witch is your fantasy and your nightmare and she terrifies and excites you. She may be ugly or beautiful, scary or sexy, but she is never not evil. Think Rosemary's Baby (devil-worshiping witches live right next door! They'll steal your newborn and gaslight you about everything), or The Wicker Man (human sacrifice, maypole dancing, sex sex sex!). Even more contemporary portrayals that borrow from Wicca (like 1996's The Craft, or 1998's Practical Magic) are moralistic tales of the dangers of occult dabbling.
Ask witches about cinema's most damning stereotypes and they'll inevitably describe titillating tropes involving sex and murder. Love spells, sex magic, and ritual murder are all present in The Love Witch, opening November 11th (check here to see if it will play in your city soon) . Anna Biller's lush, candy-colored homage to trashy 1970s thrillers and Technicolor melodramas is chockablock with delicious horror references and sly nods to feminist texts like 1975's The Stepford Wives and 1988's The Accused. But the film is likely to generate controversy among pagan viewers.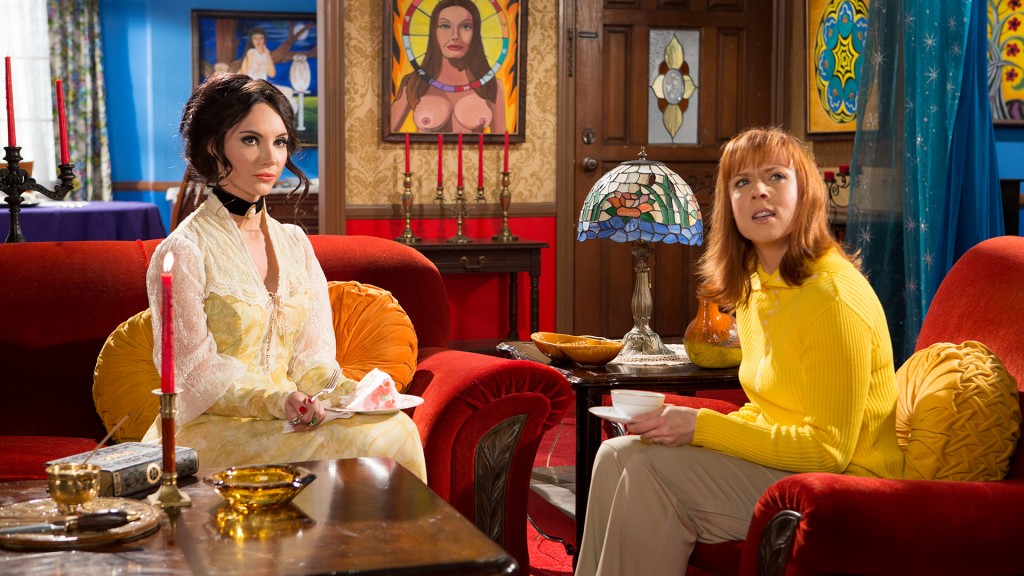 The protagonist Elaine, a foxy raven-haired artist, uses witchcraft, exotic dancing and herbal potions to attract a perfect man. All the authentic trappings and insider details of Wicca are there, and some of it is a bit unnerving: in a scene not unlike the dream sequence where the devil impregnates Rosemary Woodhouse, Elaine recalls her coven initation with her creepy high priest writhing on top of her. Some dialogue is lifted directly from Wiccan liturgy. Elaine also uses magic in selfish, vengeful ways, which is generally frowned upon in Wicca. And the film is steeped in retro imagery that makes modern witchcraft look both dreamy and silly: rainbows, unicorns, Gunne Sax gowns and shimmery, tacky ritual robes.
A pagan friend I watched the film with was shocked and called it "irresponsible and potentially damaging." His concern is not unreasonable; the film's portrayal of witches could easily be misinterpreted by viewers whose understanding of modern witchcraft is grounded in horror film imagery.
I asked Biller whether she thought real witches might take offense at the film's negative stereotypes (even within a satirical framework).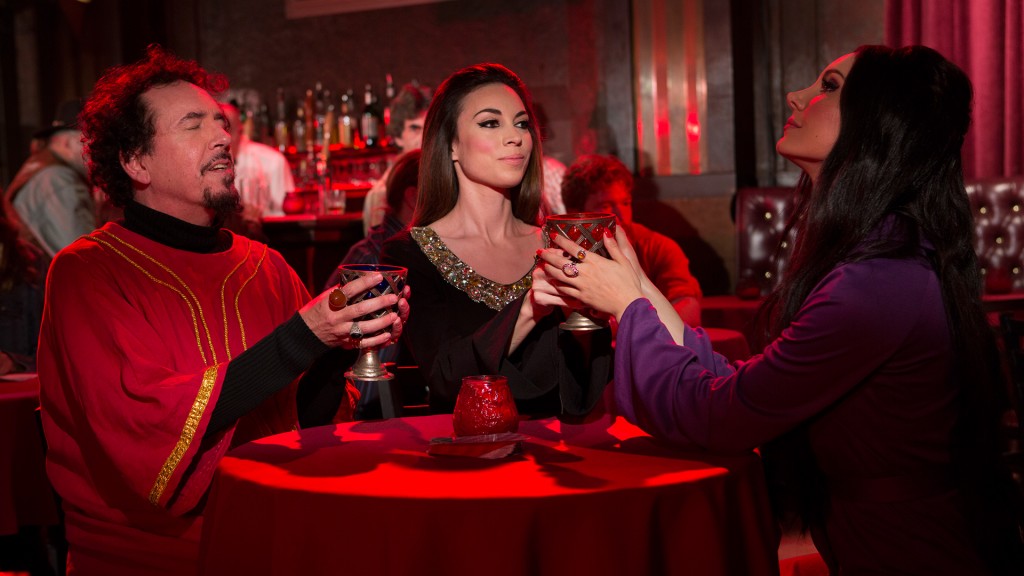 "I considered the pagan community very heavily in making this film," she said. "For me the witch is such a powerful figure full of contradictions; so this film is a kind of litmus test depending on who is viewing it. Does Elaine represent someone oppressed by the patriarchy? Or is she someone who embodies evil and wreaks havoc? There are so few witch movies that really explore the implications of what witches are; there is so much misunderstanding." And what about Elaine's high priest who seems obsessed with sex? "Any time you have a man in power you create the possibility for this dynamic. I think we've all seen these kinds of men in the pagan community; this is based in my own experience." But the manipulative love spells? The killings? "Originally the action built to an even darker climax than the one you see, and I let that drama fall flat on purpose, because I didn't want Elaine to be purely evil. Ultimately she's been beaten down by having all these male fantasies projected onto her, so she becomes cruel and manipulative."
I agree with Biller's assessment of some predatory personalities in the pagan community. The film also portrays characters who, in another nod to vintage horror, try to drive the witches out of town with torches and pitchforks. One need only view a certain presidential candidate's recent campaign rallies to imagine how easily such a scenario might play out.
It remains to be seen how the pagan community (at least a million strong in the United States) will respond to this unusual, kitschy film. Or if those predisposed to fear or hate witches will exploit it as part of a larger battle cry. Elaine's struggle for love is often campy, yet also reflects rather incisively the larger paradigm shift sought by the pagan movement. I mean: How can we heal the planet in the name of the Great Goddess if we can't even find a decent boyfriend? How can we smash the patriarchy unless we use our womanly wiles to do it?
Stay tuned for my complete review, and my full interview with filmmaker Anna Biller!