…is a television series that tries to capitalize on popular media's witchy trend by being as over the top as possible.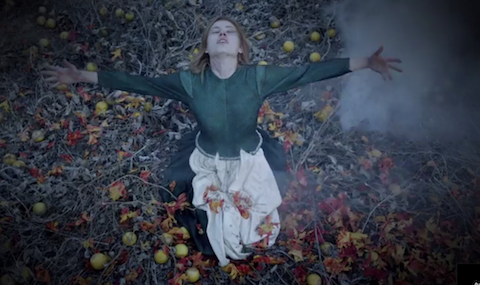 SALEM Premieres this Sunday on WGN: Just how trashy will it be?
From the looks of things in the latest trailer, pretty trashy.
I'm pretty sure this series was in the works before AMERICAN HORROR STORY: COVEN premiered, but I am inclined to agree with the i09 folks: this new show seems to want to give the glossy, envelope-pushing FX drama a run for its money.
Too bad this show doesn't quite have the sophistication of its horrific predecessor; being a purely "historical" drama (instead of one where historical flashbacks were meant to offer insight into character's behaviors, or give background on their relationships), WGN's SALEM seems to take itself far too seriously. Its supernatural content will not be tongue-in-cheek like COVEN's often was, but instead will be the "lightning bolts shooting from the palms of their hands" kind of magic we've grown to despise in stories about witches.
I admit I am still looking forward to seeing this, if for no other reason that there are a few good actors in it, and the costumes and overall production design look pretty good. But the central conceit, of the witch hunters being the "real" witches…seems a bit heavy handed to me.
Then again, maybe there's an interesting political allegory at play here…if the "real" witches (i.e. those with power) are the ones in charge, and if they hide their own evil doings by pointing the finger at those less fortunate and more vulnerable, well, then the class divide between the accusers and accused is even more apparent. Wow, shit just got kinda real.