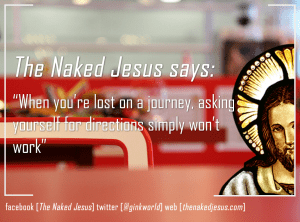 I've been a follower of the teachings of Christ for a number of years, and in that time I'm amazed at the people who believe all they need to do to find the Divine is look into themselves; I'm not sure I agree with that idea.
Now, let me explain a little deeper.
To start with, let me say I truly believe the Divine is found in each and every living thing; to me, that's imply a reality.  In that, I also believe, for us to truly see the expression of the Divine in ourselves we truly need to live, love, cry, laugh, and explore in community. Not just our neighborhoods, but in a community where people are actively seeking to see the Divine expression. Think of it this way, when you're lost on a journey, asking yourself for directions simply won't work; you need to seek out those who have traveled that way before to better understanding the road ahead. By doing this, we're able to see the expression of the Divine, not only in ourselves, but in everyone around us.
Here are some benefits, I believe, help us on our journey with the Divine – If we find the right community.
We should make the road less lonely: When we're in a community of people seeking the expression of the Divine, we are less likely to give-up and go home to be by ourselves. Those in the community should be helping others at every turn.
We should be encouraging, and encouraged: To find the expression of the Divine in ourselves, we need to be involved in a community where we are encouraged to explore, and show how we believe the Divine is working on us. It should never be our place to bring people down, or insult them in their journey. We should be walking the road together, holding hands when needed, and always making the journey enjoyable.
We should be asking, and answering, questions: Simply walking along with others is boring if there is no conversation. We should be talking about all kinds of things, and invite others to join the conversations. We should be doing this with a heart of love, and grace.
We shouldn't demand others be like us: Some of the best journeys I've been on involved people who didn't try to convince me of anything, they simply invited me to be me, ask questions, and seek the Divine. They did not say, "Your Wrong," they simply shared their lives with me, and invited me to explore all I could. We should never force anyone to think the way we think.
Encouraging others to find the expression of the Divine is an amazing journey unto itself. We not only get to help others find the Divine, we become open to hearing how others express the Divine in their lives. When we help others, when we are involved in a community actively seeking the expression of the Divine, we help others, and we help ourselves.
We all grow; we all seek.