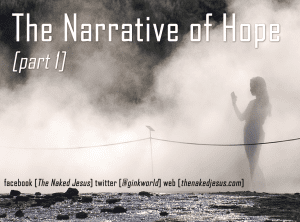 Ever wonder how you can become part of the Divine's Narrative of Hope? As I write this to you, I want you to think about how you, and I, can become part of this wonderful Narrative. I have been in dialog with many of the other First Followers and our desire is to share with you all the Divine is doing, and will continue to do, with all; those who are reaching out in need of this Narrative of Hope. I am writing this to all of you who seek to journey in a deeper walk with the Divine, and to all others who desire to journey in The Way.
As I look back at the writings of our ancestors I'm drawn to how the Narrative of Hope, which the Divine shared with us, brings us back to knowing our true self. We find this Narrative in the words of the prophets; intertwined in the Narrative of the Divine's incarnation with us, and in the Divine's Narrative of love. This Narrative of Hope is a Narrative of how the Incarnation, the Avatar of the Divine, was brought into this world to be our teacher, our salvation, and our guide in connecting us to the wider Narrative. It is a Narrative of how a child born to a single teenaged mother, a child raised by that teenaged mother, and a teenaged day laborer stepfather in poverty, changed our world forever. A Narrative which burst on the sense with the conception of the Incarnation's birth, and life, changed how we view the world around us. A narrative that continues to develop in each of us as we journey our path together with the power of the Divine.
As we think about this Narrative of Hope, we see that the Divine added an exciting Incarnation. This new chapter of the Narrative showed us the Incarnation is the salvation, the Divine among us. By adding this chapter to the Narrative we received a wonderfully real gift from the Divine, we receive the fantastic gift of life, a gift of a new life, a life that can change us at our core, and make us new people, and draw us back to who the Divine desired us to be. Because I know this Narrative, and how it changed me, my desire is to share this amazing Narrative of Hope with others and how this Narrative affected my live, and how it changed me. I want you all to understand that this new chapter in the Narrative of Hope changed my life forever, and it can change you too. Now, I am pretty sure you are asking yourself, 'How can this Narrative of Hope change my life?'
Simply put, the Narrative of Hope moved us from law to grace; from judgment to acceptance; from being outcasts to being accepted for who we are. This Narrative of Hope turned the world 'right-side-up.' In the Narrative of Hope we see the love of Divine in this new chapter, walking among us. You see, the 'how' is found in that you are loved for who you are, not matter what you have done, no matter your wrongs, not matter how bad you think they are, no matter your upbringing, no matter your past, and that this new chapter shares with us the Narrative of the Divine in a new way that gives an expression of eternal life. When we see this new chapter in the Narrative, we are truly transformed in a way that makes us something new, and not what we were yesterday. So, it is with that new chapter of the Narrative of Hope, the incarnation, that I greet you with all the love of my heart and the gift from the Divine Incarnation among us.
Many of you already know this Narrative of Hope, and while you seek to be part of that Narrative, you seemingly push away others seeking to know this Hope, Love, Grace, and Acceptance. So many people are telling me about you and your strong desire to live out the teachings of Incarnation in this new chapter, the new chapter found in the Incarnation; and I have to tell you that it excites me greatly; but I would be more excited if you opened your doors to all people seeking to live in the Narrative of Hope. The Divine knows that I pray each and every day for all of you, and those around you. What do I talk to the Divine about?  That's simple, the first thing I ask for you to have a clear understanding of this new chapter, that you live out the teachings, and live out this Narrative of Hope by helping others. Loving on everyone you meet, no matter their life condition. The Narrative of Hope speaks volumes to those in your community of faith, and the community at large, but it must be shared with grace, love, and acceptance. Because, living in a community when love, grace, and acceptance is at the core, the Narrative of Hope live. I desire to experience that community with you because I see this as a great learning: you learning from me, and yes, me learning from you. I would never claim to have all the answers, but I know I can trust that the Divine will guide us in our journey.
It never seems to fail, every time I pack my bags and get ready for a road trip, something happens and I am unable to get on the road. To be honest, it's enough to drive a person crazy.  I know that it would be an incredible experience to get connected with all of you on a personal level and share community with you, and those outside the community.  I know this because it has been like that with every other community I have had the opportunity to visit and share his exciting new chapter in the Narrative of Hope. As I mentioned before, something always comes up to stop it from happening.   Something always seems too pop-up and prevented me from getting on the road.  Yet, what I find most exciting about this faith journey I'm on is that no matter whom I meet, those who like me and those who, well, don't like me, those who are much smarter than me and those who are not so much, each of them add too and deepen my understanding of the Narrative of Hope – each and every one adds to my faith, each and every one adds to my understanding of the Narrative of Hope.
Many add to my connection to this wonderful Narrative of Hope by being filled with grace, forgiveness, kindness, acceptance, and love; so much so that I wish I could be more like them. While others I met add to my faith by showing me that I need to be less like them. You see, that is one of the main reasons I strongly desire to hook up with you as soon as I can; so I can share and grow in this incredible Narrative of Hope for all. This amazing narrative of the Divine's interacting with us through the Incarnation, and in turn our interacting with each other along the journey.
I have to admit that nothing makes me happier than to share the Narrative of Hope, and how it shares a new life for everyone. This narrative that says, 'embrace life and love each other.' It's a narrative that says, 'trust in the Incarnation of the Divine.' It is a narrative that rescues us from all the garbage the world has placed in our lives by tossing it to the side and giving us a new life. I hope you can see that the Narrative of Hope has this incredible way of getting people on the right with themselves, through the Divine. This Narrative of Hope helps us find who we were meant to be, and who other are, in a way that opens us to everyone. This Narrative of Hope hooks us squarely in the reality of this simple reality, 'The Narrative of Hope changes lives.'
[Several years ago I started a project called "The Romans Rewrite Project." This project centered on a very simple premise: If Paul was to write to America, what would he say. This is based on Romans 1, in part. The idea is to all pull from other writings of Paul to strive to get a complete picture. While there are some who will disagree with this, please offer constructive criticism, and not insults. I truly desire to hear what people think]