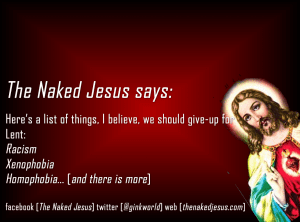 Let's start with a question: What are you giving-up for Lent?
Not growing-up in the church, I stood on the outside, viewing Lent with very different eyes, confused on how people celebrated this thing they called, the Lenten Season. Looking back, as a confused pre-teen, I saw Lent as a time when those who attended church would give things up, as some kind of badge of honor. They would give-up things like coffee, chocolate, cussing, and over eating. It always seemed to me, Lent was a time where people gave-up something they felt made them look good ['I can't, I gave that up for Lent'], but by giving it up, it benefits only themselves – or, it was something they felt was easy to give-up. They would give-up only those things they felt they could go without for the 40 days of Lent, there was no desire for a long-term commitment; they never gave things up forever. I remember one friend's family would hold a 'End of Lent Party' where people from their church would gather together on the last day of Lent, and partake in all the things they gave-up for Lent. My friend thought it was the coolest thing every, because his Mom always gave-up chocolate for Lent, so after Lent the house was filled with tons of chocolate.
As I moved along in my faith journey, I'm always reminded of this when I hear people talk about Lent. This got me thinking of some
What Ifs
:
What if, we saw Lent as a time to make a dramatic change in our lives?
What if, we saw giving-up something that would not only help us, but would benefit the world we live in?
What if, we truly looked deep into who we are, and made a true, and lasting change?
While trying to answer those question, here's a list of things, I believe, we should give-up for Lent:
Racism
Xenophobia
Homophobia
Fear
Blaming Others
Marginalizing Others
Sexism
Pride
Greed
Control
Expectations
Worry
Doubt
Feeling Inferior
Frustration
Selfishness
Violence
Abuse
Insecurity
Cynicism
Suspicion
Judging
Neglect
Rejection
Power
I'm sure you can think of others. If you can, either post in the comment section here, or on our Facebook Page.