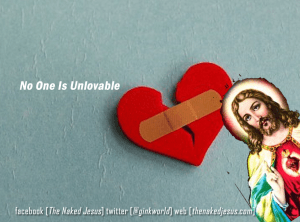 My friend Keith Giles today quoted Hanna Ray on his Facebook page, and of all the quotes I've read recently, this one is by far the most amazing quote I've read in a long time::
"It's not that Jesus loves the unlovable. It's that to Jesus, no one is unlovable."
I was going to write an article on this – but I think it stands on its own – read it again, let it sink in, pray over it – let the Spirit speak to you – and just live in the light of her words.
It is one thing to think Jesus loves the unlovable, but to know that no one is unlovable to Jesus brings a whole new direction.