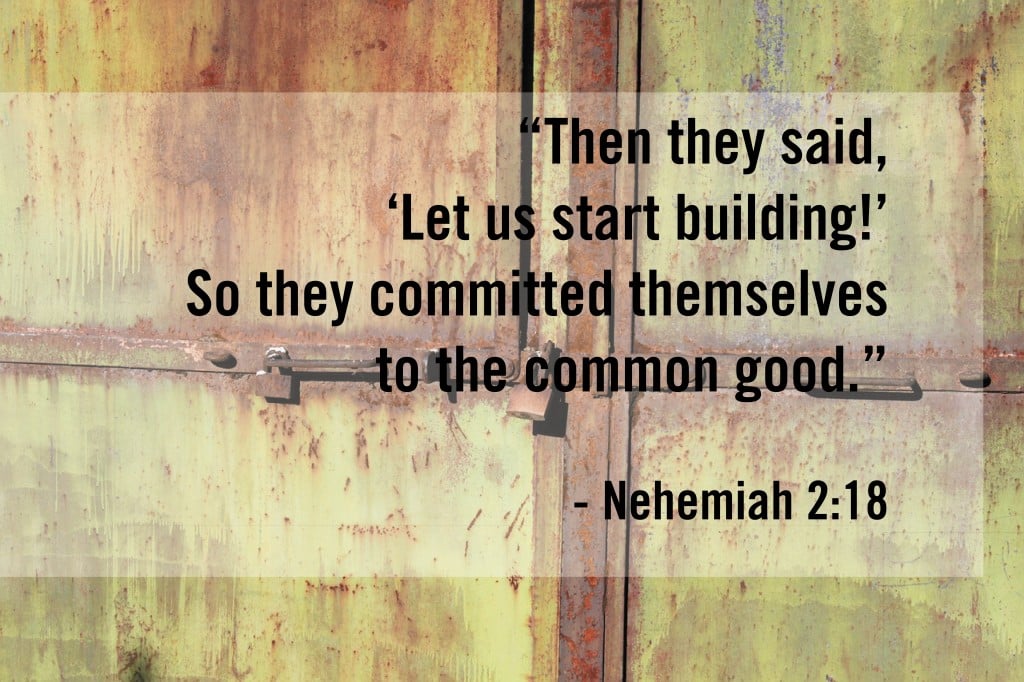 Ever wonder if non-church work can contribute to fulfilling God's plans? Here are five lessons we can take from Nehemiah about faith, work and calling.
Lesson 1: God's call is not limited to traditionally defined "religious" activities. Nehemiah was called to help rebuild the walls of Jerusalem. His call to rebuild the walls is just as important as Ezra's call to rebuild the temple. Though one job is has a more obvious religious affiliation, both were sacred activities ordained for God's purposes. Both contributed to the common good. Vocation is not limited by our concepts of "sacred" and "secular."
Lesson 2: Justice and economic matters matter to God. In Nehemiah 5, we see Nehemiah rebuking the wealthy for taking advantage of their fellow Jews. The wealthy were charging interest (which was prohibited by Jewish law) and forcing debtors to sell their own children to repay their loans. Nehemiah connects economic issues with the fear of the Lord when he asks, "Should you not walk in the fear of our God, to prevent the taunts of the nations of our enemies [to whom the wealthy had forced the sale of Jewish debtors as slaves] (Neh.5:9)?"
In awe of God, we are to care for those who we work with–employees, employers, co-workers, customers–and work for the common good.
Lesson 3: God's kingdom is advanced through multiple spheres of influence. The temple and and the city walls were mutually dependent instruments of God's kingdom law, government, security and prosperity. The wall was an integral part of the city's protection, but so was the temple because it was God's dwelling place (Ezr.1:3); God was credited with foiling the violent plans of the city's enemies (Neh.4:15). Likewise with government and justice. The gates of the wall were where lawsuits were tried (Deu.21:19, Isa.29:21), while at the same time the Lord from his temple "execute[d] justice for the orphan and the widow" (Deu.10:18). The temple and the walls are united in a society founded on God's "covenant and steadfast love" (Neh.1:5).
Thus, we observe God's love at work in multiple spheres of society. We are reminded of what Cornel West has said, "Never forget that justice is what love looks like in public."
Lesson 4: God works through people. God worked through his people, pagan kings, leaders, lay people (such as Nehemiah, who was a cupbearer to the king), builders, guards and everyday workers to fulfill his purposes.
Lesson 5: Take time for worship, Sabbath and celebration. What is it that separates the work of God's people from the rest of the world? A conscience reliance on–and motivating awe of–God. In Nehemiah, the people are reminded to remember who God is, honor the Sabbath (Neh.10:31, Neh.13:7-8) and celebrate God's provision.
When Nehemiah says, "send portions of them to those for whom nothing is prepared, for this day is holy to our Lord (Neh.8:10)," we also see that celebrating God's provision includes giving to those who have less.
What do you think? What workplace lessons do you see in Nehemiah? Let us know your thoughts below.
The Theology of Work Project blog is exploring five must-study books of the Bible for forming a theology of work. This post is second in a series that started with Genesis.