"A person's name is to that person, the sweetest, most important sound in any language." – Dale Carnegie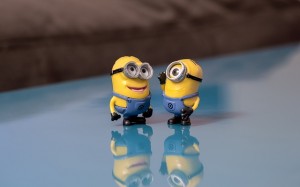 Who We Talk To Says Something About Us
Many of us come face to face with hundreds of people in the course of our work. To some degree, we need to communicate with each of them, even if only to avoid knocking into each other in the hallway. How many of them do we know well enough to greet by name?
At the very end of the book of 3 John, John offers insight for our daily work. John adds, "Greet the friends there, each by name."
Do you know your boss's boss's boss's name? Probably. Do you know the name of the person who empties the trash in your workplace? Do you greet people by name when you are in conflict with them? Do you learn the names of newcomers to the organization who may need your help at some point?
The names you bother to learn and those you don't can reveal a lot about your level of respect and compassion for people. John cares enough to greet "each" person by name.
Treating Others in God's Image
"You shall not make wrongful use of the name of the LORD your God…" – Exodus 20:7
The third of the Ten Commandments also reminds us that respecting human names is important to God. The Good Shepherd "calls his own sheep by name" (John 10:3) while warning us that if you call another person "you fool," then "you will be liable to the hell of fire" (Matt. 5:22).  
Keeping this in mind, we shouldn't make wrongful use of other people's names or call them by disrespectful epithets. We use people's names wrongfully when we use them to curse, humiliate, oppress, exclude, and defraud. We use people's names well when we use them to encourage, thank, create solidarity, and welcome. Simply to learn and say someone's name is a blessing, especially if he or she is often treated as nameless, invisible, or insignificant. 
Calling a co-worker by name does not concern the very name of the Lord, as the third commandment does. However, when we call others by name, we affirm the dignity of those who are made in God's image. 

---
This article contains excerpts from the Theology of Work Bible Commentary. TheTheology of Work Bible Commentary explores what the Bible says about work, from Genesis through Revelation, and is available for free online.