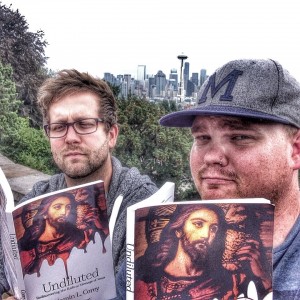 Undiluted… now there's a thought. What would it look like to remove the muck and mire of American culture from the deep well of the Christian faith to reveal an undiluted Jesus?
It looks painful.
It looks like losing friends.
It looks like carrying a cross.
It looks like letting go of comfortable ideas.
It looks hopeful–eventually.
It looks like an undiluted Jesus.
However we slice it, discovering a Jesus that looks different that the American Jesus is quite the journey. Some of us have undertaken such a quest, sometimes at the expense of losing relationships with loved one's along the way. It seems to me that two main dynamics come into play when someone is first confronted with the reality that the Jesus they worship might need to have some mud cleaned in order to see him as he actually is.
Fear of losing friends, a common identity, and family members.
Fear of losing favor with God.
I've experienced both of these fears. Sometimes the fears generated by reason number 1, hit harder than I would have ever imagined. One reason for this, at least with some people, is that when you start talking about Jesus in ways that are foreign (sidebar: shouldn't this always be true–after all Jesus was a first century, Palestinian Jew… not an American), it challenges people's normative experiences. In other words, new paradigms lead to a conflict in identity.
Anyone of us who has walked this road ought to empathize with those friends who think we are out of our minds. Because, at least in my own process, there were many moments when I wondered if I was "going too far" or going bonkers in my quest to find a more beautiful and subversive Jesus. Fortunately I'm still convinced that fear number 2 is irrelevant: God continues to be a voice of affirmation.
In Undiluted: Rediscovering the Radical Message of Jesus by Benjamin L. Corey, we see Ben struggling with a huge shift. Here's a quote from a chapter titled Undiluted Reorientation:
Once I gave in and decided to embrace the learning process, the experience of deconstructing, relearning, and paradigm shifts was something I, at least temporarily, found new and exciting. Much like the early stages of a romantic relationship, I was giddy and had butterflies in my stomach a lot of the time. Eventually however, this process began to take a toll on me spiritually. In many cases, I experienced a total collapse of previous paradigms but had nothing yet to replace them with, a situation that is far more frightening than simply replacing an old belief with a new one (Undiluted, 29).
Later he adds:
Reorienting our faith on Jesus will also mean that we become willing to reject many concepts about what it means to follow Jesus–even if that means dumping stuff that comes from American Christian culture…. The only question that really matters is: are we people who actually look like Jesus? (Undiluted, 30-31).
When others look at us with the eyes of concern or judgement (those who are going through a reorientation of faith) it helps to remember our own struggle. For me, it looked a lot like Ben's journey.
Which brings me to the point of this post: I love this book! Seriously. Why?
First and foremost, it is a labor of love by a friend who is the "real deal." He's not fake. He's a genuine guy trying to follow Jesus with a gift for writing about it.
Beyond that, what Ben has produced is a book that you can hand to a friend and say: "Here's an introduction into what I've been trying to say. I still love Jesus–just like you–but I'm discovering that he's even more wonderful than I ever knew! If you're interested, this book is a quick introduction to some of what I've been experiencing. It's like Ben put into words so much of where I sense my walk with Jesus heading."
Undiluted is the book to hand to someone who is openminded but concerned about your "falling away from Christ," etc. Because, although someone will possibly read this book and disagree on some points, it's likely to build bridges with people who are more "traditional" in their thinking–perhaps even some common ground. Ben's love for Jesus is clear–even if it differs from other's theological preferences. That gives this book lots of credibility.
It's also a book that paints a radical picture of what it means to be a disciple. Each chapter pushes the reader to desire more of Jesus and the countercultural kingdom of God. This, of course, is why I gave such a strong endorsement of the book:
In Undiluted, Benjamin Corey invites us into his story and in doing so tells the story of so many of us. The Christianity we grew up with is often at odds with the Jesus of the New Testament. Thankfully, Benjamin demonstrates that we can have more than a "watered down" faith. With the heart of a pastor, the insight of a scholar, and the passion of someone discovering the radical message of Jesus for the first time, he invites us to re-orient our faith–not around a new system of belief–but around Jesus himself. If every Christian took seriously the themes in this book, our churches would be revolutionized and our world would be transformed. So, read Undiluted, put its vision into practice, and watch as God's kingdom shows up in surprisingly beautiful ways!
I hope you will pick up this book. Ben's voice is one that so desperately needs a hearing in American Christianity. And, hey… maybe hand a copy to that friend who's confused by some of the questions you've been asking about Jesus. My guess is that this book might pave a path towards common ground–a narrow road that looks like the costly way of Jesus.
*This review is part of the Patheos Undiluted Book Club. I was graciously given a free copy of the book for review purposes and received no compensation from the book's author or publisher.