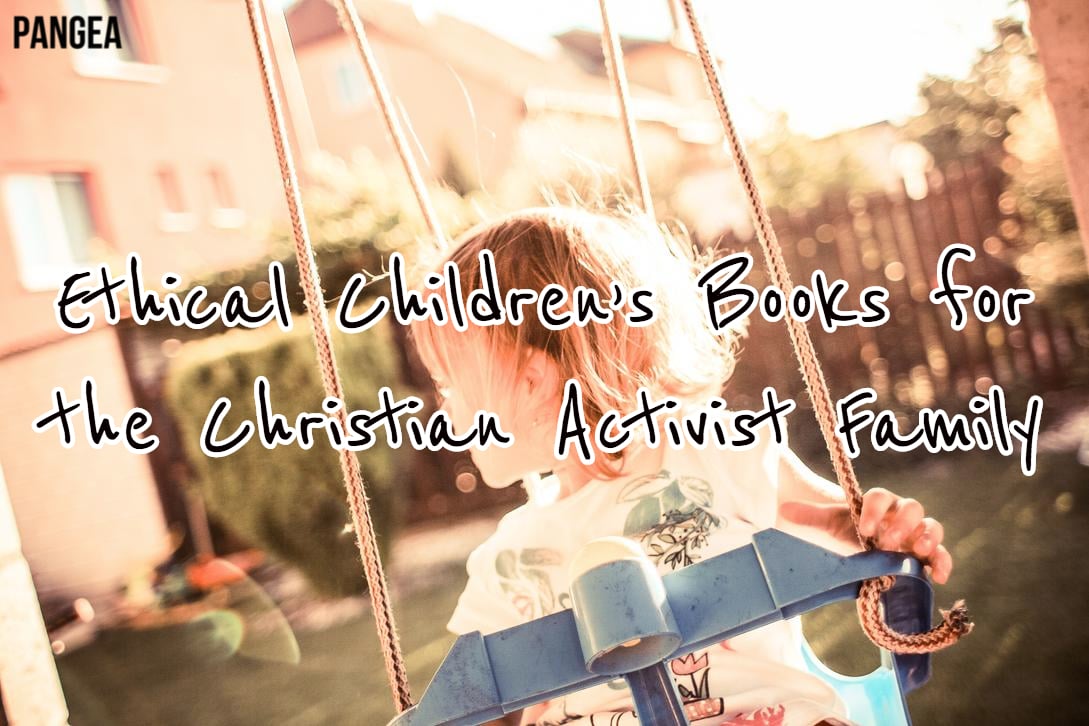 In this post, I've attempted to create a list of books for families who are followers of the way of Jesus. As Christians, we are called to foster the imaginations of our children so that they will know of God's heart for reconciliation, peacemaking, and justice. Although I don't have a long list to offer here, I do want to offer a few books that we love in our house. These books teach Kingdom virtues in various ways. After I reading about the books that I highly recommend, I'd love to hear about any books that you like–in the same line of thinking.
Which children's books propel young children to dream about making an impact for peace, diversity, justice and community? So, here' my list:
Children's Books ::: Younger Kids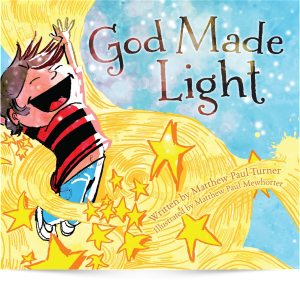 Kurt Note: MPT is a friend, a creative, and a gifted storyteller. This book reminds young kids that the God who made light is the God who made them. This light that floods creation is the very light of God that shines in them. If that's true, then kids are invited to take God's light wherever they may go! This book is flat-out wonderful. Every kid needs to read books like this so that they are shaped by a message of love and hope! Highly recommended.
Let there be light! That's what God said. And light began shining and then started to spread. This book celebrates God's gift of light! From shimmering stars in the sky to warm sunny days to the light that God puts inside each and every one of us, God Made Light is a colorful, rhythmic, and imaginative celebration of God creating light that will inspire readers of all ages to believe. www.GodMadeLight.com
"Matthew Paul Turner, takes the same zinging words and keen eye he's esteemed for, and turns it towards a romping, memorable children's story… As the mother of six, I'm thrilled to read a fresh voice: Max Lucado meet Dr. Seuss." — Ann Voskamp, New York Times bestselling author of One Thousand Gifts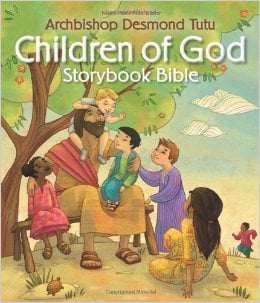 Kurt Note: This is a fav in the Willems' house. We have read this book to our dear Lydia more than any other book. She, for several months, sees Jesus on the cover and says "hi." Her greeting to Jesus is followed by giving Jesus a hug (which she does by laying her face affectionately on the cover). I love our kid! This book is theologically excellent. It is one that highlights the diversity of the children of God through words and images. He highlights themes of peace, justice, forgiveness, reconciliation, and hope. And, the way Archbishop Tutu tells the stories amplifies God's love in a gospel centered way. This book/bible is a must for young children!
Desmond Tutu retells more than fifty of his most beloved stories, artfully highlighting God's desire for all people to love one another and to find peace and forgiveness in their hearts. Many of the finest artists from around the world have been selected to illustrate the stories. In an attempt to create the first truly global Bible for children, the artists have been invited to portray the stories with the style and richness of their own culture. Their stunning color illustrations allow readers to experience the Bible stories as if they were there—with Adam and Eve in the garden, with Noah on the ark, with Abraham in the desert, and with Jesus on the mountaintop. Every story shows how God works through history and ends with a short prayer, which personalizes the message for each reader's own life. Archbishop Tutu's wisdom, compassion, and sense of humor shine throughout, as he reminds us that "We are all God's children." Archbishop Desmond Tutu was awarded the Nobel Peace Prize in 1984 for his lifelong struggle to bring equality, justice, and peace to his native country of South Africa. In 1986, he was elected Archbishop of Cape Town, the highest position in the Anglican Church in Southern Africa. Tutu is currently the Chair of The Elders, an independent group of global leaders who are working to promote the shared interests of humanity. In 2009 Tutu received the Presidential Medal of Freedom, America's highest civilian honor. He is known for his great love for children, as well as his powerful and profound understanding of the message of Jesus Christ. The Archbishop lives in South Africa with his wife, Leah. They have four children and seven grandchildren.
"In the spirit of celebrating children all over the world, each illustrator in this book has been invited to draw on their own unique and rich cultural heritage in their portrayal of these Biblical stories. Their art is truly a marvelous reflection of how we are all made in God's image." –(Archbishop) Desmond Tutu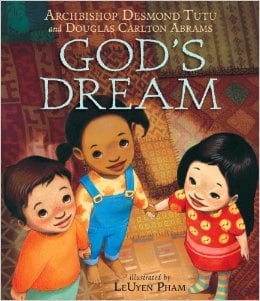 Kurt's Note: In a similar style to the Storybook Bible mentioned above, this book is all about reconciliation with those who are different than us. It is a masterful book that reminds kids early on that not everyone in the world looks, thinks, prays, or acts like they do–and this fact is something to celebrate!
Archbishop Desmond Tutu has a vision of God's dream, which he shares here with the youngest of listeners. It involves people who reach out and hold each other's hands, but sometimes get angry and hurt each other — and say they're sorry and forgive. It's a wish that everyone will see they are brothers and sisters, no matter their way of speaking to God, no matter the size of their nose or the shade of their skin. Aided by vibrant artwork evoking such images as a rainbow and a sharing circle, Tutu offers the essence of his ubuntu philosophy, a wisdom so clear and crystalline that even the smallest child can understand.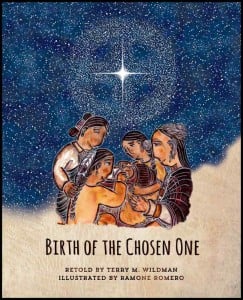 Kurt's Note: Based on the First Nations Translation of the Scriptures (I endorsed the Gospel version, here), this book is a telling of the birth of Jesus from a First Nations/Native American perspective. Those of us living in North America are part of a culture founded on the destruction of its native caretakers. As the people of God, part of repenting of this past is to celebrate the beauty of this culture in both its ancient and modern forms. This book helps remind children that the Christmas story is also for their Native American neighbors. It also shows them that the Gospel is contextual, taking on many forms.
A book for children of all ages. This is the story of the birth of Jesus retold for Native Americans and other English speaking First Nations peoples.This is the first book of the First Nations Version Project by Terry M. Wildman. The First Nations Version is a retelling of the Sacred Book of the Bible following the oral tradition of the indigenous storytellers.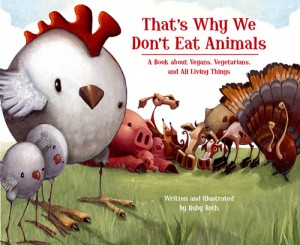 Kurt's Note: I realize that not everyone reading this blog is a vegetarian. In our house, we do not eat meat. I shared about the beginning of this eating journey in a blog titled: The God of the Gut. It has been over 3 years since I knowingly ate meat and this has been a spiritual discipline of simplicity for me. Life changing. Sometimes awkward. Kingdom oriented. Legalism free. This book, then, is one resource we picked up to teach our daughter why we abstain from meat. Our biggest concern is that (as my friend Greg Boyd says) "Factory farms are like concentration camps for animals." We have chosen to opt out of that system and this book gently teaches children why that choice can make a difference.
That's Why We Don't Eat Animals uses colorful artwork and lively text to introduce vegetarianism and veganism to early readers (ages six to ten). Written and illustrated by Ruby Roth, the book features an endearing animal cast of pigs, turkeys, cows, quail, turtles, and dolphins. These creatures are shown in both their natural state—rooting around, bonding, nuzzling, cuddling, grooming one another, and charming each other with their family instincts and rituals—and in the terrible conditions of the factory farm. The book also describes the negative effects eating meat has on the environment. A separate section entitled "What Else Can We Do?" suggests ways children can learn more about the vegetarian and vegan lifestyles, such as: "Celebrate Thanksgiving with a vegan feast" or "Buy clothes, shoes, belts, and bags that are not made from leather or other animal skins or fur." This compassionate, informative book offers both an entertaining read and a resource to inspire parents and children to talk about a timely, increasingly important subject.
Peace

(Wendy Anderson Halperin)
Kurt's Note: This book is about the dream of peace. It isn't specifically a Christian book (in fact, it brings up other religious ideas). Even so, it offers a wonderful tool for teaching kids about the dream of peace. Peacemaking is a primary vocation for followers of Jesus, hopefully this book amplifies that concern in a constructive way.
Radiating tenderness and reflecting the influence of eastern philosophies, a compilation of exquisite illustrations and wisely chosen words reveals the heart of where peace truly must originate: within ourselves. The beautifully intricate artwork, with tiny, precisely rendered details of life across the globe, complements the spare and powerful text that includes quotations from famous peacemakers. And with each reading, you'll find something else to notice—such as the visual storylines that subtly play out across the pages. Poetic and soothing, Peace is a masterful exploration of the true path to world peace and serves as a perfect springboard to discussions about bullying, conflict resolution, and right actions.
———————————-
Late Nominated Additions (Most of Which I Haven't Read)
Kurt's Note: Nominated below! A book that looks at the African American struggle for justice. For children 6 and up.
With the text of the biblical Beatitudes as an undercurrent, the story of the civil rights movement is told in lyrical text and stirring illustrations. Grade 1–6—Weatherford uses the Beatitudes (Mathew 5: 3–12 KJV) as backdrop for a powerful, beautifully produced book. In free verse, she relates the story in first person—"I am the Lord your God,"—tracing the African-American journey from slavery through the Civil Rights Movement to the inauguration of Barack Obama. Each page begins, "I was with…" as Weatherford focuses on a particular person (Harriet Tubman, Marian Anderson, Emmett Till, Martin Luther King, Jr.) or an event (slave ships, freedom rides, right-to-vote movement). Verses, short and meaningful, carry forth a poignant message, reinforced by Ladwig's inspired, richly hued, expressive illustrations. The words of the Beatitudes, which are printed in their entirety at the book's beginning, run across the bottoms of the pages in softly colored type, making a constant connection to the pictures. In addition, the artist's choice of perspective is exemplary: angry white hecklers back an image of a hopeful-looking Ruby Bridges; Lincoln looks down on a crowded Mall as Marian Anderson sings to the throngs, and Martin Luther King, Jr., gazing into a reflecting pool, sees the smiling faces of two girls (one black and one white). Regardless of race or religion, this is a book to share with today's children who live in a discordant world too often lacking in kindness and civility.—Barbara Elleman, Eric Carle Museum of Picture Book Art, Amherst, MA Copyright © Reed Business Information, a division of Reed Elsevier Inc. All rights reserved.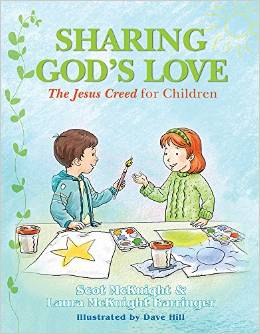 Kurt's Note: I have not read this book. However, based on the description, its co-author, and the book it's based on (Jesus Creed)–I'm optimistic!
Sharing God's Love, the children's companion to The Jesus Creed, can transform kids as they learn to love God and others with intentionality. Join Aksel and Finley as they discover how to live out the Jesus Creed throughout their day at home and school, remembering: "Love the Lord your God with all your heart, with all your soul, with all your mind, and with all your strength. Love your neighbor as yourself."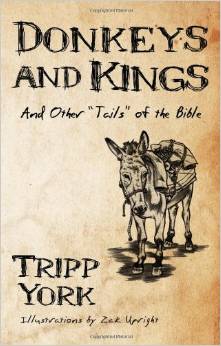 Kurt's Note: For older kids… this looks good!
Synopsis: What do talking donkeys, fasting lions, and wolves playing with sheep have in common? They are all found in the Bible. Author Tripp York and illustrator Zak Upright bring to life eight different stories about animals as discovered in Scripture. York spins a different account on these stories (such as the flood, Jonah, as well as Daniel and the lion's den), by attempting to imagine what it might mean to understand these narratives from the perspective of the animals. Though the short stories in this collection are written for children, adults will take much from them as they attempt to provoke the readers to new ways of understanding some of the most popular stories in the Bible.
———————————
Children's Bible ::: Older Kids
Those are some of the books I recommend for younger children. As kids get a tad older, I have one last recommendation. The reason I tack it on to the end here is because I often get asked "What kids bible do you recommend?" Here's my answer:
From the website: "Kids will dive deep into God's word with the CEB Deep Blue Kids Bible. This engaging, interactive Bible offers four-color icons and illustrations throughout with a wealth of notes, devotionals, Bible trivia, and other interactive elements to capture inquisitive young minds. Plus the CEB Deep Blue Kids Bible will encourage a thirst for God's timeless message as young readers join three life-like kids in discovering the Bible and what it means to their lives."
————————-
Books Not Yet Released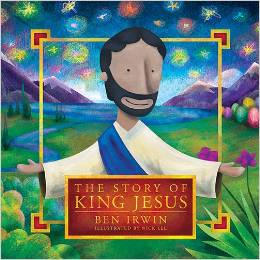 More than a collection of Bible stories, this vividly illustrated children's book tells the big picture of the Bible-from the creation of the world to the calling of Israel to Jesus's victory over death. Many Bible storybooks offer stand-alone stories, which reduces biblical narrative to moral fables rather than showing how they are a part of a larger redemptive drama. Designed for children ages 4 to 8, The Story of King Jesus is the gospel told in a single story-one designed to be read in one sitting. The thoughtful illustrations nurture a child's spiritual curiosity and draw them deeper into biblical truth. This unique book also includes a letter to parents introducing the concept of the gospel as a story and offering suggestions for how to use the book with their children.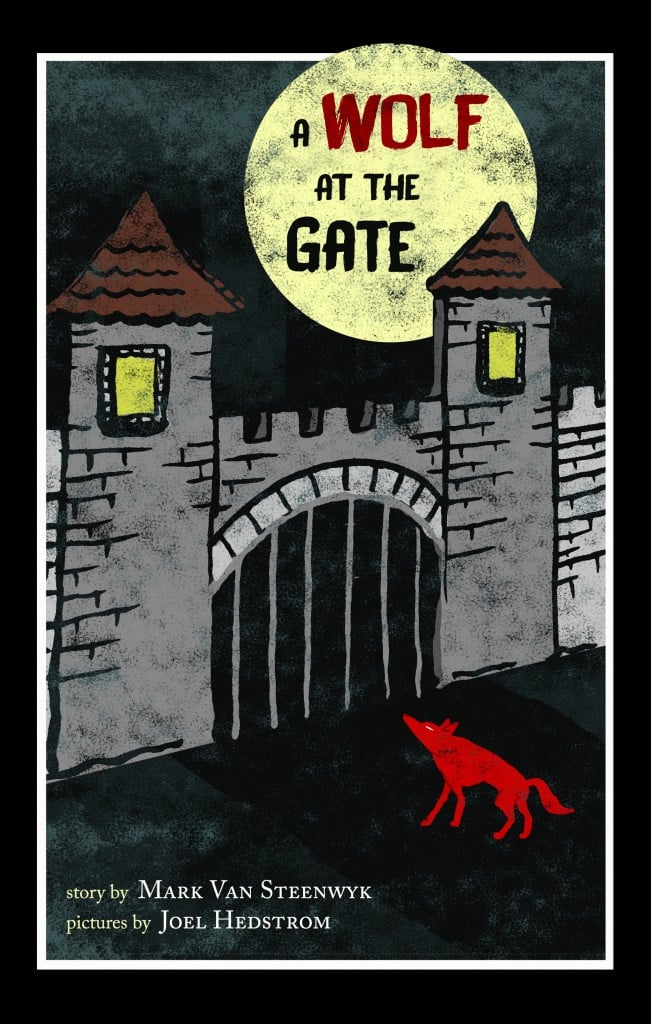 [Kurt Note: Aimed at older children] The Blood Wolf prowls near the village of Stonebriar at night. She devours chickens and goats and cows and cats. Some say children are missing. But this murderous wolf isn't the villain of our story; she's the hero! The Blood Wolf hates humankind for destroying the forest, but an encounter with a beggar teaches her a better way to confront injustice. How will she react when those she loves are threatened? This imaginative retelling of the legend of Saint Francis and Wolf explores what it means to be a peacemaker in the midst of violence and how to restore a healthy relationship with creation. Settle in and read a tale of tooth and sword, of beggars and lords, of outlaws and wild beasts. It is a story of second chances and the power of love. This is the story of the Wolf at the Gate.
————————————–
What my list greatly lacks is a good children's book that teaches about racial justice and reconciliation from a Christian African American perspective. For my own personal benefit, and for the benefit of those reading this list, I want to invite you to nominate some books in this category that have been helpful for your family. Recommendations in other justice/peace/diversity/etc. categories are also great.
What books do you recommend for Christian families that are kingdom minded? Leave comments below…