Ever ask yourself that question? Perhaps you've tried relationship after relationship, but nothing seems to have any longevity. Maybe you've tried for years to please a relative or mate without success. You may have some examples of your own.
It can seem so hopeless, so frustrating.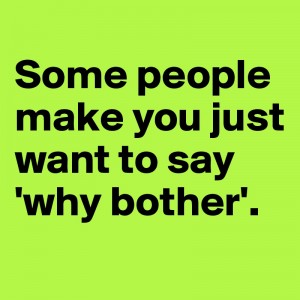 Why bother? Why bother, indeed!
I'll tell you why. Because you matter. You deserve to be magnificent. You deserve to have fulfilling relationships, a great career or retirement pursuits, exceptional health and all the money you can spend, share and save.
And that's why we bother. We bother to find out what is really motivating us to do the things we do. Our actions, goals and desire must not be based solely or primarily on pleasing others. We must decide what our purpose is in life, what enriches our soul and tickles our fancy.
If we can do that we won't find ourselves frustrated by the actions or lack of actions of others. While we're bothering to be our brilliant, unique selves, we'll draw those people, places and things into our sphere for which we've been searching. We'll be there not only to love and support them, but also to enjoy the pleasure of being loved, supported and enriched by their unique gifts as well.
Are you willing to bother with YOUR happiness as much as you may be doing for others? Give it some thought!
In Spirit, Truth and Playfulness,
Terry
#DrTerryMakingSense
#TheGlobalVision
#AWorldThatWorksForEveryone
#IAN1